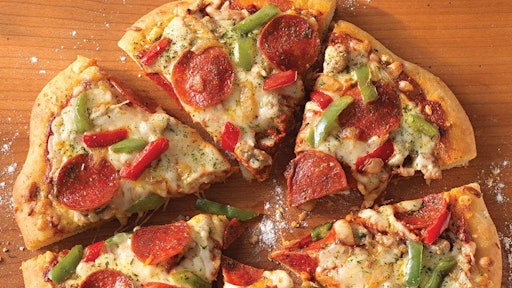 Nestlé USA has pledged to improve the ingredient quality and nutritional profile of some of its most popular frozen pizza and snack brands without affecting taste. 
Nestlé, a leader in the frozen pizza and snacking category, announced the improvements, which encompass more than 250 products across six brands in the U.S.: DIGIORNO®, TOMBSTONE®, CALIFORNIA PIZZA KITCHEN®, JACK'S®, HOT POCKETS® and LEAN POCKETS®.
By the end of 2015, Nestlé will have:
Removed artificial flavors from every product within these brands.
Reduced sodium by 10 percent across the entire portfolio of these six pizza and snack brands compared to 2013 levels.
Incorporated guidance tools on packaging across these brands to help educate consumers on choosing appropriate portion sizes and the importance of eating vegetables and fruits as part of a balanced plate.
These changes build on Nestlé's ongoing efforts to improve the nutritional and ingredient profile of its products while maintaining the great taste consumers expect.
"We know people want to feel good about the foods they eat, and they're seeking foods made with fewer artificial ingredients and less sodium," said John Carmichael, president of the Nestlé Pizza & Snacking Division, Nestlé USA. "As one of the nation's largest food companies, Nestlé is listening to consumers and delivering on their desire for convenient, great-tasting foods that have an improved nutritional profile."
New Nestlé products launching this spring and summer will reflect these commitments, including CALIFORNIA PIZZA KITCHEN® Gluten-Free Crispy Thin Crust pizzas, which allow consumers to bake a great-tasting gluten-free pie inspired by the restaurant's menu item at home. Additionally, DIGIORNO® Pizzeria! Thin, HOT POCKETS® Snack Bites and Breakfast Bites, TOMBSTONE® Limited Edition Diablo and Bratwurst pizzas and CALIFORNIA PIZZA KITCHEN® Hand-Tossed Style pizzas will reflect these commitments.
Several brands have developed new products to help provide consumers with appropriately portioned meal and snacks options. For example, the new HOT POCKETS® Snack Bites and Breakfast Bites offer consumers their favorite HOT POCKETS® flavors packed into bite-sized snacks with 230 calories or less per four-piece serving. The new DIGIORNO® Pizzeria! Thin offers the signature sauce and premium toppings the brand is known for on an airy thin crust. Both products are now available nationwide.
In addition, tools designed to educate consumers on portion sizes and the importance of balancing their plate with fruits and vegetables will be available on the packaging for these products, as well as on more than 250 other pizza and snack products.
"Portion guidance is our way of making it easier for consumers to make informed choices that are right for them and their family," said Cassie Hoover, RDN, nutrition, health and wellness manager, Nestlé Pizza & Snacking Division, Nestlé USA. "We'll continue to look for ways to help people enjoy our pizza and snack options as part of a well-balanced, great-tasting and nutritious diet."
For more on balancing your plate, visit www.nestleusa.com/nutrition/balance.