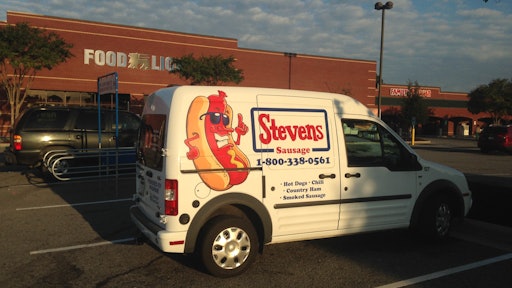 For the last 13 years, Stevens Sausage, a Smithfield, N.C.-based pork producer serving 10 states east of the Mississippi, has been using propane to power its boilers for heating and cooking. So when Tim Stevens, president of Stevens Sausage, was prompted to explore alternatives to upfitting the company's fleet with diesel emissions-reduction technology in 2013, propane autogas emerged as a natural fit.
"EPA regulations for diesel vehicles were becoming increasingly complex. We wanted to find a logical and more affordable replacement for our diesel vehicles," said Stevens. "After doing some research, we discovered propane autogas would not only be an easy transition, it would also fit our vehicle needs with less maintenance, reduced fuel costs, and low installation costs. It also suited our drive and duty cycles."
Stevens Sausage worked with a local propane retailer to install a single refueling dispenser off of its existing 12,000-gallon propane tank. According to Stevens, the installation was simple and inexpensive. And, because the company buys its propane in bulk for both its processing plant and vehicles, the fuel affordable is too.
"We use about 1,200 to 1,300 gallons of propane autogas a week, and see about a 50 percent savings on fuel. The cost savings really add up," Stevens said.
At first, Stevens was apprehensive that the refueling process would be complicated or time-intensive. However, propane autogas is just as accessible as conventional fuels through a wide network of propane retailers who provide fuel and infrastructure solutions for centralized fleets.
"I was a little dubious of refueling at first. I didn't want my drivers going out of their way to get to a refueling station or standing there for 30 minutes just to fuel a truck," said Stevens. "But refueling with propane autogas is just as fast and actually more convenient due to our centralized onsite infrastructure."
In addition to the already low cost of entry with propane autogas, Stevens Sausage received a Clean Fuel Advanced Technology grant from North Carolina Clean Energy, helping the company install ICOM North America liquid propane injection bi-fuel conversion kits on six Ford F-650 trucks. The grant provided Stevens Sausage an additional $8,500 per vehicle.
"The whole installation process was plug-and-play. ICOM came out and installed the systems and took our entire staff through training in less than a day," he said. "There's not much to it, and once we got through the learning curve it was a breeze."
Propane autogas bi-fuel conversions are fully integrated systems installed on gasoline engines, giving drivers the ability to switch over to gasoline when they can't return to a centralized refueling station. Stevens says the company likes the option of filling up with gasoline, but because propane is more cost-efficient, he encourages drivers to use propane autogas whenever possible.
"We actually keep a chart that shows us at which point it would make economic sense for us to switch over to gasoline. And even with the decrease in gasoline prices recently, we haven't reached the threshold where it makes sense," said Stevens.
Diesel emissions-reduction technology has increased the total cost of operating a diesel fleet, due to the escalating cost of maintenance, filters and additives, and parts replacements — on top of the cost of fuel. For Stevens Sausage, the rising cost of maintenance on diesel engines was a driving factor in its decision to switch to propane autogas.
"It would not make good business sense for us to use diesel," said Stevens. "Every time the EPA increases restrictions, diesel engines become more complex and fleets need to worry about additional training and maintenance."
Unlike diesel, propane autogas does not require additional emissions technology such as diesel oxidation filters, diesel particulate filters, selective catalytic reduction systems, or exhaust gas recirculation systems to meet EPA emission standards.
Stevens adds that post-2007 diesel engines can require preventative maintenance and costly replacement parts that propane autogas engines do not. This can include filters, coolants, anti-gels, valves and injectors. "All of those parts aren't cheap," he said.
Hard costs associated with parts replacement, fuel, fluids, and filters are clear calculations for fleets. However, repair time spent in the shop contributes to an equally important factor: uptime versus downtime.
"Complicated diesel engines equate to additional parts and a higher likelihood of something going wrong. Propane autogas cuts downtime due to reduced maintenance and repairs, ease of refueling and training," said Stevens.
Following the success of the company's original pilot test with propane autogas, Stevens Sausage now operates its entire facility and fleet of 13 vehicles on propane, and has a goal of kicking conventional fuels entirely by converting its lawn mowers to propane.
"The fact that propane is a clean, domestic fuel is important to our company, but to be completely honest, we wouldn't have done it unless it could show a strong ROI," said Stevens. "Everyone wants to go green and market themselves as a green company, but what's even better as a private business is when it saves you green."
The Propane Education & Research Council offers several tools and resources for fleets considering a switch to propane autogas, including a Propane Autogas Cost Calculator. To calculate your total cost of ownership and ROI with propane autogas, visit propanecostcalculator.com/autogas.