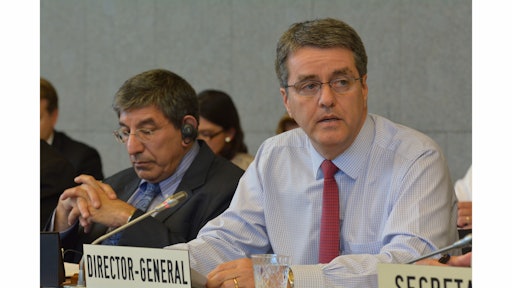 World Trade Organization (WTO) economists have reduced their forecast for world trade growth in 2014 to 3.1 percent (down from the 4.7 percent forecast made in April) and cut their estimate for 2015 to 4.0 percent from 5.3 percent previously.
The downgrade comes in response to weaker-than-expected GDP growth and muted import demand in the first half of 2014, particularly in natural resource exporting regions such as South and Central America. Beyond this specific downward revision, risks to the forecast remain predominantly on the downside, as global growth remains uneven and as geopolitical tensions and risks have risen.
"International institutions have significantly revised their GDP forecasts after disappointing economic growth in the first half of the year," said Director-General Roberto Azevêdo.
"In light of this, the WTO's forecasts for trade growth have also been revised downwards for 2014 and 2015. Uneven growth and continuing geopolitical tensions will remain a risk for both trade and output in the second half of the year.
To read more, click HERE.