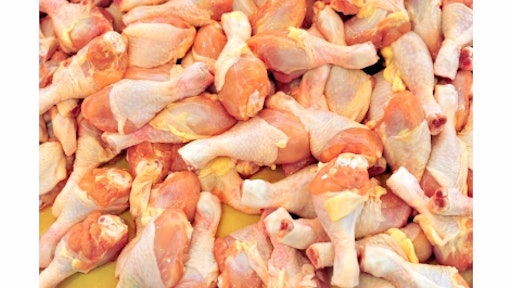 According to Health Canada, more than 4 million Canadians suffer from food poisoning every year. While most cases are minor with no permanent ill effects, serous outbreaks can lead to recalls, as well as the specter of civil liability in the form of class action lawsuits, reported Norton Rose Fulbright LLP, a Canadian law firm.
Research recently published by the United Kingdom's Food Standards Agency (FSA) regarding the source and nature of food poisoning in the United Kingdom may indirectly provide assistance to poultry manufacturers and retailers in Canada looking to manage the risk of recalls or other regulatory action being taken, as well as potential civil liability associated with food-borne illness originating from poultry.
In Canada, meat and poultry products manufactured at federally registered establishments or imported for sale in Canada are required to meet certain manufacturing requirements. All meat products manufactured or sold to consumers in Canada must also meet the labelling requirements under Canada's Food and Drug Regulations.
Increasingly, Health Canada and the Canadian Food Inspection Agency (CFIA) are turning their focus to ensuring that consumers are aware of the safest way to handle and prepare food. Beginning in August, Health Canada will require that cooking instructions be included on all mechanically tenderized beef. Beef particularly has been the focus in Canada of several high-profile meat recalls.
In addition to mandatory labelling with food preparation instructions, such as that currently being introduced for mechanically tenderized beef, manufacturers may wish to consider voluntarily including food preparation instructions on the packaging of other foods. This may reduce the risk associated with improper food handling practices, which, in turn, may accordingly reduce the risk of recalls.
In Canada, manufacturers have a duty to warn consumers about potential dangers in the use of their products. Consequently, mere compliance with regulatory labelling requirements may be insufficient to shield a manufacturer from liability if the manufacturer has reason to believe that consumers may be unaware of the risks associated with certain food preparation methods. Conversely, if a manufacturer includes food handling instructions on its packaging but a consumer fails to follow these instructions, this may assist in reducing (though not eliminating) the manufacturer's liability if the consumer later becomes ill.
Health Canada, like health departments in many other jurisdictions, recommends against rinsing poultry prior to cooking due to the risk of cross-contamination. Rinsing or washing poultry can, according to Health Canada, lead to splashing, which provides an opportunity for the spread of Campylobacter, a pathogen most frequently found in chicken and other kinds of poultry.
While there are no statistics about how many consumers in Canada follow Health Canada's recommendation, anecdotal evidence suggests that many Canadians continue to wash their poultry prior to cooking it. Research recently published by the FSA found that in the U.K., many persons mistakenly believe that washing chicken will reduce the risk of food poisoning, with 44 percent washing poultry prior to cooking. This practice may be due to the importance that washing other types of food has for safety, or as a result of the continuing influence of traditional methods of food preparation.
Earlier in 2014, the FSA had commenced a campaign to reduce the incidents of food poisoning from Campylobacter. The theme for 2014's Food Safety Week in the U.K. was "Don't wash raw chicken!" In addition to explaining the immediate risks associated with Campylobacter food poisoning, the FSA campaign also aimed to increase public awareness about the link between Campylobacter and long-term illnesses, such as Guillain-Barré Syndrome, a relatively rare autoimmune disorder that affects the nervous system and typically results in some degree of paralysis. As well, several large U.K. producers, manufacturers and retailers have introduced food labelling that advises against washing raw poultry.
Although the research performed in the U.K. may not precisely reflect consumer habits in Canada, these statistics and the FSA's food safety campaign, combined with previous guidance offered by Health Canada, highlight the growing emphasis by both regulators and manufacturers to promote consumer knowledge and awareness of safe food handling and preparation practices and the essential role that consumers have in food safety initiatives.