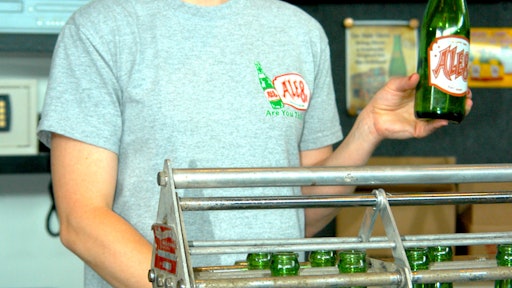 Recently, Food Logistics participated in a "Taste of Kentucky" press trip sponsored by the Kentucky Cabinet for Economic Development. The state is a hub for many food and beverage companies, which are attracted to Kentucky's excellent transportation links and logistics network, geographic location, highly skilled workforce, low business costs and quality of life.
Of course, Kentucky is also known for its fine spirits, including bourbon, a sweeter whiskey, which was introduced centuries ago. Specifically, in 1770, "Corn farmers in the Kentucky region of Virginia distill their crop into a sweeter whiskey. Bourbon is born," states the Jim Beam Web site. Today, the Kentucky Distillers' Association's "Kentucky Bourbon Trail" (www.kybourbontrail.com), is a must-see for visitors to the state.
During the press trip, our group of journalists toured Louisville, Kentucky's Brown-Forman Corporation (www.brown-forman.com/company), producer of America's first bottled bourbon, Old Forester Kentucky Straight Bourbon Whisky. Brown-Forman owns some of the world's finest brands of bourbon and whiskey, including Jack Daniel's Tennessee Whiskey and Woodford Reserve Kentucky Straight Bourbon Whiskey.
Meanwhile, at the heart of making a finely aged spirit is Brown-Forman's cooperage (check out the Vine at http://bit.ly/1jkXgok). Built in 1945, the cooperage is an excellent example of Kentucky pride and artisanship. As for the spelling of 'whiskey' versus 'whisky,' they are not exactly interchangeable. In fact, 'whisky' is used to denote Scotch, and outside of Scotland, is generally used throughout England, Wales, Canada and Japan. On the other hand, 'whiskey' is typically used in Ireland and the U.S.
Due to Kentucky's superior location for distribution and warehousing—its borders are within 600 miles of two-thirds of the U.S. population—the state is a top consideration for food and beverage companies looking to access key markets. Kentucky provides generous incentives and packages to companies in order to boost economic development throughout the state. Along with Brown-Forman, many of America's largest food and beverage companies have established operations in Kentucky and new ones are likewise discovering a business-friendly environment to call home.
We visited a handful of these companies during the press trip. One company, Clearwater Fine Foods (USA) Inc. (www.clearwater.ca), a major seafood supplier with a distribution facility in Louisville, works closely with its primary transportation partner UPS to transport live lobster and other seafood to customers throughout the U.S. from the UPS Worldport air cargo facility at Louisville International Airport.
Kentucky's airport system consists of five commercial airports and dozens of regional airports, plus two international cargo hubs, the UPS Worldport and another operated by DHL. The state ranks third in the nation in total air cargo shipments. According to the Kentucky Cabinet for Economic Development, the state also boasts 19 interstate highways and controlled-access parkways, 2,700 rail miles, 1,100 miles of commercially navigable waterways and seven public river ports. Furthermore, Kentucky supports food and beverage companies with numerous container and packaging plants, refrigerated warehouses and other facilities.
The press trip also included a stop at Kentucky Fried Chicken, an iconic American fast-food chain owned by Louisville, Kentucky-based Yum! Brands (www.yum.com), the largest restaurant company in the world, whose portfolio also includes fast-food chains Taco Bell and Pizza Hut. Journalists also toured the Jim Beam Distillery (www.jimbeam.com), which ranks as the best-selling brand of Kentucky straight bourbon in the world, and Ale-8-One (http://ale8one.com), Kentucky's most popular soft drink and the only soft drink invented in Kentucky that is still in existence.
Stops were also made at Newly Weds Foods (www.newlywedsfoods.com), an international manufacturer and distributor of food ingredients, which is opening a 326,000-square-foot food production facility in Northern Kentucky this summer, and ZoomEssence Inc. (www.zoomessence.com), a manufacturer of dry flavors and food ingredients that got its start in Hebron, Kentucky in 2008 and expanded its operations in Northern Kentucky in 2013.
Look for more on how Kentucky is playing an increasingly larger role in the global food and beverage supply chain in an upcoming issue of Food Logistics.