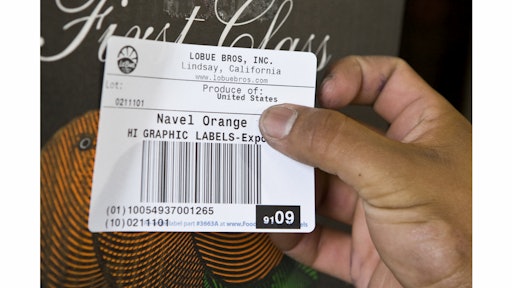 Following are federal regulations impacting labels used in the food and beverage supply chain.
The U.S. Food and Drug Administration announced changes to the Nutrition Facts label for packaged foods to reflect the latest scientific information, including the link between diet and chronic diseases such as obesity and heart disease. The proposed label also would replace out-of-date serving sizes to better align with how much people really eat, and it would feature a fresh design to highlight key parts of the label such as calories and serving sizes.
While the FDA plans to give manufacturers at least two years to prepare for the change, food manufacturers can make the necessary updates to their labels immediately using a label designer which enables users to easily make responsive visual edits, according to TEKLYNX, a provider of barcode labeling software.
The Produce Traceability Initiative (PTI) is an industry-wide effort to improve track and trace procedures through the food manufacturing supply chain using a standardized labeling approach. It is designed to make a product instantly traceable, down to the row in a field or area of a grove where it was grown.
The primary labeling component of this initiative is that a voice pick code must now be included on produce shipment labels, according to Teklynx. The voice pick code is a CRC16 calculation, which is a complex algorithm used to generate a unique two- to four-digit code from a combination data points including Global Trade Item Number (GTIN, which is 14 digits), Lot Code (1-20 alphanumeric characters) and optionally, a pack date.
The Food Information for Consumers regulation incorporates EU Regulation 1169/2011, which pertains to mandatory labeling changes for food items sold in Europe, according to Teklynx. The changes include highlighting allergens in the ingredients list, improving legibility and indicating the country of origin on unprocessed meat labels. The change will also affect food manufacturers in the U.S. who export to Europe or sell food products online to European vendors.
Some barcode labeling systems provide the ability to conform to GS-1 standards. GS1 represents all parts of the supply chain – manufacturers, distributors, retailers, hospitals, transporters, customs organizations, software developers, regulatory authorities and more – that support uniform standards enable businesses to respond to the challenges of a globalized supply chain. A GS1 barcode can hold lots of information details, like "best-before" dates, and to make discount coupons.
GS1 EPCglobal, a subsidiary of GS1, is leading the development of the radio frequency identification (RFID) technology by defining and supporting implementation of the standards that makes RFID operational across geographies, boundaries and sectors.