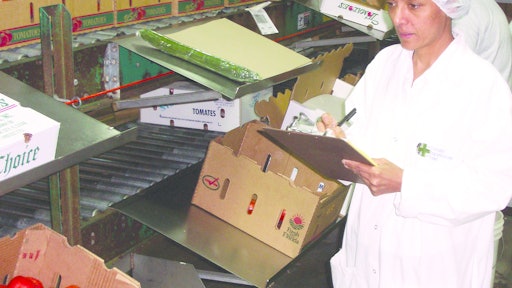 SCS Global Services is a 30-year-old food auditing, testing, training, and certification services company that performs food safety audits and a variety of certifications for companies at every point in the supply chain, from farmer to manufacturer/distributor to retailer. Recently, Food Logistics posed several questions to Heena Patel, technical director at SCS, and Wil Sumner, director of testing services.
Q: Food safety is a hot topic in our industry right now from growers to food companies to grocers, with some in the industry taking a leadership role, and others lagging. From SCS' perspective, what are some encouraging signs relative to food safety and where is there still work to be done?
A: It is encouraging that retailers are pushing for streamlined and consistent food safety policies across the board. SCS would like to see all partners along the chain of custody becoming food safety aware.
As retailers move to required GFSI, it has raised awareness of the inconsistencies in the industry and has been good for the industry. The latest dialogue is around FSMA and how much change the industry will experience through government intervention. There is likely to be a strong push for GFSI-level food safety down to even the small growers. We have been approached by growers with as few as 20 acres of land who are considering a GFSI-level food safety audit.
Retailers understand that different companies have varied capacity for incorporating food safety. For instance, Walmart accepts Primary Farm Assurance, a lower food safety threshold for non-high- risk commodities, which is designed to fit the needs of smaller growers. Testing is another integral part of the verification process and can be a tool to better food safety. SCS would like spot-testing required for high-risk commodities. There are much more stringent testing requirements for exports, where product must meet country of destination MRLs.
Q: What are some of the biggest challenges/obstacles to making the needed improvements to food safety (e.g. lack of financial resources, awareness, lax regulatory oversight, outdated technology and processes, etc.)?
A: Specific to the produce industry, there are many small growers that fall above the exemption clause in the Testers Amendment (very small growers exempt from FSMA). For them, the financial burden of implementing a full food safety program that includes both prevention and controls, plus validation, can be too expensive to comply with and stay in business. Often, the staffing needed to maintain a food safety protocol may make implementation cost prohibitive. Global issues include defining acceptable risk, which may be difficult for certain produce items. To put required prevention steps in place, and then testing to validate product safety, is extremely difficult for some raw produce. There are no "kill steps" for raw produce. Therefore, you cannot test your way out of the problem, nor can you scientifically prove that you have the adequate steps in place for prevention.
Q: When it comes to food safety best practices, what are leading companies doing that others should recognize and emulate?
A: Best practices that SCS sees in the market start with senior management's commitment to food safety. When money, staff, and staff resources support a robust program that is recognized company-wide, it's a recipe for success. Companies that are leaders in food safety are putting resources into better training at all levels within?the company and providing support for building structure design improvements and machinery upgrades. Hiring a bigger team of food safety experts is another way to successfully weave food safety procedures throughout operations.
Q: SCS is an established company with expertise in food auditing, testing, training and certification services. Is there anything in this specific area that has changed in recent years (new techniques, technologies, etc.) that would be of interest to Food Logistics' readers?
A: In recent years, lab testing methods have improved and become cheaper, making the direct analysis of product and machinery available to more companies. Labs are also able to release rapid results at the presumptive stage so clients can obtain results faster and help prevent food-based illnesses. Manufacturers of packing, sorting, and cleaning machines have increased focus on designing machinery from a sanitary standpoint, so that it is easily disassembled and cleaned. Some food safety efforts have unexpected consequences. For example, the cantaloupe industry moved from a traditional field pack regime to a shed packing process primarily to improve food safety. In the end, however, they ended up introducing new control points of potential contamination. Finally, new technology in the transportation industry permits continuous wireless temperature monitoring that improves the ability of supply chain partners to maintain a consistent cold chain throughout—as recommended by retailers.
Q: On the regulatory front, including the FSMA, what are some of the most immediate compliance issues that Food Logistics' readers should be aware of?
A: Having new FSMA regulations in play from the FDA gives all parties in the food industry a greater incentive to institute or improve some type of food safety regime. There is no U.S.-based GFSI-level food safety program, so we have adopted schemes that have been successful in Europe and elsewhere. Although FSMA regulations are not immediately applicable, they will become law sometime in 2015. Companies can begin the process of instituting food safety measures now so they are prepared when FSMA regulations become law. Financial resources are a big issue for SCS clients, so we are encouraging the FDA to keep costs low for smaller companies. Because SCS believes that it is better to create rules from the bottom up, we will be among those commenting on the regulations in an attempt to protect our clients' interests. Food Logistics' readers may also want to take the time to publicly respond to the FDA during the comment period, which ends on May 15, 2013.