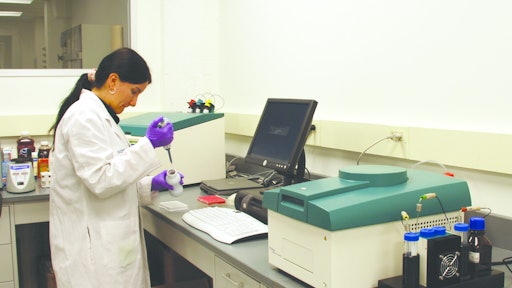 While the food supply chain is arguably safer now than at any other time in history, the pressure to maintain and improve food safety has never been more demanding.
The passage of the Food Safety Modernization Act (FSMA) is largely responsible for driving this awareness, but so too are increasing imports of food products, recall and contamination events, and supply chain complexities that include multiple suppliers and distribution points.
Not surprisingly, food safety audits are also on the rise. These range from federal government agency audits to self-audits that companies routinely conduct internally.
Establishing best practices
When it comes to the impact of the FSMA, "companies are facing the most sweeping changes in food regulations in over 70 years," affirms Melanie J. Neuman, an advisory manager who specializes in food safety issues for PricewaterhouseCooper's retail and consumer practice.
The role of PwC is to advise its clients on best practices to meet and comply with regulations, explains Neuman, not only for the FSMA, but for a host of food safety laws and regulations that are governed by the U.S. Department of Agriculture (USDA) and U.S. Food and Drug Administration (FDA). Clients also use PwC's services to gain insight into successfully navigating safety audits.
"We really help clients integrate food safety into their culture and their daily operations, and bring a seat to the executive table on the topic of food safety and optimize it throughout the organization, both by way of an enterprise risk management approach as well as a supply chain optimization approach," says Neuman.
This can essentially be described as the first stage, where best practices, strategic implementation, and optimization of the food safety program occur.
"The next step of the assessment starts to drill deeper into other categories, such as whether or not the company's electronic traceability systems are robust enough to comply with the current regulations and their customers' expectations for producing reports," Neuman continues.
"We look at the company's ability to track and trace products accurately and quickly, including the ability to identify all ingredients, including raw materials, all production and inventory records, and all distribution on an outbound basis, in order to quickly track product in the event of a foodborne illness or other food safety risk," she says.
Indeed, tracking and tracing capabilities are high on the list of items that an auditor will examine during an inspection, cautions Neuman, whether it's being conducted by a regulatory auditor or third-party auditor.
In addition, "recordkeeping practices go hand in hand with tracking and tracing," she says, and it's also a subject of great focus during an audit.
"Lastly, regulators are more keenly focusing on sanitation conditions, too. For example, there seems to be an increased focus on pest control, such as rodent feces. We're seeing a trend towards more FDA warning letters in response to sanitation conditions in production as well as warehouse storage facilities," Neuman adds.
Overall, government audits in the food sector have been on the rise since the passage of the FSMA, according to Neuman, in part, because of increased regulations, but also due to changing market conditions.
"Increased imports and exports are helping drive the growing number of food audits. So too are more complex supply chains, where companies are sourcing ingredients from multiple suppliers and from multiple regions of the world that have various risk levels associated with them," she says.
Neuman tells of one manufacturing client who had to initiate recalls because one of their overseas suppliers had provided a tainted ingredient to the manufacturer, who then incorporated it into their finished product. The recalls were challenging enough—now the manufacturer has had to implement a more rigorous inspection program for all of its suppliers to make sure they are meeting the standards of both the manufacturing company and the current regulations.
Notwithstanding the apprehension and anxiety that the FSMA has created for the food sector, "we're actually seeing our clients look at the legislation as an opportunity," reports Neuman, even though many specifics of the FSMA have yet to be released. "Clients are beginning to view audits as an opportunity to identify how to further improve their operations, rather than as something to be feared."
Neuman senses other positive changes in the industry. "In my tenure as a food safety professional over the past 15 years, I am happy to report a progressive movement towards greater transparency in the industry and more sharing of information. The industry perspective is that food safety is not a trade secret. We're all in this together, and the better we share and become more transparent within each company, the more we elevate and nurture the greater good of the entire food industry."
As for advice, Neuman has a few tips for food companies who are eager to know what areas to concentrate on in their own operations.
"Employee training is one area," she points out. "Particularly since the passage of the FSMA, it is becoming very important for companies to demonstrate that they've got an optimal food safety management program in place. It's also an area that PwC looks at closely when we're conducting a food safety assessment for a client."
At the end of the day, documentation still reigns supreme, she says. "What's very critical with respect to training, as well as almost all of the other elements that are regulated in the industry, is documentation. For instance, a company needs to document the training that occurred, what type of training was provided, who was trained, and how often the training was updated to reflect the most current requirements. Furthermore, training has to be provided in a very user-friendly manner. In other words, if you've got multiple languages being spoken in your facility, the training needs to be offered in those languages."
According to Neuman, "Documentation is mission-critical to navigating a regulatory audit, whether we're talking about employee training, HAACP (Hazard Analysis and Critical Control Points), sanitation practices, and so on. Because in the eyes of the auditor, if it isn't documented; it didn't happen."
Expediting the process
Responding quickly to the myriad changes unfolding in the area of food safety is key, and so is a company's ability to take the initiative to implement changes proactively, emphasizes Scott Scdoris, food and beverage director for Celsis Rapid Detection.
Scdoris explains that an important feature of the FSMA is the shift in responsibility from government to the industry, i.e. rather than government assuming a 'gotcha' attitude, the industry is empowered to assume more responsibility for compliance, which includes performing self-audits. This is much like C-TPAT (Customs-Trade Partnership Against Terrorism) and many other programs introduced by U.S. Customs and Border Protection (CBP) in recent years, which encourage an environment of shared compliance and collaboration between government and industry.
The approach is especially prudent today, when so many government inspection services and auditing resources are stretched to the limit.
As a result, "We're seeing a big uptick in both self-audits as well as third-party audits," says Scdoris, with companies such as AIB International and Randolph Associates among those that are experiencing more interest from the industry.
And, it's not just interest from companies in the U.S., but global companies are also becoming more actively involved in food safety and audits.
Scdoris has seen "a 180 degree turnaround in several overseas markets," he says, including China, which has been at the center of so many recall and contamination events in recent years.
"Five years ago when I would visit China, quality was not a hot button topic. A lot of companies there were shipping product while testing was ongoing. It was a 'ship and pray' scenario," he says.
All that has changed, however. Not only have companies in China begun to take food safety much more seriously, global players with operations around the world are putting designated personnel in charge of food safety.
"That person's sole responsibility is to travel from facility to facility and perform audits. We're definitely seeing a lot more of this in the marketplace," notes Scdoris.
Celsis aims to provide its customers with not only the tools to perform adequate and affordable testing, but to do it expeditiously.
"The laboratory is typically viewed as a bottleneck in the production process," explains Scdoris, who prior to joining Celsis, worked for 15 years in quality control for the dairy industry. "Production is trying to do things 'just in time' and respond to their customers as quickly as possible. So, they produce a product, but it gets held up in quality control awaiting testing so it can be released."
The Celsis RapiScreen product, which uses adenosine triphosphate (ATP) bioluminescence, can screen food and beverage products to assure sterility and release them in 48 hours, compared to what can sometimes take up to 4 days or more—a huge benefit to a company's financials, Scdoris points out.
In addition, laboratories see a benefit in having technology tools, such as those offered by Celsis, that generate electronic records as opposed to "notebooks full of paper records," says Scdoris.
"Auditors want to know that a company has the ability to retrieve information from the testing that they've conducted. That's a very big trend these days."
FDA's Q&A on Product Tracing and Recordkeeping
Q: What is product tracing and why is it important?
A: In general, a product tracing system involves documenting the production and distribution chain of products so that in the case of an outbreak or evidence of contaminated food, a product can be traced back to a common source or forward through distribution channels.
Product tracing systems enable government agencies and those who produce and sell food to take action more quickly when an outbreak of foodborne illness occurs or contaminated product is identified, thus preventing illnesses. Actions include removing a product from the marketplace and alerting the public if a product has already been distributed.
Many producers, manufacturers and retailers have product tracing systems in place, but they vary depending on the amount of information the system records, how far forward or backwards in the supply chain the system tracks, technologies used to maintain records, and the precision with which a system can pinpoint a product's movement.
Q: Did Congress provide any specifics about the recordkeeping requirements FDA is to establish for high-risk foods?
A: Yes. Congress has established certain recordkeeping requirements, including the following:
• they must relate only to information that is reasonably available and appropriate;
• they must be science-based;
• they may not prescribe specific technologies to
maintain records;
• the public health benefits must outweigh the cost of complying with the requirements;
• they must be practical for facilities of varying sizes and capabilities;
• to the extent practical, they may not require a facility to change business systems to comply;
• they must allow for the maintenance of records at a reasonably accessible location, provided that the records can be made available to FDA within 24 hours of a request; and
• they may not require a full pedigree, or a record of the complete previous distribution history of the food from the point of origin.
Source: www.fda.gov