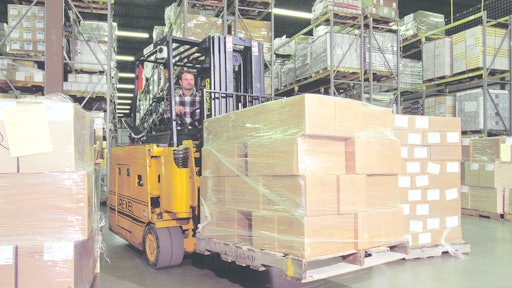 In early September, the U.S. Department of Labor's Occupational Safety & Health Administration (OSHA) proposed a fine of $76,005 against a frozen foods and perishables logistics provider for 13 alleged safety and health violations at its Delaware warehouse.
Meanwhile, a Pepsi warehouse and production plant in Tampa, FL has two OSHA investigations pending: one involving a lift truck accident last spring that killed one man and injured another, the other an injury to a worker's leg that occurred last month when he was cleaning a conveyor system.
Safety violations and accidents, whether they occur in the warehouse, behind the wheel of a truck, or at the marine terminal are not only costly in many instances, they can be deadly, and they happen far too often.
During 2010, the U.S. Bureau of Labor Statistics recorded 4,547 fatal work injuries in the U.S., with the transportation and material moving sector accounting for about one quarter of the total.
On the floor
Forklift-related accidents alone are responsible for nearly 100 worker deaths in the U.S. each year, says Joe Manone, vice president at Rite-Hite Corporation.
"The situation calls for clear communication to the right person, at the right time, and at exactly the right location, especially at the loading dock where forklifts and pedestrians are often on a collision course," he says. "Forklift drivers also need to be aware of what's happening at all times during the fast-paced semi-trailer loading and unloading process."
The good news, says Manone, is that communication-related technologies and best practices have evolved to reduce the risks of forklift-pedestrian collisions and other catastrophic accidents at the loading dock.
"Investing in technology that take communication to the highest possible level, combined with time-tested safety forklift practices, delivers invaluable results," he says.
"On the employer's side of the issue, many companies have refined their safety policies and procedures concerning forklifts," he notes. "The call is out for more forklift-operator training as more [companies and workers] become aware of the facts. In 2006, OSHA issued 3,080 forklift violations, most for inadequate operator training. And, according to the National Institute for Occupational Health & Safety, the second most common cause of forklift-related fatalities is when a forklift strikes a worker on foot."
One of the most difficult places to operate a forklift is the shipping/receiving/staging area of a loading dock, Manone says. "When combined with the fast-paced nature of most docks, the need to ensure forklift operator and pedestrian safety takes on added importance."
Some of the challenges associated with operating forklifts on the dock range from maneuvering in tight confines to negotiating frequently slippery surfaces.
While "loading and unloading trailers makes the job even more challenging, especially when multiple forklifts are used simultaneously to service the same trailer," adds Manone. "Servicing trailers also requires skill and close concentration. An extra level of focus is essential when production and shipping deadlines dictate a faster-than-normal pace."
For forklift operators, "the bottom line is to use caution at all times," Manone emphasizes. "From a pedestrian's perspective, the safest course of action is to watch for forklifts, while other forklift drivers who enter the dock staging area when forklifts are already servicing trailers are expected to remain on high alert."
When it comes to forklifts and safety, Toyota Material Handling, U.S.A., Inc. has been recognized on several fronts.
In July, the company announced that the Service Parts Management department at Toyota Industrial Equipment Mfg., Inc. (TIEM), the manufacturer of the number one selling lift truck in the U.S., had achieved 200,000 consecutive hours worked without a recordable accident according to the Occupational Safety and Health Administration (OSHA). The 200,000 hours represents 1,248 work days over the past three years at the Columbus, IN-based manufacturing plant.
"At Toyota, safety is our focus," remarked Tim Barker, vice president of corporate service for TIEM. "I'm very pleased this is the second department at TIEM to achieve this milestone in the past 12 months, and I'm proud of these associates and their dedication to safe practices."
Moreover, the company's forklifts are regarded among the safest in the industry. Toyota's exclusive System of Active Stability (SAS), introduced in 1999, is the leading lift truck safety technology that helps reduce the likelihood of a tipover, which translates to fewer accidents on the warehouse floor.
Earlier this year, an industry survey ranked Toyota's lift trucks as the safest on the market. The company also ranked number one in terms of fewest safety-related incidents; most affordable to maintain in terms of safety; and the best overall in quality when it came to safety, durability, reliability, and value.
"Safety is a top priority for Toyota and obviously for customers, as it is consistently one of the top three purchase considerations for lift trucks," remarked Brett Wood, president, Toyota Material Handling U.S.A., Inc. "We are honored to have this confirmation that Toyota's efforts to continually lead the lift truck industry in safety technology and in quality are succeeding and recognized by customers."
Behind the wheel
One of the most significant safety regulations impacting the trucking industry is the newly launched Comprehensive Safety Analysis (CSA) initiative from the Federal Motor Carrier Safety Administration (FMCSA).
According to Rose McMurray, chief safety officer for the FMCSA, the initiative was "created as a way to measure safety performance and compliance, determine safety fitness, recommend interventions, apply interventions, and track and evaluate safety improvements for FMCSA-related entities."
Areas of operation that CSA will monitor include unsafe driving, fatigued driving, driver fitness (such as improper training), controlled substances and alcohol, vehicle maintenance, improper loading/cargo securement, and crash/incident experience. These seven categories are collectively referred to by the FMCSA as BASICs (Behavior Analysis Safety Improvement Categories).
Somewhat troubling is a recent survey conducted by the American Transportation Research Institute (ATRI), the research arm of the American Trucking Associations. Of the 14 questions contained in the survey, only 5.71 questions were answered correctly by the 4,555 truck drivers who participated in the survey. The two questions with the lowest correct response rate were "Which BASIC scores are publicly accessible?" and "Who has access to official driver scores?"
Dan Murray, vice president of research for the ATRI, told attendees of the 11th annual PeopleNet user conference last month in Boca Raton, FL that "CSA is very close to being a game-changer" because it raises barriers for entry into the trucking industry and it drives up costs.
Furthermore, "Drivers are not happy with CSA," he acknowledged. "Many believe CSA will endanger their jobs and some of them are right."
Murray added that there is a big gap between what trucking companies know about CSA and how well educated and trained their drivers are about the initiative.
At the port
The deaths of two longshoremen at the Port of Philadelphia in separate incidents last month underscores the safety risks for transportation workers and how frequently accidents occur. Of course, automation, modern equipment, and better training and safety standards have reduced injuries and death on the waterfront, but it remains a high-risk profession.
Following basic safety regulations cannot be overstated, according to Sheridan & Murray LLC, a Philadelphia law firm.
"Hard hats, seatbelts, visibility vests, and other safety equipment are provided for a reason. Statistics show that proper use of these items can help longshoremen and other workers prevent accidents or protect themselves if an accident occurs. Similarly, it is important to obey all posted speed limits and other traffic control devices to minimize the potential for injuries and accidents," states the firm.
Automation is also helping to reduce worker injuries, although it's not as widespread in the U.S. compared to European ports.
"Terminal automation is often touted as a way to achieve substantial safety benefits," says Mark Sisson, a senior analyst with Oakland, CA-based AECOM.
Sisson is a big proponent of automated guided vehicles (AGVs). "With AGVs in place, no tractor drivers are needed, and therefore all associated driver injuries are eliminated. With manned shuttle operations, approximately half the number of vehicles would be required compared to a conventional terminal, so injuries could be expected to decline by half as well," Sisson wrote recently in Port Technology International.
Simply put, fewer workers mean fewer injuries. Implementing more automation throughout the terminal would reduce the number of mechanics and foremen required on the job as well.
"Spreaders, for example, require much less maintenance in automated terminals because the automated cranes always set containers down gently. A 25 percent reduction in injuries is estimated, based on anecdotal evidence from representative terminals," states Sisson. In addition, "With automated terminals and automatic container positioning, far fewer supervisors will be required, and injury rates should decline accordingly. Therefore, the estimated reduction in injuries to supervisory staff is 67 percent with AGVs, or 50 percent with shuttles in place."
Accidents are costly not only when measured with human lives, but in dollar value too.
In July, a California judge upheld a $14 million verdict against SSA Marine Terminals at the Port of Long Beach for negligence in an accident that nearly crushed a truck driver to death. Specifically, the jury found that poor supervision of a crane operator and possible drug use on the job led to a 25,000-pound container falling on the driver's cab.
Recently, at the Port of Beaumont (Texas), two longshoremen filed a suit against their employer, Gearbulk & SSA Gulf Inc. for severe neck injuries caused when a beam fell on them. The lawsuit claims the employer failed to provide a safe place to work and adequate equipment.
Overall, while great strides have been made to improve safety throughout the supply chain, the nature of transportation-related work is such that injuries on the job will never be completely eliminated. The goal is to remain vigilant about workplace safety, which oftentimes means starting with the fundamentals.
Companies in this article