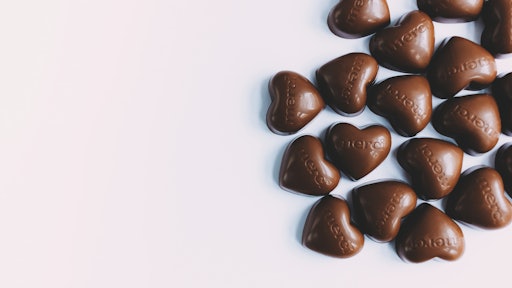 The UK chocolate market is expected to reach a value of £5.9 billion (US $6.4 billion) by 2022, growing at a CAGR of 4.1% from £5.3 (US $5.7 billion) billion in 2019, suggesting a lucrative market for new innovations and trends. Ahead of Valentine's Day, Arian Bassari, Consumer Analyst at GlobalData takes a look at how the UK's chocolate market has evolved into an array of both the weird and wonderful.
Among the more interesting pickings this year are the photogenic Ruby Cocoa Hot Chocolate and the unusual Tomato Ketchup Truffles.
Ruby Cocoa Hot Chocolate
This January, Costa unveiled its new pastel pink hot chocolate, made from the innovative ruby cocoa bean, making it a naturally eye-catching drink. This product has received a positive reception, largely among the youth that are eager to populate their social media channels with images of the colourful cocoa.
In the UK, 43% of millennials agree that food and drink with an unusual color are appealing, which is far higher than the national average of 21%.
Bailey's Strawberry & Cream Hearts
Bailey's has combined its signature smooth profile with a strawberry and cream flavour, and bundled it up into heart-shaped chocolates. Indulgence and sensory experiences are key here, and while boozy chocolates are nothing new, the pairing may come at an interesting time, amid the rise of low-alcohol trends. Alcohol-free or reduced alcohol trends appear to be growing, possibly inspired by the 'Dry January' movement.
While Bailey's new launch may indeed be a great gift for Valentine's Day, alcoholic chocolates in general may fall out of favour with younger consumers, who are driving the low alcohol movement. Indeed, 29% of Millennials in the UK are actively trying to reduce their consumption of alcohol, compared to the national average of 24%.
ValenHeinz Tomato Ketchup Truffles
Heinz has released a limited-edition chocolate truffle containing its signature Heinz tomato ketchup as a filling. This unusual combination encourages consumers to engage in online discussions regarding the unusual flavour, which in turn provides effective marketing for the product. The fear of missing out and the limited nature of seasonal products are driving consumers to be more experimental with their purchasing habits.
The concoction was a product of Heinz's partnership with upmarket department store, Fortnum & Mason. Only 1,000 were made, and they unfortunately appear to have sold out (or fortunately, depending on who you ask).
"One of the main trends observed in these products is the 'Instagrammability' factor: the ability to create a talking point nationwide that raises brand awareness and encourages further innovation. 47% of Millennials claim to actively buy products that they see to be trending on social media channels, the highest of any age group. Youth culture clearly has a massive role in driving the UK's chocolate market," Bassari says.