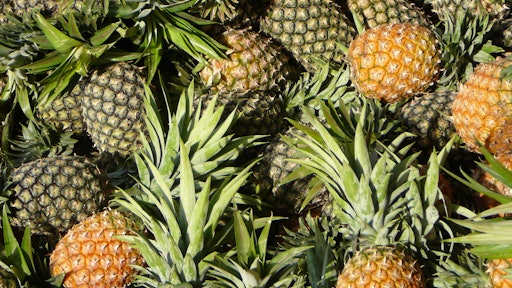 Since beginning on Sept. 10, strikes in Costa Rica have caused the country to lose $3.5 million USD in pineapple exports.
Fresh Plaza reports that there has been a paralysis of work in the union since the strike has begun, and calls to leaders of the trade union movement have been made due to damage that is blocking roads and causing port operation problems.
"Things would be very difficult, even if the ports were operating for us, as the roads are blocked: the teams could not get to the farms to pick up the fruits, and the fruit couldn't be sent from the farms to the port," Abel Chavez, a representative of the pineapple sector and president of the National Chamber of Pineapple Producers and Exporters tells Fresh Plaza.
Costa Rica's pineapple sector has been unable to export nearly 650,000 cases of the fruit, amounting in $2 billion colones or $3.5 million USD.
According to Fresh Plaza, the situation is growing more serious each day as the sector is unsure if some producers will be able to withstand the economic impact, especially since prices haven't been postive this year.
President of the National Chamber of Agriculture and Agroindustry, Juan Rafael Lizano, has called on trade unionists to reach agreements through dialogue, which has led to the roads being unblocked.