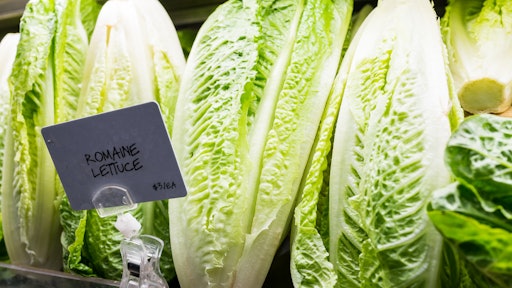 Getty Images
When supply chain disruptions strike, risk mitigation strikes back. And, it does so in many forms. Whether it's enhanced software, improved employee training or solutions equipped with visibility features, managing risk is a 24/7/365 job. It requires all hands on deck, the latest and greatest technologies and the ability to pivot accordingly.
That's because supply chain disruptions also come in many forms -- ransomware attacks and port closures, natural disasters and global pandemics, food fraud and cargo fraud.
If history repeats itself, disruptions of major magnitude will continue to rock U.S. supply chains. But, it's how companies plan, manage and react to these disruptions that allows them to efficiently and successfully mitigate risk.
In Food Logistics' October 2021 issue, editor-in-chief Marina Mayer talks with several industry experts about risk reduction, keeping danger at bay and what's in store for 2022.
Here's an interview with Randy Fields, chairman and CEO, ReposiTrak, with excerpts publishing in Food Logistics' October 2021 issue. [CLICK HERE to read the article in full].
Food Logistics: The COVID-19 pandemic presented a host of risk/security challenges to today's cold food chains. Now, the Delta Variant is looming its dark head. What is your company or companies in the cold food chain doing to mitigate and stay in front of these types of risks?
Randy Fields: ReposiTrak is focused on keeping the food supply chain as safe as possible by deploying a comprehensive solution to the industry's product visibility challenges. We recently set up and are supporting Food Traceability Leadership Consortium (FTLC) to help food retail industry leaders collaborate on the development of open, low-cost, easy-to-use food tracing technology. The consortium is an invitation-only group of food retailers, wholesalers and select suppliers.
FTLC members will work to address the urgent need for an affordable and practical solution to meet the proposed FDA food traceability requirements of the Food Safety Modernization Act (FSMA) scheduled to impact the food industry within two years. The goal of the consortium is to create and execute a collaborative plan to deploy food shipment track and trace technology and prepare the industry for any potential changes to FSMA. Combining ReposiTrak's highly scalable supply chain data sharing platform with the knowledge of seasoned retailers, wholesalers and suppliers will enable the consortium to gain experience with and shape the most practical and cost-effective technology for food traceability success.
Food Logistics: Please describe some of the technologies implemented to better mitigate risk, improve visibility/traceability and monitor farm to fork along the cold food chain.
Fields: The ReposiTrak platform helps thousands of companies in the food supply chain meet current food safety regulatory requirements, so we are fully aware that many companies believe the proposed food traceability regulations will impose onerous financial and operational burdens on the industry. There is an affordable technology-enabled solution for the batch/lot level data tracking necessary to support food traceability, based on the ReposiTrak platform, which automatically handles similar data flows between trading partners on the scale of tens of millions of order/store/SKU data transactions daily.
Food Logistics: Risk reduction entails other facets of the business, i.e., worker safety, product safety and plant safety. What is your company or companies in the cold food chain doing to protect employees, product, facilities, fleet and more?
Fields: The Traceability Network built on the ReposiTrak platform electronically extracts key data elements (KDEs) from existing supplier systems and documents at critical tracking events to "stitch" together an electronic pedigree of each product. Because the solution leverages existing ReposiTrak technology and the facility network mirrors the food supply chain, the cost can be spread across the network to deliver a solution that is easy to adopt and affordable for even the smallest suppliers.
Food Logistics: Going into 2022, what are some things companies should be doing now to better identify risks?
Fields: If an "every man for himself" approach to food traceability prevails, the industry could end up with a hodgepodge of non-interoperable systems. This will create a "balkanized" supply chain where systems can't share critical traceability data between trading partners, resulting in massive operational complexity. Food retailers can't afford to let that happen, which is why we are engaging the industry now on a solution that involves no new labeling, no operational process change and is affordable down to the smallest supplier. This needs to be at the forefront of every food company's thinking in 2022 because the new FDA requirements are coming into force quickly and they need time to deploy the appropriate resources or risk supply disruptions or worse.
[CLICK HERE to read the article in full].