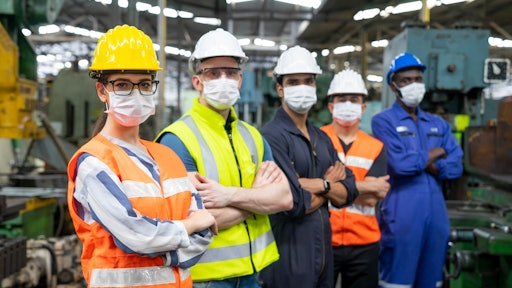 godji10 - Adobe Stock
Last spring and summer, many places of work were closed by state order; despite a massive wave of winter cases, only a small number of states and municipalities have reimposed those same strict orders that have shuttered the doors of businesses. Employees who maintain vital supply chains can't plausibly work from home though, and have had to endure the pandemic in public work settings for nearly a year.
While small retail storefronts and local restaurants have struggled with demand through the pandemic, suppliers for brands that ship directly to consumers can hardly keep up. To meet the needs of consumers, it's necessary for businesses to recruit new employees amidst the pandemic. Here are four ways to do just that:
Make it worth their while
Though many businesses have taken a hit to their profit margins in 2020, the economics of hiring still require companies to open the checkbook. Essential workers like those who ensure that supply and demand chains remain intact during the pandemic have worked in hazardous conditions for the last year, but hazard pay policies that many national brands authorized last spring expired by the end of summer. A study by the Brookings Institute noted that among workers employed by the Top 20 U.S. retailers, the average employee received his or her final hazard pay in the first week of July.
Despite the ongoing risk from working warehouses and other hubs of activities, people are still applying for available openings. A devastating winter wave of the Coronavirus disease (COVID-19) and slow federal stimulus has led employers to shed about 140,000 jobs, making the candidate pool even more competitive for stable work.
Given the risk, however, recruits are still searching for a right-fit solution. Candidates want to know that this job will be there for them after the pandemic has ceased and that there is room to grow. When reaching out to potential employees, highlight not only the starting wage, but a preview of their growth trajectory 6-12 months from now when vaccines begin to draw down the crisis. Industry leaders have made it their priority to raise wages and compensate their employees during this difficult time, and it will be important for industry leaders to continue this support through full recovery.
Reach candidates where they are
Talent acquisition for large enterprises is already quite similar to consumer marketing; many of the advertisements run over the last year have highlighted the employee experience above any specific products. Their consumer-facing communications channels made heroes out of everyday frontline workers.
Employee word of mouth is your best asset in overriding any perceived safety fears. Incentivize your employees for supporting recruitment. Share employee stories through reliable marketing channels — social media, radio, even local news and leverage the positive attitudes of current employees. Their endorsement is crucial, and they can be a company's best ambassadors for recruiting new employees.
Bring your marketing and advertising representatives in with human resources to ensure that the employer brand is in alignment with the consumer-facing brand propositions.
Highlight, don't hide safety precautions
Surely every applicant or potential applicant knows about the pandemic. You can't hide the impacts of COVID-19 on your business and your employees, so don't try. More than a quarter (27%) of Americans who are either working remotely or temporarily not working say returning to their normal place of employment is a large risk — the highest levels since May, according to the Ipsos Coronavirus tracking poll.
Companies have had months to adapt the physical spaces, break times and operations to be more COVID-19-friendly. Offer candidates a virtual tour through the warehouse or office and demonstrate the safety protocols first-hand. This is doubly helpful if you are conducting in-person interviews or training.
Be prepared to answer questions about the COVID-19 vaccine. If you are in a state that will prioritize logistics and manufacturing workers, let candidates know. If your company has a policy encouraging or even requiring vaccination for employees, make these policies clear at the outset.
Responsibly automate HR processes
Lastly, it's critical to equip your human resources team with the necessary tools to solicit and process applications quickly and efficiently. Stress can begin to mount among HR professionals as hiring becomes more difficult. This is especially true if the HR team has sustained any layoffs over the last several months.
Within the HR department, responsible automation is necessary. Moving these processes to cloud-based solutions can soften the blow for HR teams already dealing with a larger pandemic-induced workload while streamlining hiring and training processes to require less face-to-face interaction. Responsible automation is an opportunity to use data in a way that will override unconscious bias in the hiring process, thus leading to an increase in a diverse applicant pool. Socially distanced interviews, onboarding and even training has become the norm in high-volume industries, and that is unlikely to change until we've achieved herd immunity through vaccination at the end of the coming year.
Many of the changes companies have made to adapt to the pandemic will continue well into the future. The time may be nearing when COVID-19 safety protocols are no longer necessary to protect employees, but safety will always be a concern when recruiting for manufacturing, shipping and logistics roles. Hopefully the heavy lift required to recruit new employees during the pandemic has trained hiring managers to speak frankly about the risks associated with any job while highlighting the myriad ways companies can empower employees to have a successful career.