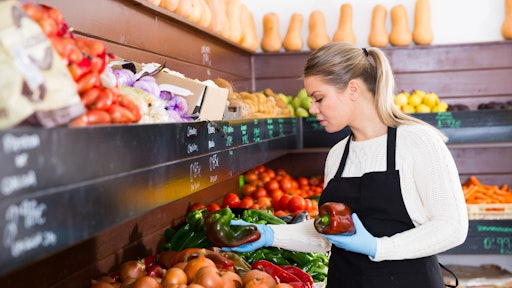 AdobeStock_286417489
To make the world a fairer and better place requires championing new ways of doing business that are ethically driven and built on cooperation. And, this has certainly been true during the global health crisis.
Like many corporates in the food retail industry, fluctuations in demand have challenged cash flow. But, the bigger challenge has been supply chain resiliency.
The Coronavirus disease (COVID-19) pandemic caused widespread disruption throughout the food supply chain and impacted suppliers of all sizes. Those early months of the global shutdown provoked constrictions in cash flow, surges in demand and new pandemic protocols – all of which strained operations and impacted liquidity for many of our suppliers.
Keeping a sharp focus on fast supplier relief
A key priority is to help suppliers improve cash flow. Co-op, like other food retailers, experienced a surge in demand during the global health crisis just as disruption in the supply chain slowed down procurement of inventory lines. For many suppliers, that meant cash was going out faster than it was coming in.
The fastest, most effective way to provide suppliers relief was to offer a way for them to get paid early on their invoices through supply chain finance. Supply chain finance would provide a reliable, low-cost source of liquidity for suppliers to help navigate the unprecedented economic landscape.
It would also act as a powerful working capital tool for our business.
A supply chain finance revitalization
Co-op had previous experience with a smaller-scale program that was funded by a single financial institution. Even prior to COVID-19, it was necessary to transition suppliers to a new program that was more flexible, scalable and accessible for suppliers of all sizes. This solution needed to quickly deliver a material cash flow improvement to suppliers while offering the option to bring in multiple funding sources that leveraged existing banking relationships and bring in additional funders as needed.
The implementation of a new supply chain finance program required next-level collaboration and agility from internal stakeholders and providers. Cross-departmental alignment was key in executing a quick implementation. Co-op created a project team consisting of finance/treasury, procurement and IT to establish agreed-upon objectives and milestones that would get the program live as quickly as possible. These buying and procurement teams were heavily involved in the initiative, rapidly identifying target suppliers and ensuring they were fully supported throughout implementation and beyond.
Collaboration fortifies the supply chain and improves working capital
Collaboration is key. But, the pandemic has shone new light on how powerful this attribute can be.
The pandemic exposed many supply chain vulnerabilities in the food retail industry, but none greater than supplier health. It's forced business leaders to question how they can support their suppliers in extraordinary times. Supply chain finance can be the answer. It's provided critical assistance to suppliers, so food retailers can move forward stronger, together.