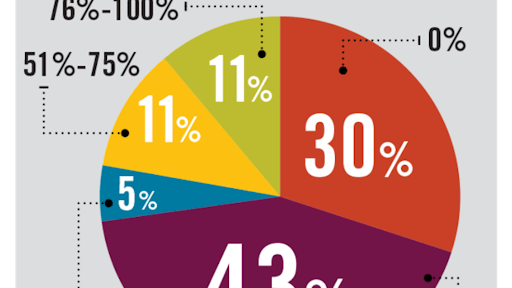 Sanitary transport practices have gotten a lot of attention of late, thanks to the Food Safety Modernization Act (FSMA). All players in the supply chain are examining sanitary protocols more closely.
Last July, Hanover Research, based in Arlington, Va., surveyed American Trucking Associations (ATA) members about the practices and protocols they follow to ensure the sanitary transportation of food. The survey was conducted on behalf of ATA and Thermo King Corp.
The study's purpose was to inform modifications to the FSMA's sanitary transportation rule. Eighty ATA members participated in the survey, which shed light on some important safety and sanitation issues for food transportation.
Temperature violation costs
One of the survey's key findings was the cost of temperature violations. Respondents ranked temperature violations as the top non-conformance issue they are facing. The average cost of rejected shipments as a result of non-conformance is around $20,000. However, it can range from $300 to $80,000. Close to a third of respondents said rejected shipment costs range from $1,000 to $5,000, while nearly a quarter pegged it somewhere between $10,000 and $20,000.
When you multiply that cost against all the rejected shipments that do occur, it's not hard to recognize the need to manage this cost. Whatever the actual cost of rejected shipments, it undoubtedly weighs heavily on the entire food supply chain.
Overall, the survey found that safety control measures leave a lot of room for improvement.
Nearly half of the drivers do not pulp cargo or measure cargo temperature prior to accepting a load. Less than a quarter perform these actions 76 percent of the time or more.
Most respondents (68 percent) do not issue their drivers pulp or temperature accept/reject standards.
Eighty-two percent do not have drivers fill out in-transit monitoring logs for refrigerated cargo shipments, while an additional 7 percent are unsure if they do or not.
While most carriers limit their exposure to non-temperature controlled docks, the record is far from perfect. More than a third of respondents said between 1 and 25 percent of their refrigerated cargo comes from non-temperature controlled docks.
Driver training is another area that needs work. Over three quarters of respondents provide training to new drivers on refrigerated units and loads. But the majority (62 percent) do not issue loading guidelines to drivers.
Wide variance exists on how much training carriers provide drivers on refrigerated loads. Nearly a quarter of the respondents said they give drivers no training on refrigerated loads while 10 percent provide one hour or less.
Telematics slow to take hold
As for telematics systems and electronic data loggers, these innovations are not yet widely used. Which is understandable, given the costs involved. For those carriers who use telematics, the average cost of installation is close to $87,000. The study did not indicate what size fleets are using telematics, but based on the number above, it's safe to assume the larger fleets do most of the investing in this area.
But whatever the size of a company's fleet, telematics and electronic data loggers is an area where the most progressive players are going to distinguish themselves from the pack.
Sanitation practices is another area that needs work. There is a wide variance in how frequently trailers interiors are washed with 180-degree water and disinfectants. Nearly a quarter said trailer interiors are never washed with 180-degree water and disinfectants.
No doubt, a lot of work needs to be done in improving sanitary transportation. Most carriers are committed to safe practices, but they need to take a closer look at what they are doing to accomplish this goal.
Safety and temperature control technologies have made big strides in recent years. But before carriers can invest in these systems, they need to conduct a cost-benefit analysis.
In the meantime, a lot of work needs to be done in the more traditional areas such in-transit monitor logs, cargo pulping, temperature measuring and driver instruction.
The survey gives carriers a good benchmark to make the investments that will allow them to distinguish themselves from the pack.