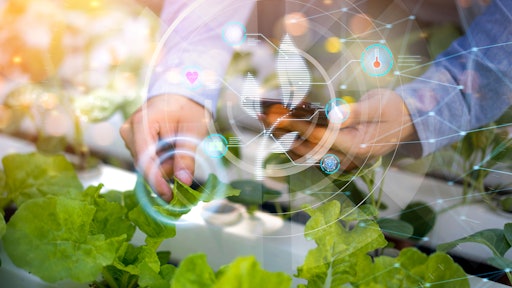 Have a nice day AdobeStock_374460072
From enhancing visibility, building resiliency and mitigating risk to leveraging smart technologies and automated software, a digital supply chain means different things to different companies.
Yet, digitization itself presents the same benefits across the board in moving temperature-controlled foods in a safe and efficient manner.
Marina Mayer, Editor-in-Chief of Food Logistics and Supply & Demand Chain Executive, talks exclusively with Laurence Brenig-Jones, VP of product strategy and marketing, RELEX Solutions, about how a digital supply chain streamlines the journey of food from production to outlets.
CLICK HERE to read the article in full.
Food Logistics: What is a digital supply chain? What does it mean for the cold food chain?
Laurence Brenig-Jones: A digital supply chain uses new technologies to manage and improve supply chain processes, sharing information instantly. It enables seamless integration, automation, and collaboration across all stages of the supply chain, from sourcing and production to distribution and customer service.
For the cold food chain, a digital supply chain can enable enhanced efficiency, traceability, and quality control. By leveraging digital tools and data-driven insights, retailers, consumer goods brands, and wholesalers can better monitor and manage temperature-sensitive products, ensuring optimal storage conditions and prompt deliveries. This results in reduced spoilage, improved product quality, and increased customer satisfaction. Additionally, a digital supply chain allows for better demand forecasting and inventory management, minimizing waste and optimizing resource use in the cold food chain.
Food Logistics: Describe some technologies and solutions defining the future of digital supply chains.
Brenig-Jones: The future of digital supply chains is being molded by new technologies, including:
· Advanced analytics helps businesses use data to better understand performance and use granular insights to model future plans, especially for inventory management.
· Machine learning improves forecasting and helps identify and leverage relevant supply chain trends.
· Cloud-based solutions allow for instant collaboration and easier access to data that can be quickly processed at scale.
· Lastly, new artificial intelligence capabilities are revolutionizing decision-making and further streamlining intricate processes.
Together, these technologies make supply chains more efficient and adaptable.
Food Logistics: Where to start? How do companies begin the journey toward a more digital supply chain?
Brenig-Jones: Once you're clear on your goals, evaluate your current supply chain processes and identify areas that can benefit from digitalization. Look for technology solutions that can address those specific pain points and integrate with your existing systems. Consider cloud-based solutions that offer scalability and flexibility so they can support future changes to your business. It's also important to involve your employees in the process and provide training to ensure successful adoption of the new technology. Finally, continuously monitor and evaluate the effectiveness of the digital solutions and adjust as needed to ensure ongoing success.
Food Logistics: What sectors are more impacted/affected by digitalization than others and why?
Brenig-Jones: Retail is one of the sectors that is most impacted by digitalization due to the fast-changing customer preferences and the critical role of supply chain management in meeting those expectations. Retailers are upgrading their systems to keep up with the pace of change, with an average upgrade cycle of 5-10 years. Other sectors that are also heavily impacted by digitalization include finance, healthcare, and manufacturing, as they are all undergoing significant transformations in response to technological advancements.
CLICK HERE to read the "Breaking Down the Digital Supply Chain" article in full.
Food Logistics: From food production to the retail and/or foodservice outlet, how does a digital supply chain transform the way food is moved from Point A to Point B?
Brenig-Jones: A digital supply chain streamlines the journey of food from production to outlets. By using advanced technologies, it ensures real-time monitoring and data-informed decisions. The result is efficient inventory management, reduced waste, and precise demand forecasting. Customers see fresher products and consistent stock levels. Additionally, this digital approach enhances collaboration among stakeholders, bolstering transparency, traceability, and consumer trust. Overall, it crafts a more efficient, transparent, and responsive food supply chain.
Food Logistics: Describe some other trends and challenges with regards to digital supply chains.
Brenig-Jones: Seeing the whole process and keeping it secure are more important than ever because of growing challenges in the market. Focusing on sustainability, training, and flexibility is important due to changing industry needs. Building good partnerships is key for bringing in new ideas and staying ahead in the market.
Food Logistics: What are some things not addressed above that may be pertinent to our readers?
Brenig-Jones: When transforming your supply chain, the human aspect is crucial. Focusing on training, managing changes, and promoting constant improvement leads to long-term success. It's equally important to seamlessly integrate supply chain systems with other business functions for increased efficiency and data accuracy. Staying updated with industry changes and new technologies is essential for competitiveness. In short, focusing on technology, processes, and training will help improve your supply chain in the long run.
CLICK HERE to read the article in full.