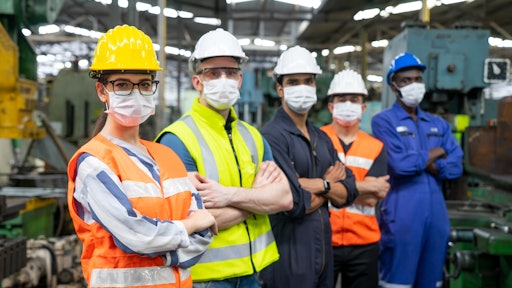 godji10 - stock.adobe.com
As the labor shortage and other ongoing challenges continue to plague the manufacturing and material handling industries, managers are struggling to find new ways to attract talent and drive further innovation within their organizations. Training is a fundamental component to achieving an optimized operation and is critical to ensuring new operators are properly prepared and confident in their role before stepping foot on the facility floor. Advancements in training have not only revolutionized warehouse operational efficiency but also played a critical role in boosting operator confidence and reinforcing proper operator behaviors. Today, manufacturers are collaborating with technology companies to design innovative training solutions, like virtual reality (VR) simulators, that can serve as educational tools to assist in attracting new generations, educating new and existing forklift operators more efficiently and increasing employee retention rates.
But, how can an operation reinforce the importance of continuous training and education to employee well-being? By making them part of the company culture.
Creating a culture that prioritizes well-being
When leaders prioritize well-being, it becomes part of the organizational beliefs, making it a priority in employees' minds. Providing employees with training and standards that encourage best practices can bring numerous benefits, from fewer operator and facility incidents to higher morale and productivity.
However, creating a culture of operator and facility well-being doesn't happen overnight. It requires an ongoing effort by both management and employees to keep everyone accountable for their decisions and behaviors. The result is a culture in which all employees will prioritize and demonstrate this commitment by being proactive. One way to help jump-start this process is to invest in ongoing training tools built for operators to continually improve their processes and behaviors before stepping onto the warehouse floor. One piece of technology helping to attract, retain and educate manufacturing and material handling operators is VR technology.
Offering hands-on, engaging education for operators
Leveraging VR as an instructional tool allows operators to learn the actual equipment and controls they will be using on the floor while in a simulated environment. A VR simulator lets instructors work alongside operators as they go through hands-on instruction modules of guided lessons that build upon principles learned in earlier lessons, providing a consistent experience and reinforcing desired behaviors. This allows instructors to monitor operators' performance throughout lessons and provide real-time, personalized feedback.
As operators progress through the modules, the software uses scenarios that simulate an interference on the warehouse floor to prepare operators for the unexpected. This helps operators familiarize themselves with conditions in the operating environment and work through them in a controlled setting rather than experiencing them for the first time on the actual warehouse floor. With proper preparation, operators can feel more comfortable and confident in their surroundings and truly focus on the job at hand. Plus, it reduces the number of lift trucks needed and equipment downtime because VR doesn't require the use of an actual lift truck. Receiving one-on-one coaching through these types of experiences can help potential candidates lacking industry experience to learn the skills needed to excel in a warehouse environment.
Increased efficiency and productivity
More engaging and efficient instruction means a more productive warehouse. This type of instructional VR technology aims to optimize throughput by creating more productive operators. Its data-driven approach can immediately pinpoint an operator's weak areas, so administrators know whom to target for additional instruction and how to best personalize the instruction. With the help of this data-driven visibility, the instructor can more easily identify inefficiencies and focus time and effort on refining processes that need more time. This allows the entire program to be engaging and enriching for each participant, who can revisit and relearn only what is needed. The tool's software also quickly identifies an employee's skills and abilities so instruction can be best tailored to individual needs.
These insights and additional instructor feedback can help operators reach higher proficiency levels and run more efficiently. There is no need for additional warehouse space with infrastructure when operators use the VR simulator, so setup and takedown are quick, enhancing overall productivity and allowing operators to get back on the floor by reducing operational downtime.
Employee value and retention
Although a key benefit of a VR educational tool is to help teach new operators efficiently, it also can be used for existing operators. By investing in innovative technology to help further educate existing employees, it shows that a company sees its employees as valuable assets. It provides the opportunity to learn with innovative workplace tools and solidifies a company's commitment to its workforce while advancing an operator's skill set. By prioritizing professional development and learning opportunities, a company can increase employees' likelihood of staying in a position long term and improve overall operator well-being.
The need to shrink the labor gap and find skilled workers has become a focal point for many industries, especially those in manufacturing. Manufacturing organizations using VR and other innovative technologies as a learning tool have a unique opportunity to attract new employees, including millennials and digital-savvy candidates, who may have not otherwise considered this career track. Employers can harness this technology and educate employees in ways they understand and find engaging, which can lead to increased plant efficiencies, higher levels of confidence and stronger employee retention rates.
Inspiring all employees to be accountable is imperative for achieving a productive work environment. Supervisors can set the course by continuous follow-through and reinforcing proper protocols and guidelines. Making the choice to prioritize well-being can be done in many ways, such as highlighting National Forklift Safety Day in June or other similar holidays, creating an incentive program and celebrating the little improvements seen daily. Companies can only be assured that the continuous improvement steps they've implemented are successful when they can document with certainty that everyone in their facility supports and reinforces the proper expected behaviors.