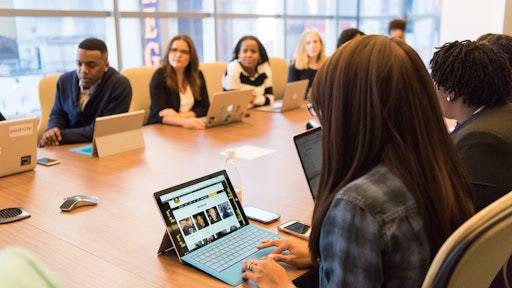 Pexels
A recent report from the Conference Board shows that average growth of the U.S. economy is around 1.8% each year. This year, the board has forecast a U.S. growth rate of 3.8%. Each sector has a role to play in that increased production, the foodservice industry being no exception. Already, a return to normal activity is creating more demand for food and beverage services. Resumed business travel, meetings, conferences and events will only compound.
The sector relies on a delicate ecosystem of foodservice producers and distributors, with the foodservice supply chain carrying the system. "Busy," "congested" and "chaotic" have been used to describe the current supply chain outlook, conditions that are expected by some experts to last until at least the middle of 2022.
The labor shortages rearing their head within that system are cause for immediate concern. The recent California labor shortage left 111 container ships bobbing at sea-level for weeks without the necessary on-dock teams to unload the supply. Those horror stories have a specific meaning within the foodservice space; nothing is more unrecoverable as food and beverage supplies if left unloaded.
Previous supply chain bottlenecks are receding with the rollout of the vaccine, including the reduced availability of materials and some of the safety concerns restricting in-person activity. The availability and interest of the contingent workforce is, however, a persisting bottleneck. An inability to recover those workers poses a real threat to sector activity. Here are three challenges facing the industry, and three necessary next steps.
Challenge: Workers are in the driver
's seat
For workers, the prospect of finding work has been easier than expected. Fewer companies are requiring college degrees, and roles in the job market have recovered quickly. The power of selection is in the job seeker's hands. In 2020, more job applications were sent in from a mobile device than from a desktop; 61% of applications came in through smartphones. Companies who have streamlined the mobile application experience can expect an increased applicant pipeline.
Click here to hear more about the shortage:
Opportunity: Craft a friction-free job listing
Job postings that include the worksite, the specified shift hours if they're available and the exact hourly rate capture the candidate's attention. If a sliding scale is offered, candidates assume the lower end of the rate will be what they're offered and often lose interest in the post. Communicate the details of the job and make sure it's easy for the candidate to be considered; the numbers of applicants will quickly go up.
Challenge: Even with a higher baseline rates, warehouses are understaffed
When the labor force was rearranged, it was also reconsidered. Industries that normally pulled from parallel talent pools saw an increase in candidate competition. Workers are rethinking their standards, and they're willing to pivot industries if their demands aren't met. As a result, it doesn't simply matter what the average hourly pay is within the logistics industry; it also matters how that rate compares to neighboring sectors.
Opportunity: Support wage raises with flexible offerings
Employers need to offer competitive wages with full transparency to understand the going rate within their industry and how that compares to other sectors. They need to detail other financial incentives like signing or retention bonuses at the start of the candidate interaction. Prospective workers need a clear picture of what they'll be able to earn.
From there, certain benefit offerings are seeing outsized rewards within the talent pool. Flexible scheduling and flexible unpaid time off has been one of the best ways to earn candidate affinity. Medical benefits, frequent payments and improved on-job protection are important post-COVID-19 offerings that cost less than dealing with constant employee turnover.
Challenge: Applicants are dropping off during the application process
Outdated hiring practices are slowing applicants down. The red tape of resumes, drug tests, background checks, references and multiple-step electronic applications are no longer worth their weight. The impact of those extra steps has proved to be very low and each one runs the risk of causing an applicant to lose interest.
Opportunity: Reconsider what vetting is necessary
Implement an expedited application process where applicants were able to navigate to the company website, choose a location and shift and watch a short video about the job. An electronic form collects basic information, and candidates are contacted through email within 30 minutes, letting them know whether or not they'd been accepted for the position.
This accelerated process is necessary for building a strong contingent staff. Employers who need to hire at a high volume for similar positions will be well-advised to reconsider every step of their own process. By removing any redundant steps and ensuring every input is streamlined, candidates will be engaged throughout the process, creating an uptick in applications and a higher likelihood of filling roles faster. With more competent workers and less hiring costs, employers will be back on track for the next phase of recovery.