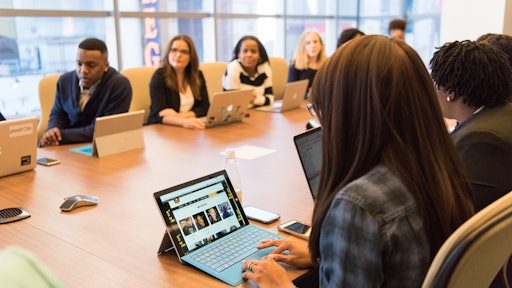 Pexels
There are many different kinds of professionals in the supply chain industry. Some who entered the field equipped with degrees and certifications. There's some who skipped college and went straight to the trades. When the Coronavirus disease (COVID-19) hit, there's some who entered just to be in a secure, "essential" place of business. Then, there's some who did some schooling and are now gaining experience.
Whatever the motive or goal, the labor shortage in the supply chain industry is real. And, it's hurting how companies operate and plan for the future.
For example, the American Trucking Association identified a shortage of approximately 60,800 drivers in 2018, a shortage that worsened to 80,000 fewer available drivers by 2020.
Carriers ranked the driver shortage issue as their top concern for the fourth consecutive, according to an American Transportation Research Institute study.
A recent report from Coyote Logistics LLC found companies posted over 14 million job ads for truck drivers between 2019-2020.
The National Association of Manufacturers (NAM) Manufacturers' Outlook Survey continues to find that attracting and retaining a quality workforce is one of the top business challenges for manufacturers.
And, even before the pandemic, Deloitte research projected that 2.4 million factory jobs could remain unfilled through 2028.
These are big problems that will continue to worsen if young talent doesn't enter the supply chain industry. And, to do so, we have to educate them. We have to support them. We have to provide opportunities for advancement and inclusion. We have to sell the supply chain industry – why it's an important industry to work in, why your role matters, why the supply chain matters.
That's why, here at Food Logistics, we developed the Supply Chain Learning Center (SCLC). It's our way of doing our part to connect companies with young talent looking to enter the supply chain world.
SupplyChainLearningCenter.com offers courses from current partners with certifications ranging from procurement, planning and inventory management to logistics, transportation, distribution and supply chain management as a whole.
Expand your knowledge on the supply chain. Increase staff development opportunities. And, enhance learning growth within your company. The labor gab will never tighten if the industry doesn't put forth the effort to adopt diversity, equity and inclusion (DEI) efforts; implement retention programs; embrace young talent and look outside of the box. Today's skillset requirements are entirely different from the role companies were trying to fill 5-10 years. Possibly even different from February 2020, just before COVID-19 hit.
Automation, robotics and other emerging technologies help employees do their jobs better and faster. Cloud-based solutions eliminated pen and paper. And, today's youth want different things out of their career.
But, at the end of the day, supply chain education still matters. Certificates arm candidates with the knowledge and know-how needed to effectively work in a field so plagued by disruptions.
There is no better time to expand your knowledge on supply chain than right now. Together, we can tighten the labor gap and bring supply chain management to the forefront. Because the supply chain matters.