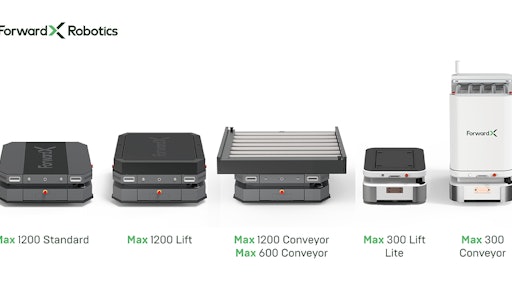 ForwardX Robotics
ForwardX Robotics announced the launch of 6 new products under its Max range of AMRs: Max 300 Lift Lite, Max 300 Conveyor, Max 600 Conveyor, Max 1200 Standard, Max 1200 Lift, and Max 1200 Conveyor. All of the new robots are built to safely and efficiently automate material handling within production and warehousing facilities. The product launch coincided with ForwardX's appearance at CeMAT Asia last month, where the new products were on show for visitors to see.
"At ForwardX, our goal has always been to develop mature solutions that actually deliver real value right now. We understand that the manufacturing industry is a complex one with a variety of circumstances and pain points specific to each manufacturer," said Nicolas Chee, founder and CEO of ForwardX Robotics. "We recognize the huge opportunities to add value to production facilities and our new robots aim to meet the needs of all manufacturers no matter what their production floor looks like."
As part of the wider Matrix automation platform, ForwardX offers a range of vision-first mobile robot solutions for both logistics and manufacturing facilities. Using sensor fusion to make sense of data collected from 2D and 3D cameras, 360° LiDAR coverage, and IMUs, among others, ForwardX AMRs navigate autonomously through facilities and adapt to dynamic environments by avoiding obstacles and adjusting routes on-the-fly. Designed to work as part of a wider fleet, ForwardX AMRs are orchestrated by the f(x) Fleet Manager software system using machine learning algorithms to best group, assign, and dispatch tasks across the fleet.
"Through deep conversations with our current customers and interested prospects, we have been able to identify the problem areas that manufacturers wish mobile automation could address more effectively. We're pleased to be able to expand our offering to address their needs and open up our solutions to a whole range of new scenarios," said Nicolas Chee. "We're currently piloting our new products across a number of facilities and we continue to see some very encouraging results."