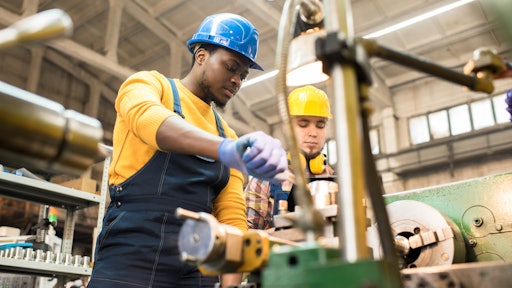 Seventyfour AdobeStock_193971927
Despite the myriad challenges presented on the fronts of everything from technology and automation to employee retention and lingering supply chain issues, the 2024 State of Manufacturing report remains optimistic on what lies ahead, according to Wipfli LLP. The resilience demonstrated by manufacturers throughout the pandemic has not only allowed them to weather the storm but also fostered a positive outlook for the future.
"Manufacturers have shown remarkable resilience throughout these challenging times, a testament to their ability to adapt and thrive amidst uncertainty," says Bill Boucher, manufacturing, retail and distribution leader at Wipfli. "However, it's imperative that we address critical areas such as employee retention, data security and rising costs tied to inflation. Our research shows while there are many obstacles, there is even more untapped potential in the areas of digital technology and AI that need consideration as we move forward into 2024."
Key takeaways:
88% of respondents anticipate increased revenue for 2024. Strategically, most manufacturers surveyed are targeting new customers more frequently than existing customers and plan to focus on increasing product sales in existing markets in the coming year. This strong optimism underscores their confidence in rebounding from previous setbacks while leveraging emerging opportunities in an ever-evolving market.

Employee retention emerged as one of the key hurdles highlighted by respondents during the survey. Manufacturers are using increased pay and bonuses, better benefits and other perks to keep and attract top talent.

Data security poses another pressing challenge, where 35% of respondents said they had three or more incidents of unauthorized access to data in the previous 12 months — a 10% decrease from 2021 — largely due to the 70% of manufacturers that increased their investment in cybersecurity measures.

Additionally, supply chain challenges and rising costs tied to inflation emerged as other points of concern voiced by those surveyed. Both challenges remain among the highest macroeconomic concerns for manufacturers along with the threat of a recession.

99% of manufacturers overwhelmingly prioritize digital advancement; however, only 47% have harnessed robotics or automation capabilities thus far — a statistic reflecting untapped potential within this realm.
"The fact that 71% of manufacturers intend to increase Industry 4.0 technology investment in 2024 speaks volumes to the potential and direction this industry is headed," adds Boucher.