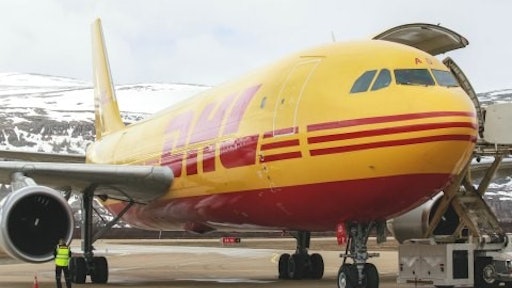 DHL Global Forwarding, the air and ocean freight specialist of Deutsche Post DHL Group is going to accelerate the supply chain for the North-Norwegian seafood industry. Starting today, DHL will ship live crabs and seafood from the Lakselv Airport Banak in North-Norway to Asia and Northern America. On dedicated weekly flights, DHL transports the fresh seafood to the DHL terminal in Oslo, from where the freight is sent to South Korea and other destinations as Japan or the United States. From the origin only 100 km from the North Cape to its destination in Asia the whole logistics is exactly timed, ensuring the shipments are delivered in perfect condition. Today's first flight will be officially welcomed by the State Secretary Ronny Berg of the Norwegian Ministry of Trade, Industry and Fisheries.
"Live and frozen fish as well as seafood are just some of the food items that DHL Global Forwarding has experience shipping in the U.S.," said Tim Robertson, head of Air Freight, DHL Global Forwarding, Americas. "Thanks to our team of experts who understand temperature control requirements, regulations, food safety and quality control guidelines, this seafood and fish is able to get to market and to consumers in the most expedient way possible."
Transporting the fresh seafood by plane allows DHL to cut the lead-time nearly by 50 percent. The shorter lead-time ensures that living crabs and other fresh seafood arrive at their destination in best order. Besides living king crabs, snow crabs and shrimps DHL will also take care for the transportation of various sorts of white fish like cod, haddock and pollock, sea urchin, scallop and salmon. As the airplanes are provided by DHL Express and the freight process is handled by DHL Global Forwarding this new service is another proof point for the successful collaboration of the DHL 'family of divisions' at Deutsche Post DHL Group.
"Time is of the essence when it comes to delivering fresh seafood of the very best quality. Norway is a long country, and with a large proportion of seafood being produced in the North, this air freight route is an important contribution to efficiently reaching seafood consumers across the world," says Bjørn-Erik Stabell, Marketing Manager for Salmon & Trout, at the Norwegian Seafood Council.
DHL is aiming to increase the frequency of deliveries from Oslo to Asia to three flights per week. From Oslo, almost 90 percent of the fish is flown directly to Seoul in South Korea, while approximately ten percent is further directed to destinations in the United States, Japan and China.