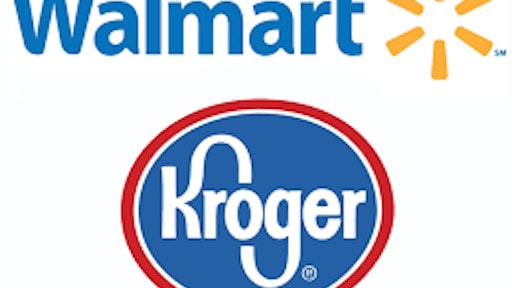 Walmart's groceries cost about 4 percent less than Kroger's, according to a recent price check by Barclays.
Analysts compared prices on a basket of 78 identical items at Walmart and Kroger stores in Nashville, Tennessee, to determine which retailer was cheaper.
Walmart offered lower prices than Kroger on 74 percent of the items checked.
Barclays found the biggest price differences between the two retailers on nonperishable and frozen items, where Walmart had a 5.6 percent price advantage over Kroger.
Kroger was cheaper than Walmart in the "fresh" category, however, which includes proteins, dairy, and vegetables.
Both Walmart and Kroger have been aggressively lowering prices to better compete in the increasingly crowded grocery market.
Barclays analysts said Kroger may have a hard time catching up to Walmart on price.
Read more about the grocery price war HERE.