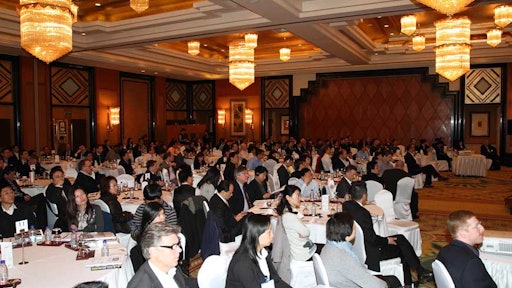 GlobalSCM Group in providing leading integrated recourse platform, today announced that executives from Nestle, Beiersdorf, Kimberly-Clark, VF Corporation, Moen, Estee Lauder, Perfetti Van Melle, Energizer, Abbott, Sony Mobile, Vancl, Yihaodian, WERC and APICS served as keynote speakers for the Consumer Goods Supply Chain Officer Summit 2012, held on November 28-29 in Shanghai, China, supported by Warehousing Education and Research Council (WERC), The Association for Operations Management (APICS), Supply Chain Council (SCC).
At this year's conference, under the conference theme of "What is the key to rethink supply chain configuration in the volatile market, today and in the future?", keynote speakers will share their insights on various topics including best supply chain practices, industry's challenges and future trends, and innovate new winning supply chain and logistics strategies.
This year's event agenda will cover 5 stream sessions:
"Creating a resilient supply chain to mitigate risk on the growth" with Daniel Weber, Chief Supply Chain Officer, Beiersdorf; Keith Carter, Executive Director Global Supply Chain Intelligence, Estee Lauder; Angela Zhang, Global Sourcing Director, Sony Mobile; Fanny Chen, Senior Director of China Supply Chain & Operations Development, Abbott Nutrition;
"Designing and operating a demand-driven consumer value chain" with Atanu Chakrabarti, VP Supply Chain, Ferrero; Arun Kumar, Regional Director, Supply Chain Asia Pacific, Perfetti Van Melle;
"Best practice for a truly efficient and effective supply chain to increase competitive advantage" with Michael Mikitka, CEO,

WERC

; Bill He, Vice President, Strategic Sourcing Global Procurement,

Kimberly-Clark

; Chi Kin Leung, Director Global Supply Chain, Schick and Wilkinson Sword, Energizer; John Earley, Vice President Global Supply Chain, Electrolux; Chris Bonner, VP Global Supply Chain, TOMS;
"A new era of value chain collaboration" Muhammad Zahid, Senior Vice President, Corporate Supply Chain, Great China, Nestle; Nancy Uridil, Senior Vice President of Global Operations, Moen;
"Success, challenges, and a vision for future supply chain" with Colin Browne, VP of Sourcing – Footwear, VF Corporation; Jo Verbeek, President China, Staples; Jonathan Wang, Director of Supply Chain, Yihaodian; George Jia, AVP, Supply Chain, Vancl.
This event is positioned as the leading forum where top consumer goods supply chain executives convene for a roles-based discussion that spans from demand planning to logistics, collaborative execution and from supply chain network design to supply chain visibility. Imagine a conference which brings together the 200+ senior delegates from the retail and consumer goods industry worldwide to meet in an intimate and networking-focused format, imagine an in-depth program covering all your top supply chain challenges delivered by experts from the international leading companies - that event is Consumer Goods Supply Chain Officer Summit 2012, the world's most important gathering of consumer goods supply chain leaders!
More conference information on http://consumergoods.sco-summit.com/2012/