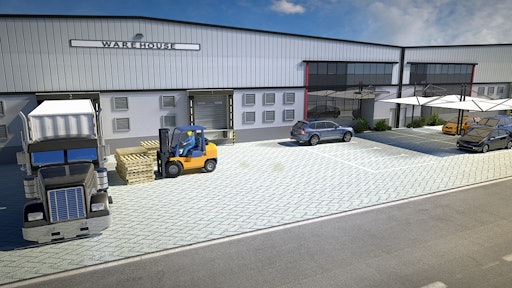 Abu Dhabi, United Arab Emirates: Khalifa Industrial Zone Abu Dhabi (Kizad) began pre-leasing for its pre-built warehousing projects in both its Free Zone and Non-Free Zone areas, providing some of the largest, best located and best specified units ever seen in the UAE.
The two projects, which will create over 220,000m2 of storage and distribution warehouses, will be worth more than AED 600 million on completion.
Kizad's pre-built warehouses are situated close to the new Khalifa Port, the region's most advanced new deep water container port, and within a few minutes' drive of both the E11 and the extension of the E311 Emirates Road. Being only 35km away from Abu Dhabi International Airport, 52km from the new Al Maktoum International Airport, 60km from the capital's city centre, and 45km from JAFZA, their location is unparalleled in the region. The unique location adds value to occupiers looking for quality warehouses who need to get their goods in and out quickly and efficiently.
Commenting on the announcement, Khaled Salmeen, executive vice president of Industrial Zones at ADPC, said: "The leasing of pre-built warehouses on Kizad marks one of the most important milestones for tenants to date, offering a ready-to-use solution for companies looking for large warehouse space in either our free zone or non-free zone areas. Kizad provides organizations easy access to local, regional and international markets, with a low operating cost environment and a meticulously designed setting to make doing business easy. Today, we emphasize our commitment to support our partners by offering lease agreements on these state of the art warehouse facilities."
Scheduled for completion in Q2 2013, Kizad's aim is to target larger occupiers looking for high quality space that compliments their business and its two schemes provide units from 1,000m2 upwards. In Kizad's free zone area, an occupier can lease a single unit of over 21,500 m2. In its non-free zone area the largest single block is over 11,000m2.
Mr. Salmeen added: "Each of Kizad's pre-built warehouse schemes will be developed in three phases: the first phase of each will comprise approximately 40,000m2 of prebuilt warehouses with a mixture of modular units from 1,000m2. Each unit will include an office area; have flexible loading options and the ability to be fully air-conditioned or to include cold stores. The warehouses are being built to international standards of environmental responsibility, and will achieve Pearl 2 rating under the Estidama scheme, proving their world-class quality and efficiency."
The concept of Kizad's prebuilt warehouses is to deliver units that have been designed to suit the needs of each tenant. While simple in both design and layout, they provide a significant degree of flexibility never seen in this region before; they are also highly cost effective with rents well below those seen both in other free zone and non-free zone locations.