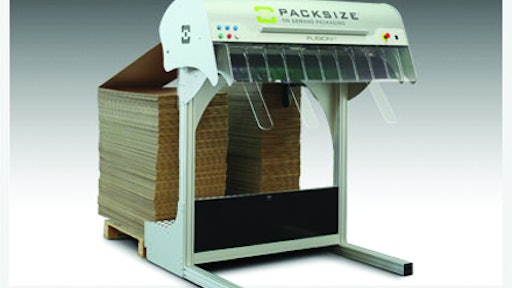 Salt Lake City: Packsize International LLC announced the availability of the iQ FUSION(TM), the company's first generation in a new series of corrugated converting machines.
Introduced at the WERC/Wire Conference in Atlanta, the compact and intelligent design of the iQ FUSION gives Packsize the ability to reach a broader set of customers that want to reduce the time and cost of their packaging operations.
With a working footprint of only 48 square feet and few management requirements, the iQ FUSION can be placed in just about any pack line, requires no capital investment, and uses corrugated z-Fold for the box-making process. The Packsize EM7-25, recognized last week with an Innovation Award, will continue to be the best choice for customers with larger box-size needs.
One of the crucial functions for companies that manufacture and distribute product is the ability to pack and ship their items in a highly efficient and resourceful manner. According to a recent study conducted by Peerless Research Group, more than four out of five respondents asserted that the packaging process is considered a highly important aspect of their materials handling operation. The study's findings will be available later this month.
With the iQ FUSION, Packsize resolves inventory and shipping complexities through the ability to create a custom-sized box for every product a company ships. This efficient and cost-effective, just-in-time packaging system increases a company's total savings by an average of 35 percent. Today, Packsize is pioneering On Demand Packaging, a technology-enabled corrugated packaging production process that results in less waste, lower shipping costs, decreased damage rates, and increased customer satisfaction.
For more information, contact Melissa Clyne at: melissa@scribepr.com or Brandon Brooks at: brandon.brooks@packsize.com
Source: Packsize International LLC