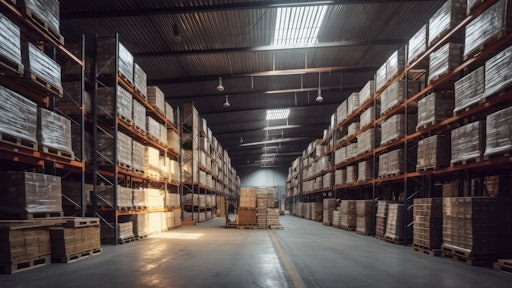 GeorgLösch/stock.adobe.com
With rising labor costs, surging warehouse rents and a shortage of workers, retailers and distributors are under the gun to maximize efficiency, productivity and cost containment in the warehouse. Yet many organizations still rely on labor-intensive paper-based processes to manage order fulfillment across thousands or even tens of thousands of SKUs, severely restricting their visibility into warehouse operations. Without real-time visibility of the entire flow of inventory inside the warehouse—Goods In, storage, labelling, pick-pack-ship, inventory management, returns—warehouse managers are operating in the dark, hindering fulfillment capacity and speed, compromising transparency and traceability, and sacrificing profitability.
Whether in the context of physically optimizing the labelling and storage of items to simplify put-away and picking workflows or digitally automating inventory and returns management to catalyze data-driven decision-making, a technology environment that leverages barcode scanning to provide deep visibility into warehouse operations is critical for sustained profitability—especially given the costly impact of macroeconomic factors on fulfillment performance and growth.
A view into the Goods In process
While logistics professionals are familiar with the "Quality in, quality out" refrain, when it comes to the warehouse, this principle is only as useful as the accuracy and reliability of the Goods In process. If companies are relying on the patchy (at best) visibility of a paper- or spreadsheet-based Goods In process, fulfillment performance suffers. But by implementing a Goods In process driven by barcode-based workflows, retailers and distributors can track and monitor incoming shipments in real-time with pinpoint accuracy to quicken the order fulfillment lifecycle.
Working with mobile handheld barcode scanners, the warehouse team can reconcile an incoming item against a purchase order, without the hassle of time-consuming, error-prone manual paperwork. A simple scan validates the order, ensuring the correct goods in the right quantity have been delivered and employees can view the product record in the system. In the event a product record doesn't yet exist, the warehouse employee can easily arrange a photo shoot of the article, as needed.
Furthermore, when quality checks are complete, items can be made available to customers online instantly, accelerating the sales cycle to drive more revenue and eliminating oversales thanks to accurate inventory levels reflected in the online storefront.
Optimizing storage
A static warehouse map is challenging to manage and relies on pickers manually communicating updates from the warehouse floor—a largely inefficient process. By leveraging barcode-enabled workflows, retailers and distributors have real-time visibility into the movement of goods throughout the warehouse and can take advantage of the benefits of chaotic storage. This system of putting away goods based on how and when they're expected to be sold helps businesses increase fulfillment efficiency and productivity and easily scale to manage seasonal fluctuations while maximizing storage capacity to save costly warehouse space.
For example, for big pallet shipments tied to an upcoming drop or sales campaign, putting them closer to the packing area minimizes the length of walking routes to save pickers time and effort. Similarly, when the pick face in the warehouse can't be used to store big pallet shipments, identifying a replenishment/bulk area for storage optimizes available space.
Driving picking performance with barcode labelling
Barcode labels drive fulfillment accuracy. When labels are scanned and married to bin locations in the warehouse, technology can then direct pickers to an exact location, helping them easily find and select the right items in the correct quantities. Scanning labels instead of relying on a paper-based pick process provides instant order verification, dramatically reducing errors to improve the customer experience and minimize the cost of returns.
If items are too small to be labelled individually, companies can affix the respective item barcodes to fixed bin locations or open storage boxes. For example, using open boxes streamlines the picking process by eliminating the need to pull boxes off storage shelves—and put boxes back—every time an item is picked. The picking team can quickly see articles in the open boxes, expediting order fulfillment to reduce labor costs and keep revenue flowing.
By equipping pickers with barcode scanners integrated with an ecommerce warehouse management system (WMS), retailers and distributors can employ guided walking paths and a range of picking techniques to drive operational efficiency and fulfillment capacity while reducing the physical demand on workers. For instance, multi-order picking can group orders that have something in common, such as size/weight, requested delivery time or order source (i.e., orders from an ecommerce marketplace whose dispatch times are subject to SLAs of the platform) to boost efficiency; zone picking and sorting at put walls can help minimize picking routes in larger warehouses to save time; and picking orders and sorting to a trolley (tote picking) is an efficient option for similar-sized orders.
Enhancing the customer experience with inventory visibility
Real-time visibility into warehouse operations improves inventory accuracy and tightens inventory control, helping retailers and distributors track and organize on-hand stock at a granular level to avoid the need for frequent cycle counts, while strengthening inventory management capabilities to improve demand forecasting.
Scanning items with a mobile handheld device during the picking process also has the potential to trigger background processes, such as updating inventory in the online store. This automated process eliminates the need for warehouse staff to manually update inventory in the shop backend, reducing errors and freeing up employees' time to focus on value-added tasks.
Equally importantly, customers consistently see accurate, up-to-date availability of goods they want to purchase in the online storefront, helping drive inventory turnover, eliminating oversales and costly stockouts, and ensuring customers have a positive brand experience.
Digitizing returns to curtail costs
Ecommerce returns are a major cost center for organizations—shipping, restocking, potential losses due to damaged or unsaleable items—are often a source of friction for customers. However, digitizing the returns workflow to automate the assessment and handling of returns facilitates faster customer refunds or exchanges, transforming returns management into an opportunity to delight customers and build brand loyalty while providing opportunities to mitigate the cost of doing business.
By digitally capturing returned goods using a barcode-enabled returns workflow to ensure full visibility into the process, retailers and distributors can leverage data-driven insights (e.g., return reason codes) to identify root causes of returns and address those issues to reduce return rates and associated costs. For instance, returns data can help the sourcing team identity and potentially remove items with high return rates or address recurring issues with manufacturers. In another example, the product team can enhance product descriptions or update sizing information to minimize returns, improving the customer experience and reducing related costs.
It's all about happy, returning customers
By prioritizing real-time visibility into warehouse operations, retailers and distributors are better positioned to meet ecommerce demand at higher levels of customer satisfaction. With barcode-based scanning tied to an ecommerce WMS, organizations can leverage efficiencies across Goods In, put-away and pick-pack-dispatch processes, easily scaling in response to peaks and valleys in volume to get orders out the door to customers faster using less resources—a boon to warehouse teams who may be already stretched to the limits. Plus, access to real-time inventory data helps optimize storage, inventory control and returns management to enhance decision-making, reduce operational costs and strengthen the bottom line. Most importantly, customers are the big winners, with the benefits of streamlined warehouse operations reflected in their efficient, seamless online shopping experience.