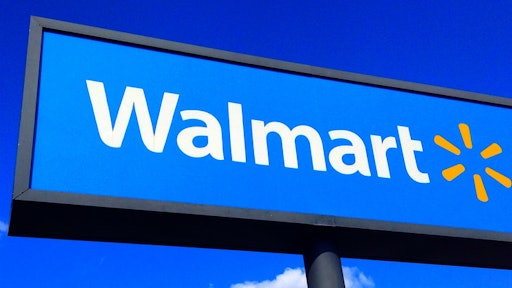 If you shop at Wal-Mart, you might be buying packaged produce unlike any ever sold in a U.S. store, reports Bloomberg News
The sliced apples or cut broccoli -- the merchant won't say what's involved exactly -- are being used to test blockchain, a new database technology. If successful, the trial could change how Wal-Mart Stores Inc., which serves some 260 million customers a week, monitors food and takes action when something goes wrong. That could spur big leaps in food safety, cut costs and save lives.
Like most merchants, the world's largest retailer struggles to identify and remove food that's been recalled. When a customer becomes ill, it can take days to identify the product, shipment and vendor. With the blockchain, Wal-Mart will be able to obtain crucial data from a single receipt, including suppliers, details on how and where food was grown and who inspected it. The database extends information from the pallet to the individual package.
"It gives them an ability to have an accounting from origin to completion," said Marshal Cohen, an analyst at researcher NPD Group Inc. "If there's an issue with an outbreak of E. coli, this gives them an ability to immediately find where it came from. That's the difference between days and minutes."
It's also the difference between pulling a few tainted packages and yanking all the spinach from hundreds of stores, according to Frank Yiannas, vice president of food safety at Bentonville, Arkansas-based Wal-Mart.
"With blockchain, you can do strategic removals, and let consumers and companies have confidence," Yiannas said. "We believe that enhanced traceability is good for other aspects of the food systems. We hope you could capture other important attributes that would inform decisions around food flows, and even get more efficient at it."
More than 1,000 foodborne outbreaks investigated by state and local health departments are reported each year, according to the Centers for Disease Control & Prevention. The CDC estimates roughly 48 million people are afflicted annually, with 128,000 hospitalized and 3,000 dying. Chipotle Mexican Grill Inc. has suffered a year of falling sales as a result of several outbreaks.


To learn more about Wal-Mart's trial of blockchain technology, visit https://www.bloomberg.com/news/articles/2016-11-18/wal-mart-tackles-food-safety-with-test-of-blockchain-technology