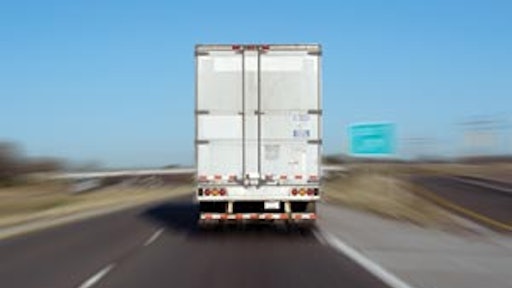 Trucking transport, the critical piece of today's complex supply chains, is beset with far more challenges than ever, including higher fuel and maintenance costs, a shortage of qualified drivers and hours-of-service limitations.
Transportation management systems (TMS) aim to ease these pain points in helping companies determine the most efficient and cost-effective choice to move products to their destination while maintaining consistent levels of customer service.
Lorne Jones offers a snapshot of where TMS is now in the food and grocery industry. "We've seen a shift in the balance of power in the retail supply chain, with grocery retailers consolidating and with Wal-Mart in the business now," says Jones, logistics and distribution industry executive at Sterling Commerce (a division of AT&T) with global headquarters in Dublin, OH.
"Rising costs and driver shortages are raising the costs of goods sold at a time when those costs are getting beaten down. So optimizing equipment and operations is important just to maintain efficiency levels and delivery costs."
Industry manufacturers and distributors are turning to TMS solutions––many Web-hosted––to control costs through intelligent planning and optimization of loads and equipment. A report issued by ARC Advisory Group indicates "the transition from implementing a Transportation Management System (TMS) in-house to accessing it via an on demand service is well underway. The trend now is to bundle managed services as part of the outsourced solution."
TMS Evolving
Although TMS is a mature industry, the way the software is delivered is really what the game is all about, notes Jones at Sterling Commerce. "Being able to deliver in an on-demand environment is changing the way people think about TMS. Sterling Commerce legacy is based on connectivity with the network––and our acquisition of Nistevo really makes sense when you consider the data transmission piece."
Pete Stiles at Holland, MI-based Lean-Logistics Inc. reports one of the hottest issues in the industry is the ability to manage inbound shipments from suppliers, which he calls "the unconquered area" of the industry.
"Traditionally people have done a good job of managing their outbound," says Stiles, vice president of marketing. "But buyers require visibility and the timely transfer of information to manage shipments efficiently. And suppliers must have the ability to provide shipping information on a timely basis."
At Transplace, it's all about using technology whenever possible to reduce costs while increasing efficiencies. "In this way, we distance ourselves from the traditional way of doing things with people, phones, and faxes," notes George Abernathy, executive vice president and chief marketing officer for the Plano, TX-based company.
Peter Rappe at BGI International, Olathe, KS, adds: "Effective transportation management has always been about relationships, especially with carriers. Some TMS providers prefer general load posting to a large carrier group hoping this will create a bidding process to drive down rates," says Rappe, vice president of sales and marketing. "But this can result in inconsistent performance and higher cost. Our TMS helps customers find the right carrier based on service and cost."
As transportation costs spiral upward, TMS providers are finding bigger opportunities to help customers save money, adds Carl Melville, vice president of marketing at Total Logistic Control (TLC), Zeeland, MI. "Companies are looking for ways to ease the pain points of fuel costs and driver shortages," Melville says. "They also want to maintain their level of customer service with their chosen solution to lower costs and increase efficiencies in handling outbound shipments."
From a transportation optimization perspective, customers want a solution that ties into a company's host system allowing easy information flow, adds Brennan Haverstock, director of transportation solutions consulting at HK Systems with global headquarters in New Berlin, WI. "Customers want to tie into their inventory system and increase operational efficiencies. They also want a reconciliation function that analyzes costs and audits freight charges."
TMS solutions attempt to minimize or eliminate common pain points, notes John Riske, director of business development at Next Generation Logistics in Inverness, IL. "The two most costly components to any company include poor carrier selection and lack of building load consolidation to minimize miles. What's causing issues in the marketplace today involves the retailers of the world, whose HOS and delivery windows are complicating things. Many systems out there are trying to adapt to and accommodate these issues."
Jones at Sterling Commerce says some companies need help in transportation management, but may not have been able to afford a solution to suit their needs. "We think we found a strong niche in our on-demand TMS solution." He adds another challenge has been creating carrier connectivity. "It's something you don't think about until you begin to implement. Our system is preconfigured with a hub of 6,500 carriers and the probability your carrier is in the network is very high."
Getting There
Inbound management: Supplier In-bound Management (SIM) is LeanLogistics' inbound component of its on-demand, Web-based TMS product. "This is one of the hottest things in the industry," says Stiles. Instead of filing a PO with a supplier and then relying on the supplier to deliver the order, a company can request the supplier to advise when the shipment is ready for pickup by the company.
"Generally it's cheaper this way because larger organizations have more buying power––but, most important is the visibility and dependability of your inbound," explains Stiles. "So you can control the inventory to exactly when you need it. This is particularly important to food retailers when they are running a promotion and they need assurance they have the goods in their DC to be distributed in time for the promotion." Customers can choose from a range of components including procurement, mode and carrier planning, execution management, settlement, visibility, and business intelligence.
Handling surges: Transplace TMS is a Web-based on-demand hosted solution customers and their trading partners have access to. "The food industry is unique in its surges; for example, Cott Beverage has a fairly significant challenge in its surge times between Memorial Day and Labor Day," explains Abernathy.
"They utilize our technology to find cost-effective additional capacity while continuing to deliver the service levels their customers expect. When Cott surges 20 percent to 30 percent in volume, they don't want to pay expedited rates or deal with expedited carriers to find capacity."
Finding capacity used to involve phone, people, and faxes, says Abernathy. "But we can do that with intelligent transportation management tools to find the right blend of service and cost." Orders entered into Transplace TMS are immediately visible to the customer, its trading partners, and its DCs. "We have a customer that shipped 1/2 million shipments last year and about 17 million EDI transactions occurred, or between 10 and 25 EDI transactions per shipment," explains Abernathy. "Those 17 million EDI message sets probably would have cost our customer between $200,000 and $350,000 if they were not utilizing our AS2 technology."
Web tendering: BGI's Web-Tendering Module on TMS-2000 creates a communications portal between the shipper and carrier, enabling critical load information to be shared quickly and securely, explains Rappe. "When our customers create loads within TMS, the system helps select the right carrier, automatically notifying the carrier of the load tender which the carrier can accept or decline via the Web. The carrier can also provide important load status updates including pickup and delivery times. Progressive Tendering is an option allowing customers to create load plans that are re-tendered to carrier B should carrier A reject a load tender."
BGI also offers SmartDock.NET, a Web-based dock scheduling solution. "It's a great communication enabler between procurement, warehouse operations, and the carrier," notes Rappe. The system provides carrier and vendor performance tracking and reporting and the increased visibility along the supply chain helped customers reduce receiving labor costs by about 15 percent to 20 percent, Rappe adds.
Customized and scalable: With so many variables in both a customer's business as well as in the ever-evolving TMS space, TLC offers a scalable system in its TM-One, a scalable transportation services solution. "It operates on an on-demand platform and customers can choose a variety of components to scale the system to fit their exact needs, giving them maximum flexibility," says Melville. "If a company makes an acquisition or has a 20-percent increase, they need a TM system to handle those changes effectively."
TM-One took the best of what outsourcing, on-demand, and self-administering models offer. "With TM-One, you have the benefits of on-demand, which is low initial cost––yet it isn't a cookie-cutter solution and can be customized to your requirements, unlike the traditional on-demand model," says Melville. "The biggest advantage of the TM-One model is you are in our system with other large and small companies, so there are more opportunities for savings in continuous moves and in multi-vendor tours."
Rating engine: The core of HK Systems' HKTMS product is its rating engine, which integrates a company's business model with its shipping model. "In determining the least expensive shipping option, a decision can be overridden by carrier preferences built into the model," explains Haverstock. "For example, a particular LTL could be the cheapest, but the serviceability in that area isn't up to delivery standards set by that company. The system has all the rates of a company's carriers, so it dynamically rates from a rate-shop perspective while also considering business rules within the company."
Bob Carver, vice president at HK, adds HKTMS is deployed on site at the shipping point. "Our system is not a network solution, but a point solution," Carver explains. "We deal primarily in high-volume, high-value environments requiring heavy parcel and heavy LTL-type shippers and in the food industry that could be a specialty-type retailer fulfilling case-level orders." HKTMS analyzes batch shipments and chooses between parcel and LTL based on the rating engine considering both business and shipping models.
Freight accrual functionality: Next Generation's Freight-Master TMS system focuses on providing financial data, which controllers and CFOs desire, especially in light of the Sarbanes-Oxley Act, says Riske. "We also utilize FreightMaster TMS for our freight management services to provide freight accrual generation information because financial departments had no exposure or visibility into what their freight expenditures were before."
A critical element of FreightMaster is its unlimited user licensing, allowing for any number of company divisions and any number of users to reside on the same system, explains Riske. "We also have advance security features that enable the administrator to restrict access or provide access to any one user."
FreightMaster TMS, a server-based system running on a Microsoft SQL server 2005, is hosted on a company's server and is available as an ASP on-demand model.
"Orders are entered into the system in real time and are rated based on carriers' rate tariffs," Riske says. "Companies can easily tender loads electronically and do some load planning within the system to build load consolidations. What used to take house in tendering loads now only takes minutes, thus increasing productivity while improving operating efficiencies."
Creating connectivity: Sterling TMS is an on-demand, multi-tenant solution that is easy to deploy and provides multiple integrating options to connect with multiple trading partners on the inbound and outbound sides, says Rick Kelley, vice president of market development. Optimization occurs in utilizing capacity, building consolidated loads, and selecting carriers at the right time and price.
"Sterling TMS is the only TMS solution on the market AS2-certified with Wal-Mart to interact with their fleet and their backhaul program. So this offers a great value-add for our food manufacturers doing business with Wal-Mart," says Kelley. He likens its use to Hoover's in that it's a leased service.
The differentiator for Sterling TMS is its capacity center, notes Peter Wharton, product marketing manager. "If you have a time-critical load and you're struggling to find a carrier, you can see which shipments are being delivered in your area so you can optimize capacity out there," Wharton explains. "It's a win-win-win situation because carriers optimize their assets; shippers have visibility to capacity they might not have had access to before; and customers like it because they are getting their goods delivered on time."