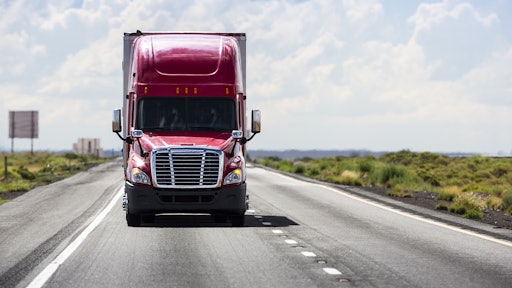 In the last couple of years, Republic National Distributing Co. (RNDC), the nation's second largest wine and spirits distributor, believed there were some inefficiencies with its routing software and last-mile transportation initiatives. The Atlanta, Ga.-based company operated a fleet of more than 1,000 trucks and delivers from 29 warehouses across 16 states. The company was using an on-premise route planning package and multiple GPS tracking solutions for its fleet, none of which had the ability to produce the results RNDC was looking for.
RNDC wanted access to real-time delivery information in order to make route planning more effective, but their route planning software system was not capable of providing that level of functionality. "We needed to get the plan updated to better mirror what was actually happening in the field to improve delivery results and customer satisfaction levels," says Distribution Director John Friel. "If we don't route efficiently, we can't ship (efficiently)."
The routing system had the technology to integrate GPS/telematics data, but RNDC found it too expensive, antiquated and not right for RNDC's business. In addition, the GPS system they were using did not include vehicle performance data that RNDC would need to compare vehicle performance with forecasts.
Hence, the problem was two-fold: RNDC needed a better dispatching and fleet performance platform and it needed more vehicle performance data.
RNDC found a more economical solution by deploying a cloud-based vehicle dispatching and fleet performance platform from Orlando, Fla.-based Greenmile, along with Geotab telematics devices supported by Scottsdale, Ariz.-based E2. RNDC was able to access critical data on their delivery day in real time – as well as course correct on potential delivery issues such as missing a customer's promised delivery time window.
E2 also provided visibility to the telematics data coming from vehicles in real-time, allowing management to quickly spot issues such as jackrabbit starts or harsh breaking, which have a dramatic impact on fuel economy. Most importantly, with integration already built between the routing software, Greenmile and the GPS/telematics data from the Geotab telematics devices, RNDC was able to install the GreenMile solution in a matter of hours, not weeks or months.
The deployment has proved successful both in terms of economics and return on investment.
"With more accurate data on service time, delivery routes can be managed more effectively to make optimal use of company resources – people and trucks – and improve customer service with more timely deliveries," Friel says. "We now have insight into the daily deliveries for every truck on every route in every location, as well as valuable real-time visibility of critical activity." This has delivered a 10 percent reduction in mileage and fuel spend, 5 percent gain in cases per truck and better customer service.
Processor Has Different TMS Needs
JBS S.A., a Greeley, Colo.-based protein processor, faced a different set of challenges. The company operated its own fleet and outsourced other deliveries to 3PLs. They wanted to automate their outbound logistics and manage different logistics requirements for domestic beef and pork shipments.
A TMS system from Kewill Transport gave JBS access to 16,000 carriers to move more than 6,000 loads per week using more than 500 carriers and its own fleet. The system enables JBS USA to consolidate orders into loads and find the best option for expediting shipments.
"JBS is (now) able to efficiently handle more shipment volume than before and can more effectively track outbound shipments," says Rogerio Peres, chief information officer at JBS USA. "JBS has improved on-time deliveries and increased order fill rates, leading to improved customer satisfaction, efficiency and margin growth."
Flagship Food Group switched to 3gtms solution because it has algorithms applicable to a non-asset-based business, says Rob Holland, CEO of the Greeley, Colo.-based 3PL. Other TMS systems that his company had been using were designed for asset-based trucking companies and he needed something that was built from the ground-up with the 3PL model in mind.
RNDC, JBS S.A. and Flagship Food Group are among many companies in the food and beverage (f&b) supply chain that have found new TMS tools can make a difference. TMS systems have expanded capabilities in recent years. With more tools available, fleet managers, 3PLs and carriers can all better identify more efficiencies in their transportation networks. Finding the right solution requires research.
TMS Capabilities Expand
Transportation management needs vary in the f&b supply chain. Many companies have invested in routing and scheduling software. But routing and scheduling only address some of the functions shippers and fleet managers have to address in today's food supply chain. State-of-the-art software can allow them to improve transportation efficiencies.
The expansion of the f&b supply chain is driving much of this innovation, says Ajesh Kapoor, vice president at GT Nexus, the Oakland, Calif.-based supply chain services provider. Because supply chains are longer and expand across multiple enterprises nowadays, some of the largest food companies are investing in what Kapoor calls an end-to-end approach. Such a plan brings together multiple applications used to manage transportation, including route scheduling, telematics, yard management and inbound logistics.
Organizations that don't take this holistic approach will shortchange themselves, he says. "Transportation strategy and operations have to align with larger supply chain strategy. We look at TMS always within the context of the supply chain," he says. "It's a different definition, as it starts with a representation of the supply chain."
One way to measure a supply chain's efficiency is to observe the amount of inventory the company builds to account for variability in different parts of the supply chain and for how long. Kapoor says f&b companies are forced to inventory a certain amount of product to cover for inefficiencies in the order-delivery cycle. "That (inventory level) is the most direct reflection (of efficiency)," he says.
To accomplish this, visibility throughout the supply chain is needed. "When something is easier to see, it becomes much easier to address," he says. All the silos through which product moves in a global supply chain have to integrate.
Interoperability Critical For TMS
Interoperability of software systems – whether the systems are within an organization, between different companies or across varying geographies – is an issue many f&b companies confront when looking to improve efficiencies. Carriers, shippers and 3PLs are discovering that TMS can integrate with enterprise resource planning (ERP), warehouse management systems (WMS), inventory management, purchasing and other functions.
Several TMS experts interviewed by Food Logistics claim merging TMS software with other software silos is a common need, but one that is manageable.
"It (integrating internal silos) is a necessary part of a full end-to-end process," says Lisa Aull, senior business consultant at Atlanta, Ga.-based Logility Inc.
Penske Logistics believes that one of its top benefits is its ability to integrate its TMS with all the major ERP systems, says Dave Bushee, vice president of IT. This is especially important when servicing a company that has acquired other companies that use different software systems. "As we bring that entire solution together, we are interfacing with multiple systems," he says. Penske Logistics uses the JDA TMS, for which it has built supplemental applications.
Software specialists largely agree that merging TMS with WMS presents the most challenging integration. Functions such as proof of delivery, financials and sales are usually easier.
Kapoor of GT Nexus was nearly alone among TMS experts in saying that integrating silos within an organization can be harder than interfacing software systems of different organizations. This is because most companies don't focus on these partitions and data coming from supply chain partners is trapped within these internal silos. Further complicating this is the expansion of data sets, including social media and resulting unstructured data.
Integrating different TMS systems can also be challenging, says Brian Taylor, president of Vancouver, Canada-based CAMS Software Corp., which specializes in grocery TMS. "You've got to get two different vendors to agree how they're going to integrate," he says. "With cloud-based systems becoming more prevalent, there is even more emphasis on vendor-to-vendor collaboration."
Cloud Brings New Capabilities
The Internet cloud is an important enabler of this integration of silos, Kapoor says. Data security was an initial concern about the cloud, but security has improved significantly. He says the cloud has made new optimization approaches feasible by providing access to almost unlimited computer processing power.
Walt Heil, vice president of sales at Kewill Transport, says the cloud's speed is especially important to a manufacturers in communicating to carriers. Vehicles equipped with GPS can relay critical tracking information in real time.
If a delivery should fall off schedule, the notification can allow the manufacturer or fleet manager to reschedule. The cloud also makes invoicing faster and easier, Heil adds.
Predictive Analytics Arrives
One of the biggest improvements in TMS is not unique to TMS software: predictive analytics. Predictive analytics is the application of advanced statistical analysis of structured and unstructured data sources to identify patterns and predict future events or outcomes. It can provide a look into the future and identify emerging patterns. Predictive analytics allows shippers to do scenarios to see how costs change if they adjust routes or move a load to a different warehouse.
3PLs are utilizing more options than they used to. Some carriers and non-asset-based 3PLs are brokering freight. This requires access to more information and the ability to move from one task to another seamlessly.
Key Differentiator: Route Optimization
All TMS providers agree the optimization engine is the most important TMS function.
"Logistics in the food industry is a dynamic process and requires complex transportation capabilities to address. Optimization is the most critical part of the TMS to get that right," Weseley of 3Gtms says. "Without complete and accurate data resulting, plans will not be able to be executed properly. That leads to quality issues, manual adjustments, and costs that are significantly more than planned. It is essential that cold chain continuity, executable routes, receiving schedules and many more constraints are considered in the optimization process, and most TMSs fall short."
LTL Planning Continues To Be Critical
LTL planning remains an important part of f&b. Logility Inc. has an algorithm that determines whether different orders can be combined in a delivery. The demand for LTL will increase as e-commerce grows, says Lisa Aull, senior business consultant. The system consists of three areas: 1) shipment planning, 2) execution, and 3) freight accounting.
Aull reminds her customers that the software doesn't remove the human element of TMS.
Shippers often err in basing carrier assignments on cost, Aull says. Shippers need to keep in mind that when the market favors the carriers, carriers will remember who gives them work when they needed it. "Routing is more than who is my lowest cost carrier," she says.
Telematics Expands
As telematics play a bigger role in fleet management, TMS systems need to be able to download the GPS-generated data. Carriers, private fleet owners and asset-based 3PLs have to decide how often to access the GPS data.
Most TMS experts listed integrating telematics as one of the easier integration tasks. But this was not the case for RNDC, the company referenced at the beginning of this article.
"One of the most valuable aspects of a TMS is the ability to seamlessly automate functions like dispatching, tracking, and even payments," says Andy Yearout, vice president of supply chain solutions at Veritiv Corp., the Atlanta, Ga.-based distribution solutions provider. "Automation allows a large company like Veritiv to take steps to consistently improve our transportation processes and our customer service platform. Due the massive number of transactions that we process every day, automation can be the key meeting quality and efficiency standards."
For More Information
3gtms, 3gtms.com
CAMS Software Corp., camspro.com
E2, e2cc.com
Flagship Food Group, flagshipfoodgroup.com
Greenmile, greenmile.com
GT Nexus, gtnexus.com
Kewill Transport, kewill.com
Logility Inc., logility.com
Penske Logistics, penskelogistics.com
Veritiv Corp., veritivcorp.com