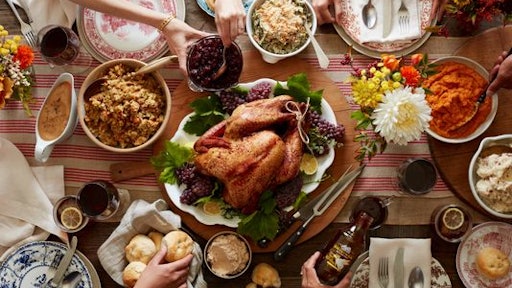 According to Bloomberg, the average cost of a Thanksgiving meal has dropped 1.5 percent in the last year as discount chains like Aldi and Lidl offer the best savings.
The cheapest dinner, based on 20 items including a 12-pound turkey, potatoes, corn and green beans, can be purchased at Aldi for $35.83, while you can purchase the same at Lidl for $43.31. Bloomberg reports that warehouse clubs such as Sam's Club and Costco are also offering prices 1.3 percent lower than last year. Walmart and Target are also offering full thanksgiving meals under $65 as well.
Still, discount chains are the cheapest as Aldi's basket cost dropped 14 percent from last year. Shoppers at conventional grocery stores are seeing higher prices as much as 24 percent on some products. Additionally, an organic meal will cost as much as 7 percent more compared to last year.
Bloomberg reports that turkey prices are down across the board with a 12-pound bird selling for an average of $1.59 per pound, a penny less than last year.
Maybe it's time to not disregard discount stores.