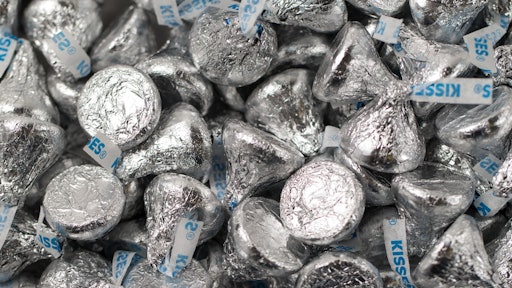 Market Watch reports that Hershey is planning to charge more for its chocolate after lower prices and higher costs ate at its profit margin this last quarter.
Hershey's sales rose 2.3 percent in the third quarter, however, prices were 1.2 percent lower on average than last year. The company's adjusted gross profit dropped 1.3 percentage points due to higher shipping costs.
The chocolate maker is expecting to raise prices as much as 2.5 percent, but the hike won't go into effect until early next year.
The food and beverage industry have been forced to raise prices this year as the cost of freight continues to increase. Additionally, prices for ingredients are starting to increase because of trade disputes between the U.S. and other countries. Grocery stores have also felt a strain on profits as they have insisted on keeping down price tags in order to maintain customer loyalty.
Meanwhile, rising inflation has already caused Unilever and Nestle to raise prices on some of their products in the latest quarter, Market Watch reports.
As Halloween and the end of the year holidays approach, Hershey predicts that market share share will be stronger than it has in recent weeks. The company is also cutting down on some size variations and seasonal assortments of candies to simplify its supply chain and save money.