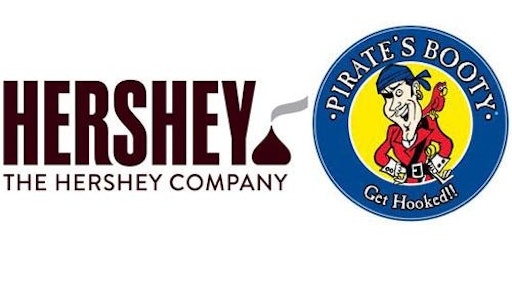 Hershey's has acquired Pirate Brands for $420 million, which makes Pirate's Booty, Smart Puffs and Original Tings, CNN reports. The acquisition will expand Hershey's healthier snack portfolio.
Previously, Hershey's purchased Amplify Snack Brands to kick start its healthy snack campaign. Pirate Brands will operate within Amplify's hub in Texas, CNN reports.
Consumers have been eating more healthy snacks lately, so traditional snack brands have been shifting their focus to meet customers' wants and needs. Conagra recently bought Pinnacle Foods and PepsiCo announced that it was buying seltzer maker SodaStream last month.
Hershey's believes that Pirates snacks will help it break into the cheese puffs category, which brings in a total $2.5 billion annually. According to CNN, Pirate's Booty is the fastest growing brand in the category, growing 8 percent year over year.