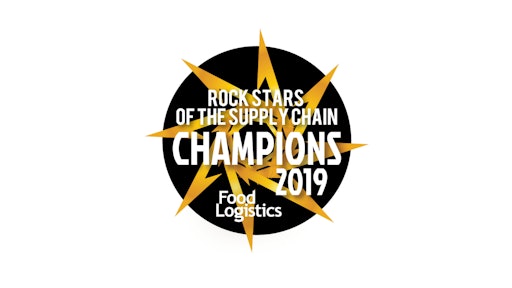 The fifth annual Food Logistics' Champions: Rock Stars of the Supply Chain award recognizes the industry's most influential for their hard work, vision an leadership in shaping the global food supply chain. The champions represent different industry segments and individuals who spearheaded partnerships among growers, packers, processors, retailers and logistics providers. They exemplify the best traits of leadership. Food Logistics invites readers to congratulate the champions.
Matt Angell
Vice President of Logistics Operations, Jarrett Logistics Systems
Matt Angell brings over 20 years of leadership experience to Jarrett Logistics, pioneering industry-leading tools that provide on-going strategic support for clients. He has a relentless focus on improving the client experience and has organized the 24/7/365 JLS Routing Center into a "control tower," effectively managing the tactical operations of his clients' daily supply chain needs. Angell has made JLS an industry-wide recognized business and plans to maintain its high-growth trajectory by continuing to invest in integrity-based talent and leading-edge supply chain technology.
Nick Banich
Partner, Miebach Consulting
Nick Banich has spent the last decade in the supply chain industry, providing insight and optimization potential for regional and international networks. In recent years, he has focused on food and beverage producers to address three major trends in logistics: mergers and acquisitions, consumer demand for healthy food, and SKU proliferation. Banich believes that bringing facts back into focus can move the discussion around these trends toward the best interests of the business.
Jim Becker
CEO, Becker Logistics
Since entering the logistics world in 1991, Jim Becker has relied on Becker Logistics' core values of integrity, quality, safety, competitiveness, openness, respect and equal work-life balance. With these values at the forefront, Becker helps set relationships apart from many other 3PLs. Over the last decade, Becker has been the driving force behind Becker Logistics' increased footprint in the food marketplace, focusing on additional refrigerated loads and new modes of revenue. The key to that success has been working with customers to identify efficiencies and areas of optimization, paired with on-time delivery, stellar customer service and the ability to manage their own supply chain through Becker's TMS.
Aaron Conway
President, Mezzanine Safeti-Gates Inc.
Aaron Conway has 23 years of experience in the industry and a passion for maintaining employee safety in the workplace. Under his leadership, Mezzanine Safeti-Gates has expanded its product line to encompass safety gates for all parts of a facility. Many of the safety gate models started as custom designs and have since been transitioned into standard models. In addition, Conway has worked with a number of food distribution centers and production facilities to help make employees safer, all while ensuring the supply chain operations are not impeded.
Steve Domonkos
Chief Operating Officer, National DCP LLC
A proven leader with over 30 years of experience, Steven Domonkos serves as the chief operating officer for National DCP. He is a results-oriented, hands-on executive who drives his team to exceed company operational metrics year over year. With his extensive experience leading change management, he has driven results to improve enterprise-wide productivity, cost, quality and customer service objectives, while creating strong cross-functional partnerships to ensure sustainable continuous improvement.
Don Durm
Vice President of Customer Solutions, PLM
Don Durm is an expert in cold chain transport application and regulatory compliance in the United States and most recently has been recognized for his interpretation and industry-wide guidance on the Food Safety Modernization Act. Durm early on identified blockchain technology as the next industry disruptor. He is helping take the mystery and noise out of the crypto-lingo that comes with the territory, and helps the industry understand how technology-enabled intelligent assets can drive cost reductions and trust between trading partners, all while providing transparency. He remains directly engaged with technology disrupters to help regulators bridge the gap of practical application and with food processors and their supply chain to utilize the technology.
Luis Graca
Applications Engineering Manager, Cimcorp Automation Ltd.
Luis Graca works one-on-one with Cimcorp's fresh produce, dairy, beverage and bakery distribution customers to drive efficiency and improve operations using robotic handling. By visiting each facility, he is able to understand and analyze each company's pain points, and then design a concept for how Cimcorp's solutions can optimize product handling. By working with Graca, customers quickly find opportunities to consolidate storage space, mitigate labor shortages and shorten lead times for maximized product freshness, ultimately transforming the way they do business.
Chris Lahti
Vice President of Distribution, Smithfield Foods Inc.
In his role as vice president of distribution at Smithfield Foods, Chris Lahti oversees distribution and supply chain strategy. His extensive industry knowledge and leadership enable him to take a prominent role in company initiatives and helps improve Smithfield's competitive position. Lahti played a critical role in consolidating and optimizing the company's logistics network and supply chain, reducing costs by $29 million in 2017, with a handful of changes. In addition, Lahti has streamlined Smithfield Foods' supply chain and distribution network, saving company drivers 147,000 miles, reducing fuel use by 17,200 gallons and lowering the company's carbon footprint by 168 tons.
Andrew Macek
President, OMNI Systems
Since joining OMNI Systems in 2011, Andrew Macek has spent his time dedicated to improving both processes and employee satisfaction. He has worked to develop meaningful metrics for rapidly improved efficiencies and industry-leading process improvements. Under his leadership, OMNI has achieved 98 percent fill rates, 80 percent run efficiency and less than a 1 percent scrap rate, saving customers on average 15 percent to 40 percent of their label spend. In addition, Macek's unwavering commitment to employee satisfaction has helped OMNI receive industry-wide recognition as one of the top workplaces for worker satisfaction.
Richard T. Murphy Jr.
President and CEO, Murphy Warehouse Company
Richard T. Murphy Jr.'s leadership is driven in part by his design-thinking perspective. During industry presentations, he participates in creative conversation and often challenges audiences to participate in visual exercises that illustrate "thinking outside of the box." Under his leadership, Murphy has grown Murphy Warehouse Company's warehouse space by 175 percent and its revenue by 185 percent. He understands customers' needs and delivers exceptional services while staying true to the company's core values.
Jeffrey Owen
Founder and CEO, Lightning Technologies Inc.
Jeffrey Owen is heralded in the state of Michigan as one of the state's most successful visionaries and entrepreneurs. His notoriety and reputation have grown internationally as Lightning Technologies works to disrupt the logistics industry and others in the future. Owen has attracted more than $50 million from investors around the globe, allowing him to create two highly automated pallet manufacturing facilities. The company's smart pallet has drawn national attention, even earning him the title "Prince of Pallets" by Forbes.
Stacey Patch
Business Manager for the Raymond Virtual Reality Simulator, The Raymond Corporation
As the business manager for the Raymond Virtual Reality Simulator, Stacey Patch's daily responsibilities include managing the development and implementation of virtual reality products within the Raymond portfolio. She consistently leads the way in finding innovative alternatives to further the manufacturing industry, address the skills gap, and fill jobs with new and efficient talent. Throughout her time in the industry, Patch has been asked to lead several presentations at industry events. Her passion for VR technology comes from understanding the challenges that management faces when educating and training individuals. As technology continues to advance, Patch is eager to meet supply chain challenges.
Jerry Rau
Chief Operating Officer, 3Gtms
Jerry Rau's unique background as both a vendor and a customer shapes his thorough and thoughtful approach to solving 3Gtms customer problems in the food logistics space and providing meaningful solutions that deliver lasting value. In his current role, Rau heads up all TMS go-to-market functions at 3Gtms, including sales, pre-sales, account management, channels and marketing. While there are many industries that can benefit from transportation management, Rau believes it's especially critical to help solve the complexities of the food industry.
Pratik Soni
Co-founder and CEO, Omnichain Solutions
Pratik Soni is a global executive and supply chain expert with a career spanning across the globe. At Omnichain Solutions, he works with consumer packaged goods brands and retailers to leverage blockchain technology to connect their supply chains for greater transparency, efficiency and profitability. Soni believes that blockchain provides a way to digitize and record every step of a product's life cycle in a permanent, connected ledger. He is a natural entrepreneur and brings a wealth of expertise in supply chain design, implementation, technology and business strategy to Omnichain.
Rick Trigatti
North America President, Cimcorp Automation Ltd.
As an experienced engineer and visionary, Rick Trigatti upholds Cimcorp's mission to help customers simplify their material flow with innovative robotic systems. Under his leadership, the experts at Cimcorp work with clients across numerous industries to address their top business needs and identify solutions to their toughest material handling challenges. Trigatti's vision has helped numerous food and beverage companies drive efficiency and productivity, eliminate errors, better utilize space, improve work conditions, ensure traceability and maximize product freshness.
Vanessa Villegas
Safety Manager, Universal Chain Inc.
With 12 years of experience, Vanessa Villegas has developed and administered a food warehouse safety training program across nine states, covering over 500 employees. She works diligently to assure that businesses are legally compliant with all safety and health requirements and works with employees to manage, monitor and improve the health and safety standards of facilities. Villegas' priority continues to be keeping employees safe while providing customers with exceptional service.
Matt Wagner
Vice President of Sales and Marketing, Jarrett Logistics Systems
As vice president of sales and marketing at Jarrett Logistics Systems, Matt Wagner manages the development and execution of strategy in order to drive profit growth within the organization. Wagner listens to clients' supply chain challenges and delivers solutions to make their supply chains faster and more efficient. With a close attention to detail by mapping the entire value stream, he has been able to drive operational efficiency, provide immediate cost reduction and increase profitability for clients. Wagner has evaluated hundreds of different supply chains across a wide variety of industries and has participated in multiple kaizen events.
Bill Whelan
Director of Business Development, Matson Logistics
Bill Whelan has an extensive history in food warehouse management. Under his direction, Foreign Trading Zone (FTZ) No. 56 at the port of Oakland has expanded steadily and operates at full capacity. He has developed niche markets and was among the first third-party operators in the U.S. to obtain organic certification for a third-party warehouse. Whelan has an unparalleled understanding of the complex set of trade rules governing FTZs, and works closely with clients to maximize reduced duty and duty exempt benefits. While FTZs have attracted new attention amid trade uncertainty and widespread imposition of tariffs, Whelan sees opportunities to work with food and wine importers and distributors on programs tailored to their unique needs.
Additional 2019 Champions
David Appel, president, Carrier Transicold & Refrigeration Systems
Vitor Ayres Angelelli, director of product and solution architect, Neogrid, North America
Matt Barry, director of solutions, North America, Quintiq                    
Gary Barter, project director, Food Division, VAI      
Harold Baum, managing director, Dyna-Tabs LLC
Joshua Blinick, chief technology officer, Blinco Systems Inc.
Philippe Boisvert, director, Field Application Engineering, Plug Power
Christopher Carey, vice president of supply chain, Clemens Food Group
Darin Cooprider, vice president and general manager of consumer packaged goods, Ryder System Inc.
Nicholas Couture, president, C3 Solutions Inc.
Derek Curtis, vice president of Sales, HighJump        
Stephen Dombroski, senior manager, consumer products and food & beverage vertical markets, QAD Inc.            
Allan Dow, president, Logility     
Scott Durgin, chief technology officer, Zest Labs      
Deborah Dutton, business analyst, Kuebix                  
Marco Ehrhardt, CEO and president, Ehrhardt Partner Group
Lindsay Glass, training and implementation manager, Iron Apple International
Dan Gleeson, president, ACS Logistics
Erik Gunderson , founding partner and executive vice president, Primus Builders Inc.
Rohan Guthal, senior consultant, River Logic
Danny Halim, vice president, distribution and logistics industry strategy, JDA Software
Sean Henry, CEO and co-founder, Stord                     
Michael January, director of warehousing, Ben E. Keith Foods
Michael Johnson, CEO, Elite Transit Solutions           
Gary Keimach, senior vice president of inventory planning, Martignetti
Katie Kelley, business development manager, Load Delivered Logistics
Kristy, Knichel, CEO, Knichel Logistics                          
Krenar, Komoni, CEO and founder, Tive Inc.              
Tom Krajewski, head of refrigerated cargo, Sealand
Chris Kupillas, regional vice president, BlueGrace Logistics
Stephane Labillois, vice president of transportation and logistics, Groupe Biscuits Leclerc   
Greg Lehmkuhl, president and CEO, Lineage Logistics
Robert Lenski, solutions engineer, TEKLYNX International
Julie McGill, director, implementation and strategic account management, FoodLogiQ
Anthony Montuori, traffic manager, Rema Foods Inc.
Brian Moynihan, director of sales and operations planning, Blommer Chocolate
Peter Neiderud , director supply chain, quality and environment, The Absolut Company, Pernod Ricard
Heather Powell, director of major accounts and special projects, SafeSourcing Inc.              
Abi Ramanan, CEO, ImpactVision
Eric Rempel, chief innovation officer, Redwood Logistics
Nate Rosier, vice president of supply chain strategy, enVista              
Jason Rosing, co-founder and managing partner, Veridian                  
Kelly Stoeckigt, director of logistics, Palermo Villa Inc.
Geoff Turner, CEO and president, Choptank Transport
Eric Weisbrod, vice president of product management, InfinityQS International Inc.
Diane Wetherington, CEO, iFoodDecisionSciences Inc.
Brian Wnuk, senior transportation manager, Brill Inc.