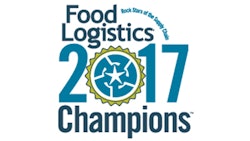 The third annual Food Logistics' Champions: Rock Stars of the Supply Chain award recognizes influential individuals in our industry for their hard work, vision and leadership in shaping the global food supply chain. Those who made notable contributions in 2016 are listed below.
Bruce Bleikamp
Sales Manager, Cimcorp
Bruce Bleikamp invests a tremendous amount of time and effort to understand a customer's business and is able to then apply his expertise to assist them in reaching their overall operational goals. By understanding the full flow of materials, from where the products come from, how and where they are going, how the customers expect to receive them, as well as all the nuances of date codes, lots, freshness and traceability, he is able to recommend and implement successful systems in a wide range of environments and business situations.
Jackson Bilbrey
Vice President of Product Management, HighJump
Jackson Bilbrey, with the help of both peers and his team, was able to bring to life a solution that helps brewers address brand awareness, reach their customers, manage vendor relationships and control inventory. The combination of Bilbrey's deep market experience, personal market passion, and product capabilities across the HighJump family has created transformational value for the Brewer's Edge customer base.
Matthew Brosious
CEO, FreightCenter
Matthew Brosious' entrepreneurial mindset is the backbone behind FreightCenter's core values and name, and his vast understanding of the freight industry, along with his savvy computer, technical and networking skills, have proven to be an invaluable asset to the company's rapid success and growth. In 2016, Brosious implemented a new and refreshed logo, a mobile-friendly website and new levels of managed logistics and TMS features. Brosious has declared 2017 to be the "Year of the Customer," a testament to his devotion toward delivering quantifiable results to the customer.
Scott Carter
CEO, Executive Director, National DCP, LLC (NDCP)
Foodservice supply chain has been a lifelong passion for Scott Carter. His father owned a food service distribution company serving international brands, and rather than have a paper route or mow lawns, Carter's first job at age 15 was working in a distribution center selecting cases for routing to stores.
With more than 25 years of experience in business strategy, supply chain innovation and management, Carter has played a major role in helping NDCP evolve from five separate operating companies into a nationally unified cooperative. He began working with the organization in 2009 as a consultant, board member and interim CEO in order to transform the capability and performance of NDCP. He took the role of chief executive officer again in 2013. Under his leadership, NDCP has generated more than $340 million in cumulative savings for members, made significant improvements in service performance, and launched an unprecedented business and IT transformation—all of which were recognized with Partnership Gwinnett's 2015 Supply Chain Pioneer Award and a No. 28 ranking on the 2016 InformationWeek Elite 100 List.
Under Carter's leadership, NDCP has generated more than $340 million in cumulative cost savings for members, serving as the vital supply chain backbone needed to help Dunkin' open 400 new stores a year without sacrificing food quality and innovation. Perfect order metrics have improved by more than 38 percent while the company's extensive distribution network makes 650,000 deliveries of 75,000,000+ cases annually, driving more than 30,000,000 miles. Leveraging leading enabling technology, Project Freshstart, NDCP's significant technology and business process transformation initiative, has been recognized at international conferences and by leading influencers like Computerworld, SAP Insider and Gartner. In March 2015, NDCP won the 2015 Supply Chain Pioneer Award from Partnership Gwinnett for innovative supply chain management practices.
Moving forward, Carter sees a great opportunity to share NDCP's model of providing the lowest sustained cost with other restaurant brands that don't compete with Dunkin' Brands while providing further opportunity for its current members.
Tim Cox
Vice President, Liberty Cold
Liberty Cold was born in 2015, beginning as a dirt field where Tim Cox directed the building of a premier cold storage facility from the ground up. This was to serve not only the parent company's needs (West Liberty Foods) but also to begin to create a client base for Liberty Cold, turning a business asset into a revenue stream. Cox's goals for Liberty Cold include assembling a team that is devoted to the services they provide and creating an atmosphere where the team can laugh and argue at the same time.
­Katie Curry
Senior Operations Executive, Hiring Manager, Zipline Logistics
Since joining Zipline Logistics in January 2012, Katie Curry has helped grow the company's specialized food and beverage customer base, personally overseeing more than 18,550 customer shipments. She is a rock star because of the monumental solutions she implements for her customers' supply chains, partnerships she builds, and the overall impacts she's had on her employer. Most notably, Curry aided her largest customer, a global producer of snack food, in a 2016 savings program that cut hundreds of thousands from its transportation expenses while also improving service. With her hard work and supply chain savvy, the client is now able to meet deadlines while also cutting costs and making larger margins. In fact, in 2016 the client achieved a total on time rate of 97.66 percent for 6,251 pick-ups and deliveries, and handling and compliance improved with the use of significantly fewer carriers.
Over her tenure, Curry has built strong relationships with her customers and their receivers based on trust and excellent service. It is because of this that she can take control of her customers' supply chains, communicate directly with their customers and partners—big and small—and identify opportunities for efficiency and cost savings. Her consolidation solution is now being rolled out to other Zipline Logistics accounts and is being used to grow new business opportunities and expand existing partnerships.
Curry has stepped up as a leader at Zipline Logistics, going far outside her assigned job duties in customer operations. From rebuilding an entire set of training materials used for new hires, to establishing operational improvements for the entire company, she has gone above and beyond. After working at Zipline for two years, Curry identified the need for someone to own and improve the new hire process. With no HR manager at Zipline, she volunteered to take on the responsibilities also taking on the added role of recruiter, choosing and attending college tradeshows to introduce Zipline to soon-to-be graduates
Curry is the 13th employee ever hired by Zipline Logistics. She has played an integral role in the company's growth. In fact, every single year since she joined the team, Zipline has been awarded with inclusion on the Inc. 5000 Fastest Growing Companies list and the local Columbus Business First Fast 50 listing.
Joe Curry
Vice President of Operations, Universal Lumpers, Inc. (UL) and American Lumping Association, Inc. (ALA)
For nearly 20 years, Joe Curry has lead and developed the companies he has worked for in all facets of operations management. Recently at Universal Lumpers, Inc. (UL) as vice president of operations, he has driven continual year-over-year growth. Curry's expertise in process improvement, lean systems, project management and business development firmly holds his place as an invaluable leader and partner to the unloading and logistics company.
In 2016, UL facilitated 500,000-plus deliveries and more than 500 mm cases into distribution centers (DC) across the United States, bridging the gap between carrier/vendor and UL's warehouse/DC partners with excellent customer service and cutting edge technology. Under Curry's leadership, UL uses an internal damage on-site control system (DOCS), contributing to the critical documentation process necessary to meet the needs of the Food Safety Modernization Act.
Because UL teams often are the first point of contact upon delivery, they have developed best practices to mitigate the risk of subpar product being received, saving client's money. Curry's career is built on surrounding himself with hard-working people, making a tangible contribution every day, sprinting forward to new opportunities and doing more than what's expected.
Mark A. Duffy
CEO, Universal Pasteurization Company, LLC and Universal Cold Storage, LLC
Mark Duffy oversees all long-term organizational goals for Universal, including a brand revamp and short-term execution excellence. As the company has gone from one facility to four in the past four years, and as high pressure processing has become increasingly popular, Duffy's focus and vision for bringing about safer foods with extended shelf life has helped facilitate stronger communication and best practices for the industry to propel forward.
Ron Dutt
CEO and Interim CFO, Flux Power Holdings, Inc.
At Flux, Ron Dutt has led the commercial development of new lithium battery technology that replaces lead-acid batteries to bring significant performance, cost and environmental benefits to food logistics and other material handling intensive businesses such as beverages, retail and shipping. With limited resources, he and Flux's small but talented team have executed a business plan to bring their vision for transforming motive power to next generation lithium battery power. Flux is harnessing the benefits of lithium-ion technology that have already transformed mobile devices and launched the electric car industry to far more rigorous and challenging uses in forklifts and other material handling equipment.
Alison Forsythe
Managing Director, Exact, Macola Division
Under Alison Forsythe's leadership, Exact's Macola division has transformed to focus on consistent innovation in order to bring the best experience and service to its customers. Since April 2013, she has championed and led positive cultural change, including reinvigorating the development team's focus on J.B. Wood's points made in "Consumption Economics: The New Rules of Tech." She also helped revitalize the strategies and products of Exact's Macola division, bringing the company's latest ERP software, Macola 10.4, to life with the intent of helping market-leading customers maximize efficiencies and expand service offerings to their own clients through one seamless platform.
Sam Freni
Regional Vice President, Echo Global Logistics
Sam Freni joined the Echo team when the company acquired Purple Plum Logistics, which he founded in 2008 and managed until its 2012 acquisition. At Purple Plum, Freni created a unique culture and combined it with cutting-edge track-and-trace technology to excel in the complex temperature-controlled freight sector, driving a 42 percent increase in annual sales revenue. Now his startup is a key part a company that is transforming logistics worldwide with 34 offices and 2,300 employees across the country.
Paris Gogos
Vice President of Product & Marketing, NeoGrid North America
Paris Gogos leverages his experience working with some of the world's most successful consumer packaged goods companies and retailers to help NeoGrid customers align supply with demand and improve on-shelf availability. Gogos previously worked with leaders in demand visibility and retail execution practices, including Nielsen, RSi and Efficient Market services.
For more than 10 years, Gogos has seen many manufacturers, distributors and retailers struggle with turning market insights and supply chain data into practical actions. With Gogos' leadership, NeoGrid continues to expand its supply chain solutions to help food and beverage manufacturers and retailers leverage their newfound visibility for real, tangible business improvements. In addition, by working closely with clients, Gogos understands their challenges and works with NeoGrid engineers to develop additional features or functionalities that are required to meet specific needs. Food and beverage manufacturers, distributors and retailers obtain accurate information about individual product performance at points of sales (POS) through NeoGrid's EPOS Visibility Solution.
Gogos believes one of the most important things a company can do is make sure its supply chain is being measured by the right key performance indicators (KPIs). The right KPIs focus on fully meeting demand without having an excess of inventory. Instead of measuring individualized activities within the chain and trying to optimize their individual span of control, take a holistic view of the supply chain and measure shared KPIs across various points in the supply chain. Also, since data drives business initiatives and supply chains, Gogos believes it is critical that businesses have the most accurate, timely information, which reflect the situation. So, while data management is not a glamorous part of the business, acting on incorrect data can derail the success of a project and cause a loss in revenue.
Jonathan Greene
Vice President of Customer Development – Supply Chain Division, AFS Technologies, Inc.
Jonathan Greene has been a driving force at AFS Technologies, Supply Chain Execution Division, and a key advocate for many distributor partners throughout the decades. Many of his accounts have grown from small local distributors to large regional powerhouses. He regularly facilitates open communications, industry roundtables and promotes successful idea sharing through the AFS distributor communities on and offline. As a product manager, Greene also is spearheading AFS Data Exchange, an electronic trading solution that has a 99 percent satisfaction approval rating.
Chandler Hall
Vice President of Enterprise Relationships, BravoSolution
Chandler Hall has developed and led a solution practice that has delivered ground-breaking logistics procurement capabilities to a long list of world-class shippers. Once shippers consistently realized hundreds of millions of dollars in collective savings from this work, Hall identified the need for better integration of his clients' sourcing and procurement processes with the rest of the business and supply chain partners, and designed and launched a platform to integrate these functions. The platform is now used by dozens of companies globally, including Unilever.
Rick Hassler
Co-Inventor, Nature's Frequencies
Working with his sons and their U.S. patent-pending technology, Rick Hassler was determined to assist with the food and beverage industry's $135 billion food waste problem. After years of trial and error, the Food Freshness Card was successfully tested and shown at IMPEX, America's largest invention show, and won The Grand Prix Award for "Best Invention International and Domestic." The Food Freshness Card also was awarded a bronze medal for "Best Invention" at IENA in Germany and is entered in the Fruit Logistica Innovation Award 2017 in Berlin in February.
The Food Freshness Card is easy to use and works inside or outside of a refrigerator, in an open area or a container, and can double the life of many fresh fruits, vegetables and breads. The use of the Food Freshness Card can be implemented from the farm, to the container, to the handler and finally to the end user—or at any of these points—and greatly extends the life of fresh produce. In university testing by Sodexo using 36 Food Freshness Cards, savings in one month were equal to 15 pounds of food waste, representing a 2.5 percent savings on produce purchases.
Steve Hermanson
Director, Product Allocation & Slotting Optimization, C&S Wholesale Grocers
Through Steve Hermanson-led initiatives, C&S has been able to reduce costs and increase customer satisfaction while continuing to grow their network. He now supports operations and efficiency projects, which include leading national teams that analyze and execute projects across more than 70 distribution centers. His primary focus is on slotting, training, data and WMS tools, new business integration and warehouse efficiency projects.
David P. Holmes
General Manager, The Corr Williams Company
Before his promotion to general manager in 2016, David Holmes led Wal-Mart's entire supply chain network in outbound productivity for 12 years in a row. At Corr Williams, Holmes has utilized his extensive knowledge of distribution operations to redesign processes and procedures across the entire company. As a result of his efforts, expenses have been reduced 14 percent, resulting in the Columbia distribution center's recognition as "Distribution Center of the Year" in the Corr Williams network.
Sam Hughes
Assistant Vice President, Food and Refrigerated Products, Union Pacific Railroad
Through his extensive experience working with food shippers, Sam Hughes developed the "Food Train," a service specifically created to meet the increasing demands within the food industry to deliver food and beverage products at their freshest. Understanding this growing need, he seized the opportunity to create the new, expedited service utilizing Union Pacific's extensive rail network and refrigerated boxcar fleet—the largest in the industry. Most recently, Hughes led Union Pacific in its acquisition of Railex LLC's refrigerated and cold storage distribution assets.
Jason Lee
Logistics Manager, Five Guys Enterprises
In the past year, Jason Lee has built a logistics program from scratch for Five Guys by creating a FOB plus freight pricing model across all suppliers, creating a core carrier base, identifying shipping efficiencies, and bringing freight savings of $4.2 million (25 percent). Freight previously was managed by each individual supplier under a delivered cost model. Now each supplier unbundles the freight cost for a greater level of transparency. From there, Lee was able to benchmark and host carrier bids to ensure Five Guys was paying competitive rates while using high quality carriers.
Srini Muthusrinivasan
Senior Industry Strategies Director, JDA Software
Srini Muthusrinivasan has built and managed teams globally to define and drive business value transformations through disciplined innovations for Fortune 500 and Fortune 1000 companies, and continues to redefine supply chain best practices that would positively impact both long- and short-term investment strategies of leading companies. As a result, Muthusrinivasan has grown JDA's manufacturing business at 25 percent year-over-year. He brings a rare combination of industry and sub-industry depth, business acumen and technology strength.
Rob Nemeth
President, Allied Distribution Services, LLC
Rob Nemeth not only has a phenomenal network of trusted and valuable contacts, but he has an incredible ability to connect partners together that can benefit from one another. He believes the most important thing you can do for a customer is be honest with them and help them find a solution to their problem, no matter what it takes.
Marco Nielson
Vice President, Managed Mobility Services, Stratix Corporation
Marco Nielsen has a passion for using mobile technology to bring about positive transformation for global businesses. He works with enterprises across many verticals to develop mobile solutions that help them navigate the global supply chain efficiently. He understands that supply chain modernization is key to solving the challenges today's businesses face, such as end users' expectations for faster deliveries and order accuracy, all while delivering a high level of service cost-efficiently.
Richard O'Connell
CEO and Founding Partner, Primus Builders, Inc.
Rich O'Connell started Primus Builders, Inc., a provider of design-build services to some of the largest food logistics companies in the world, from the ground up. Under his guidance, Primus has grown from a single office with three employees to a focused core group of related companies whose reach stretches across the United States and Canada. Recent projects include automated systems and sustainable components that allow owners to improve speed-to-market while remaining good stewards of the environment.
Cory O'Connor
Logistics Manager, The Jel Sert Company
Starting with The Jel Sert Company shortly after college, Cory O'Connor was successful in grasping principles of warehouse management and streamlining inventory management within a very short time period. Moving from transactional to vested business and performance-based models, O'Connor has successfully lowered over the road and intermodal yearly cost at the Jel Sert Company by more than 12 percent, while strengthening long-term relationships.
Melissa Parker
Vice President, Supply Chain Client Relations and Operations, Inmar
Throughout her career, Melissa Parker has maintained the highest standard of providing top-notch customer service, conveying her goals to the team through the motto, "Customer satisfaction is valuable, but customer loyalty is priceless." Under her management, teams have managed the logistics, processing and value recovery of billions of products, resulting in many millions of dollars saved through optimized returns processing that reduces supply chain operational cost, transportation cost and value retention. Her teams have been recognized for excellence on many levels, including an award from Altria for Excellence in Warehouse Operations, receiving an unheard-of perfect audit score in 2015.
Sandeep Patel
Managing Partner, Veridian Solutions
Sandeep Patel, a former Manhattan Associates' standout consultant, founded Veridian Solutions in 2011, with the goal of helping customers implement Manhattan's WMOS solution faster and more efficiently by automating much of the implementation process. Since then, he has spearheaded the design and development of powerful software tools that automate configuration management and regression testing of warehouse applications.
Robert Peck
Board of Advisors, LoadDelivered Logistics
Robert Peck began his career with LoadDelivered in 2007 as an entry level carrier relations representative. In the past nine years, he has progressed to management positions on both the carrier and customer sides of the company because of his commitment to innovating their service. He works closely with every department at LoadDelivered to ensure the company is challenging norms, breaking personal bests, and securing reliable coverage and stable pricing for their food and beverage customers.
Wendy Prosser
Director of Logistics, Werner Enterprises
Wendy Prosser is responsible for driving continued customer excellence through supply chain and logistic solutions for several leading companies in the Foods Vertical. Before her employment with Werner Enterprises, Prosser spent five years with Olam Spices and Vegetable Ingredients, where she created an environment that fostered the development of women's leadership, directing the process of Olam becoming a member of the Global Women's Leadership Forum, which led to the development of Globally Reaching Olam Women (G.R.O.W.). She has continued her support in women's leadership at Werner by earning a seat on their Women's Forum Steering Committee.
Travis Rhyan
CEO and President, 10-4 Systems
Through a fortuitous set of events, Travis Rhyan was given the opportunity to start 10-4 Systems in 2012, where he uses his experience to innovate and create solutions in the supply chain industry. Launching 10-4 Systems, Rhyan became a pioneer within the transportation industry. Drawing from his experience in logistics and transportation, he focused his passion for technology to drive a company that increased efficiency in the food logistics industry, as well as reduced the overall carbon footprint of the diesel-heavy transportation industry.
Sue Rice
Product Manager, Pallet Trucks and Stackers, The Raymond Corporation
Despite many in the market viewing pallet trucks as a commodity product, Sue Rice's product management has grown the distinction of the Raymond line for its energy efficiency, durability, productive performance and ease of maintenance. Since 2008, Raymond has redesigned its pallet truck line with a focus on meeting or exceeding customer expectations even in the harshest work environments such as food and grocery logistics. Her team incorporated proven technology, such as Hall Effect sensors and CAN bus technology from other industries, and revamped the walkie and rider series by incorporating unique features such as Lift and Go.
John Rosenberger
Product/Program Manager, iWAREHOUSE GATEWAY & Global Telematics, The Raymond Corporation
John Rosenberger has been an integral part of Raymond's initiatives for iWAREHOUSE, providing frequent insights to trade publication editors and educating customers at trade shows, which reaffirms his dedication to keeping up with trends and sharing his industry knowledge. A few of his recent focuses include energy efficiency, specifically optimal battery management in cold-storage facilities, and machine-to-machine (M2M) technology.
Davison Schopmeyer
Senior Managing Partner, Supply Chain Solutions, enVista
Davison Schopmeyer brings more than 25 years of experience in leading consulting and software implementations that drive value to the bottom line. Schopmeyer has been a part of multiple food and beverage projects from start to finish throughout his career, specifically with enVista, including KeHe, Wegmans, RFId and more. From regional supermarkets to leading global beverage companies, he has led various projects that last months to years.
Jay Justin Shrager
President and CEO, Somerset Industries, Inc.
Jay Shrager began his career in a family business, Louis Shrager and Sons, that not only survived two major fires, but maintained sales and profit. In 2000, he acquired the former Rotelle Foods building, completely rehabbing it and growing Somerset Industries, Inc. into a $45 million company. Over his expansive career, Shrager created hundreds of jobs, as well as the largest rehabilitation program for the State of Nevada.
Dustan Skidmore
Vice President of Engineering, Plug Power, Inc.
In 2016, Dustan Skidmore led his team on a quest to provide consistent, predictable power 24/7, increasing efficiency and productivity for users; full power over a wide range of ambient temperatures, including freezer facilities; safe, quick and convenient refueling; and zero emission performance and low noise signatures. Launched as a solution for Plug Power's own products, ProGen engines are flexible power building blocks designed for independent companies to use in their motive products under development.
Anthony (Tony) Vlahos
Senior Software Engineer, NECS
Tony Vlahos was born into food distribution, growing up in the trucks delivering orders, unloading freight cars, and picking orders in the warehouse. He spent summers working the family business and learning the food distribution industry. With time, Vlahos took on more responsibilities and eventually became the warehouse manager. While working for the family company, he also took on freelance programming and network installations for local businesses, designing systems for oil delivery trucks, CNC manufacturing machines and a Comparative Market Analysis generator for a local Century 21 office.
The skills Vlahos earned during his time in the family business would eventually lead to a partnership with NECS, where he would use his industry knowledge to build better systems to increase productivity and profitability for food distributors. Over his 16 years at the company, he has designed and written software for a dynamic reports system, document scanning and management, and truck routing and tracking. His recent work includes an interface with the Anoto Digital Pen, a system that revolutionizes the way distributors manage delivery invoices, cash collection sheets and other documentation.
Leaving his family business to take a job at NECS was a difficult choice, but Vlahos was driven by his passion for the food service industry and his commitment to improving it.
Vishy Visweswaran
Chief Technology Officer, SCA Technologies
Vishy Visweswaran has helped to evolve supply chain management technology for the restaurant business, most notably for McDonald's and Yum Brands, two of the world's largest and most respected supply chains. As the CTO of SCA Technologies, Visweswaran has implemented critical tools used in the development of SCA Planner, helping customers make data-driven decisions, thereby mitigating risks and volatility associated with fluctuating supply, demand and costs.
Mitch Weseley
CEO, 3Gtms
With more than 30 years in the logistics industry, Mitch Weseley is widely regarded as the "father of the TMS industry," having created six successful companies in the technology and logistics software industry. Notably, he foresaw the market demand for the first and second TMS generations. Weseley wrote the first TMS, as a developer, in the mid-1980s and created new companies and products to address the opportunities for each generation. He started early on by applying this principal to consolidating LTL to TL with an independent algorithm execution system and then expanding to decision support capabilities to better drive cost savings. As the industry evolved in the late 1990s, he focused on systems that prioritized the management of complex global shipments. Today, the focus has shifted to providing the right blend of flexibility and ease of use that can handle complex scenarios, while also focusing on achieving cost savings.
Weseley builds systems based on the premise that it is essential to understand what you are trying to solve, then designing a system that will support the business properly. He is a visionary who listens to the food industry's challenges and delivers transportation solutions that make operations faster, better and more efficient. Additionally, Weseley prioritizes customer satisfaction above all else and emphasizes this to his employees. Regardless of a customer's size or tenure with 3Gtms, he makes himself available by contacting them regularly during implementation and post-implementation to ensure their needs are being met and problems are being solved. As a result, he's led 3Gtms to a 100 percent customer satisfaction rate.
Rick Zaffarano
Vice President of Consumer Products Solutions, Transportation Insight
Rick Zaffarano is a tremendous asset for companies operating in the fresh logistics, grocery retail and wholesale and consumer packaged goods industries. The third-party logistics provider's portfolio of Enterprise Logistics Solutions for the end-to-end supply chain combined with Zaffarano's expertise in the marketplace enables supply chain executives to create optimal logistics and supply chain strategies that achieve greater control, real-time visibility and chain-of-custody awareness. By providing an independent supply chain review for verification and validation, Zaffarano and Transportation Insight help clients identify opportunities for supply chain improvements that place procurement practices in the optimal buying brackets to reduce landed cost.
Transportation Insight clients consider Zaffarano an innovator, a change agent and an internal consultant who brings a breadth of knowledge and experience that can be leveraged in many different industries and situations. His unique background in operations, major company project management and high performance workplace design, allows Transportation Insight to deliver solutions that are especially effective across the fresh logistics and consumer packaged goods industries. While working for a $14 billion retail grocery company, the sixth largest in the United States, Zaffarano led the development and implementation of all supply chain strategic initiatives through cross-functional teams. His team was directly responsible for analyzing, improving and supporting the ability of the company's supply chain to meet customer demand. This applied to all of the grocery retailer's business processes and systems for procurement, inventory, inbound freight, warehousing, transportation and outbound delivery to retail stores and facilitated improved service to end customers.
Zaffarano's supply chain expertise enables him and his team to create a process to plan and aggregate loads in ways that better utilized capacity and allow grocery clients to buy more frequently in lower quantities and improve their fresh turns. By establishing a culture focused on balancing product quality, customer service and cost–instead of maintaining hyper-focus solely on being cost-driven, quality-driven or service-drive –Zaffarano has helped clients realize cost savings through inventory reduction and improved transit times, while achieving higher service levels, increased visibility regarding temperature and food safety compliance issues and improved fresh food quality. This process was utilized with a key client to achieve a $25 million reduction in inventory expenses and $8 million reduction in freight spend. These solutions also delivered a service level improvement from 94 to 97.5 percent for this client and a 15 percent improvement in the client's shrinkage/waste.
Food Logistics

also acknowledges these previous 'Champs' award winners for their continued service to our industry:
Abtin Hamidi, co-founder, board member and EVP, Cargo Chief, 2016
Colby Beland, vice president of sales and marketing, CaseStack, 2015
Dan Labell, president, co-owner and founder, Westfalia Technologies, Inc., 2015
Derek Rickard, distribution systems sales manager, Cimcorp, 2015, 16
Don Durm, vice president of customer solutions, PLM Trailer Leasing, 2015, 16
Doug Niemeyer, general manager of TEKLYNX Americas, TEKLYNX International SAS, 2016
Frank Morgiewicz, CEO, ArrowStream, 2016
Jeff Silver, CEO and co-founder, Coyote Logistics, 2016
Joey Benadretti, president, SYSPRO USA, 2015, 16
Kristy Knichel, CEO and president, Knichel Logistics, 2016
Lee Neal, vice president and general manager, KTI Logistics, 2015, 16
Michael D. Johnson, Elite Transit Solutions, LLC, 2015
Michael Lyle, president and CEO, InfinityQS International, Inc., 2015, 16
Paul Laman, vice president, food and beverage group, DMW&H, 2016
Sean Smith, supply chain director, Agropur, 2015, 16
Steve Sager, president and CEO, ExtenData, 2015, 16
Leonard (Bud) Rodowick, manager strategic relations – food safety and OEMs, ThermoKing, 2015
Ann Drake, CEO, DSC Logistics, 2015, 16
Companies in this article