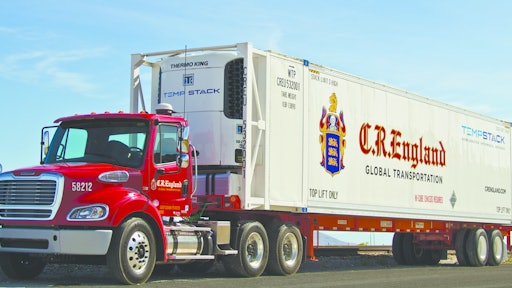 This year's Top Green Providers is significantly larger than 2012's list, which is an indication of just how important sustainability has become to supply chains today. Each of the companies profiled submitted a comprehensive application detailing their own operations as well as the products and services they offer to customers. Many went the extra step and included a case study to help give us a better picture of their contributions. We've included food producers and manufacturers, 3PLs and transportation and logistics providers, equipment manufacturers, software and technology companies and others who are driving sustainability from farm to fork.
AFS Technologies (www.afsi.com)
The food/bev and CPG retail industries are the focus of AFS Technologies, whose data synchronization solutions are designed to eliminate paper-based transactions. In addition, the company's Warehouse Management System solution boosts clients' transportation efficiencies with few truck movements and optimized fuel utilization, along with more efficient and leaner operations within the warehouse.
ArrowStream (www.arrowstream.com)
ArrowStream's Crossbow solution provides collaboration between food/bev companies' Purchasing and Logistics, making it possible to proactively plan the optimal product flow into distribution facilities, increasing truck utilization, and dramatically reducing the miles driven. On average, companies have achieved a 10 percent reduction in miles driven with the implementation of Crossbow.
Associated Grocers of New England (www.agne.com)
AGNE makes this year's list with an impressive LED lighting project that will save the company over $221,000 in energy costs and approximately 1.4 million kWh in energy consumption annually—reducing the carbon footprint by 2.16 million pounds as year as well. Overall, AGNE will reduce energy consumption at its Pembroke, NH facility by 85 percent.
Avalon International LLC (www.avalonbreads.net)
This Detroit-based company provides the "daily dough" for over 1,000 retail customers and 40+ restaurants and markets in nearby cities. Avalon's commitment to the "Triple Bottom Line: Earth, Community, Employees," interprets sustainability broadly, from 100 percent organic flour in all of its products, to community engagement, to providing employees with fair wages and good benefits. It's worth noting that Avalon has become the biggest organic bread flour purchaser in Michigan.
BrightFarms (www.brightfarms.com)
Consider this: 96 percent of all supermarket lettuce in the U.S. and Puerto Rico comes from two places—Yuma, Arizona and Salinas, California. It's not surprise then that shrink rates for conventional produce can be roughly 25 percent, in part because long distance supply chains for fresh produce. BrightFarms' mission is both simple and highly sustainable. The company finances, designs, builds and operates greenhouse farms at or near supermarkets, which not only reduces or eliminates transportation, but results in fresher, tastier produce.
Butterball LLC (www.butterballcorp.com)
Starting in 2012, Butterball's use of lighter weight tractors and trailers allowed the company to increase shipment payloads, resulting in 52 fewer loads per year, 13,884 fewer miles driven, and 2,777 less gallons of fuel burned annually. That's not all. Butterball is now using its boiler flue gas to cut down on natural gas usage, while new packaging designs are reducing material use by half. Last year, the company reduced its carbon footprint by 3 percent even though volume increased by over 3 percent.
C.R. England (www.crengland.com)
As the world's largest refrigerated trucking company, C.R. England is clearly incentivized to pioneer sustainable transportation solutions. On the trucking side, the company is pursuing both CNG and LNG solutions, while its TempStack rail service double-stacks 53-foot reefers on a flatcar, which offers substantial savings and a reduced carbon footprint to perishable cargo shippers.
Cadec Global (www.cadec.com)
Foodservice is a primary customer vertical for Cadec, which is laser-focused on fleet management solutions that reduce fuel costs and improve sustainability. On-board computers automatically collect data that's used to monitor and improve driver and truck performance, all the while eliminating paper and paperwork processing. The company's TempTracker application provides wireless temperature tracking for up to three separate trailer units.
CAPS (www.usecaps.com)
CAPS (Container and Pooling Solutions) has a long history of working with companies in the food and beverage space to reduce supply chain waste by implementing reusable containers. The benefits are not only realized by individual companies who see reduced material and packing costs, but the larger social and environmental impacts of using less natural resources and energy is commendable.
Cat Lift Trucks (www.mcfa.com)
Cat's electric lift trucks are well suited for food warehouse and distribution environments, which dominate the grocery industry, because toxic emissions like carbon monoxide are eliminated while other fumes and odors are reduced significantly. Furthermore, AC electric lift trucks are typically one quarter of the cost to operate compared to internal combustion (IC) forklifts. MCFA converted its own IC forklift fleet to electric in 2011 as part of its corporate sustainability initiatives.
CHEP (www.chep.com)
CHEP is aggressively pursuing 'green goals' with several five year targets. Specifically, the company aims to reduce greenhouse gas emissions by 20 percent from a 2010 baseline, source 100 percent of lumber for CHEP wooden pallets from certified sources by 2015, send zero lumber waste to landfill by 2015, and have year-over-year reductions in water consumption and general waste generation. CHEP USA has also joined the Supplier Ethical Data Exchange (SEDEX), a not for profit membership organization dedicated to driving improvements in responsible and ethical business practices in global supply chains.
Clean Energy Fuels (www.cleanenergyfuels.com)
Trucking fleets across the country are discovering the benefits of natural gas fuel, states Clean Energy Fuels. As North America's largest provider of natural gas fuel for transportation, the company, the company consults with various industries, including food/bev, as they continue to strategically build the nation's natural gas highway with CNG and LNG fueling stations. Clean Energy Fuels also tracks every gallon dispensed to its 2,000+ fleet customers to measure its sustainability progress.
Columbian Logistics Network (www.columbianlogistics.com)
Columbian Logistics maintains over one million square feet of ambient food grade and temp-controlled warehousing in nine locations throughout Michigan and is a certified EPA Smart- Way partner. Its dedication to sustainability includes reducing waste, emissions and energy usage in a variety of ways, including motion detection lighting and using white paint on warehouse roofs to reduce heat transfer.
Coyote Logistics (www.coyote.com)
Empty backhauls are a huge area of waste in the transportation world. Coyote's award winning Private Fleet collaboration tool eliminated over 7.5 million empty miles from U.S. highways highways last year and reduced 13,000 tons of carbon emissions. Coyote's Green Calculator measures and verifies the savings, while shippers and carriers have access to analytics reporting that allow them to view all of their data.
Crown Equipment Corporation (www.crown.com)
Sustainability is a market differentiator for Crown, starting from conceptual stage of design through the product's end of life, which in turn boosts their customers' overall savings in equipment costs and energy use, while simultaneously reducing waste and streamlining operations. Crown has won more Industrial Designers Society of America (IDSA) in the past 11 years than any other company. Its Ecologic Report is available for download at Crown.com.
Cryo-Trans (www.mhwgroup.com)
Cryo-Trans is one of four companies comprising the MHW Group. For food shippers, converting truck freight to rail yields massive sustainability results, starting with a 70 percent reduction in diesel fuel and greenhouse gas emissions. The company is continually rolling out new reefer technology into the rail marketplace, including the use of hybrid reefer units that can be powered by electricity as well as diesel.
Dole Refrigerating Company (www.doleref.com)
Dole has been an all-electric truck refrigeration company since the early 1930's, manufacturing some of the most dependable, long lasting systems on the market today. Its Eutectic Cold Plates only require shore power at night to recharge, compared to mechanical refrigeration systems that burn 4-6 gallons of fossil fuel daily when operating.
Dot Foods (www.dotfoods.com)
Dot Foods ranks as one of the nation's largest food redistributors, offering more than 100,000 products through all 50 states. When it comes to cold storage facilities, refrigeration and lighting are the two biggest areas to reduce energy use and improve sustainability. The company's Cambridge City, Indiana DC alone has slashed energy usage by 15 percent over the past two years with lighting upgrades, insulated freezer doors and refrigeration technology, earning nearly $40,000 in energy incentives.
DSC Logistics (www.dsclogistics.com)
Not only has DSC Logistics implemented multiple sustainability initiatives internally, the EPA SmartWay certified Transport Partner (both as a carrier and logistics provider) is committed to eliminating waste and costs for its customers' supply chains in three strategic areas: Supply Chain Network Modeling and Design, Logistics Center Management, and Transportation Management Services. This approach allowed one food-processing customer to save an estimated $1 million in transportation costs on their international shipments.
England Logistics (www.englandlogistics.com)
Food and beverage companies comprise a significant portion of England Logistics' portfolio. Applying EPA SmartWay Transport Partner principles and internally developed sustainability best practices to its customers' supply chains has resulted in reduced carbon emissions and improved supply chain processes. Within its organization, England Logistics has reduced paper use, improved recycling efforts, and even implemented carpool programs for employees.
Envision Plastics (www.envisionplastics.com)
Envision Plastics is the only producer of food grade high density polyethylene (HDPE) in North America. The company partnered with Method to help create their unique Ocean Plastic packaging, made from plastic litter recovered from the ocean and beaches. Envision also conducts Life Cycle Inventory Analyses for companies to help them see how using recycled HDPE can reduce greenhouse gas emissions in production.
enVista (www.envistacorp.com)
With a mission to "reduce waste and cost from clients' supply chains from source to consumption," enVista looks at various facets of a supply chain network to determine how and where to improve sustainability. Whether it's the location of a cold storage facility, inventory optimization, transportation, warehouse operations, or labor, enVista is keen on helping clients operate leaner, greener and more profitably.
Fabri-Form (www.fabri-form.com)
Ohio-based plastics fabricator Fabri-Form is a leader in its industry and continuously designs and develops recyclable/reusable trays, pallets and totes to provide businesses with a more sustainable solution. One example includes a partnership with a leading grocery chain, which is using Fabri-Form's recyclable/ reusable pallets to allow for a "looping" system in their network.
FST Logistics (www.fstusa.com)
Among the array of sustainability efforts FST Logistics makes in the areas of lighting and energy use, its program to recycle used oil from its truck fleet to power heaters in the maintenance garage was a particular standout. In addition, the company participates in both the EPA's SmartWay and Green Power Partnership programs. The EPA defines green power as electricity produced from solar, wind, geothermal, biogas, eligible biomass and low impact hydroelectric sources.
GENCO (www.genco.com)
GENCO's sustainability operations in the food/bev industry focus on three key areas: energy reduction, waste reduction and recycling. The 3PL is focused on reducing its electricity consumption as well as waste, both physical waste (trash) and operational waste (process). GENCO was also awarded a $6.1 million grant from the Department of Energy for the deployment of hydrogen fuel cell forklifts in one of its operations.
Great Dane Trailers (www.greatdanetrailers.com)
Great Dane's patented ThermoGuard liner has made a significant contribution to refrigerated trailer technology, helping slow the degradation of foam insulation and extending the life of the refrigerated technology. While all refrigerated carriers can realize savings with ThermoGuard, long-haul, low-temperature carriers can easily realize fuel cost savings in excess of $5,000 or more over the life of the trailer, as well as extended trailer or container lifespan and reduced cooling unit purchase costs.
Hyster Company (www.hyster.com)
Hyster Company provides a wide range environmentally friendly lift trucks—from zero-emission electric models to internal combustion engine (ICE) lift trucks. The company can deliver its lift trucks to customers with power sources that include conventional and fast charge lead acid batteries, hydrogen fuel cells, liquid propane (LP), compressed natural gas (CNG) and diesel. Hyster's lift truck emissions are among the lowest of any truck in the industry, according to EPA and California Air Resources Board (CARB) standards.
iGPS (www.igps.net)
iGPS plastic pallets are 100 percent recyclable and can be molded into new pallets when damaged. While obviously saving tress, the iGPS plastic pallets are also 30 percent lighter than typical wood pallets, which mean fuel costs are reduced too. Plastic pallets also help food shippers reduce the risk of contamination.
iLogic (www.ilogic.com)
iLogic's mobile asset solution, masLogic, allows customers to track and trace containers, pallets, bulk bags, and similar assets. The masLogic solution is offered via platform-as-a-service (PaaS), which eliminates costly software purchases or installations. Furthermore, customers benefit from moving fewer assets, and moving them shorter distances.
Inmar (www.inmar.com)
The numbers tell the story: In one year's time, Inmar's remarketing service kept 117 million pounds of grocery and consumer goods out of landfills. Moreover, the donation program Inmar runs on behalf of its clients provided 1.8 million boxes of food product that were used to create 5.5 million meals for the needy. "Sustainability has been at the heart of our value proposition throughout our history," emphasizes a company executive.
InMotion Global (www.interstateLG.com)
inMotion Global's TMS is the world's only totally free, and fully patented, transportation management system (TMS). The software helps shippers move freight more efficiently, route and optimize trucks and orders, and reduce miles driven and the equipment needed to do it. In the first quarter of this year alone nearly 350 new shippers started using inMotion Global TMS.
INSIGHT, Inc. (www.insightoutsmart.com)
INSIGHT's proprietary optimization technology helps clients from a variety of industries solve problems, automate processes, uncover value and boost sustainability. Key clients include Kellogg's North American plants, which use INSIGHT's master production planning component, and Anheuser-Busch, which relies on the technology to plan all packaging and distribution from breweries to over 900 North American distributors.
Intelleflex (www.intelleflex.com)
It's estimated that $35 billion in perishable food is wasted each year, half of it because of improper temperature management. Intelleflex's ZEST Data Services together with RFID readers and tags combined with intelligent Returnable Transport Items (iRTIs) play a key role in tracking and tracing product in the food supply chain and reducing unnecessary waste due to lack of visibility or improper handling.
Jane's Dough Foods (www.janesdoughfoods.com)
Jane's Dough Foods makes premium quality dough and pizza products. Last summer, the company transitioned from traditional pizza boxes to eco-friendly sleeves, reducing cardboard by 24 percent in both size and weight. With 2.2 million pizzas expected to be sold, this seemingly simple switch has eliminated over 280,000 pounds of cardboard. The smaller format sleeves have also reduced 58 truck shipments.
Jungheinrich (www.mcfa.com)
In the food/bev business, it's all about speed. Jungheinrich's lift trucks and equipment have a longer run time off a single battery, which helps reduce hydrogen gas emissions (occurs when an electrical battery is charged) and keeps a warehouse operation running more efficiently. The company was the first to develop its proprietary 3-phase AC technology, used to capture wasted mechanical energy and convert it to electrical energy.
JustFoodERP (www.justfooderp.com)
JustFoodERP understands the unique requirements of its food and food-related customers, many of whom are looking for solutions to reduce paper and manually intensive functions with automated processes. The result is real time information, increased visibility, and improved tracking and tracing capabilities, which translates to reduced waste and more sustainability. JustFoodERP prides itself in matching up the best software technology with the best business practices.
Kane is Able (www.kaneisable.com)
Collaborative Distribution, or the sharing of transportation among various shippers, is not a new concept, but KANE has been at the forefront. One of its customers, Sun-Maid, saw a 62 percent reduction in cost per hundredweight using KANE's consolidation program. Sun-Maid now consolidates close to half of its orders and plans to grow that number.
Kenco (www.kencogroup.com)
Recently, Kenco introduced new sustainability dashboards that bring together 13 metrics to provide "a good assessment of site specific sustainability," said the company's leader of sustainability, Deni Albrecht. The dashboard tracks metrics such as electricity, natural gas and water usage, as well as labor costs and other inputs. Kenco advises customers to start with the easiest things first, like simply turning out lights that aren't in use, then building from there.
Murphy Warehouse Company (www.murphywarehouse.com)
Over the past year, Murphy Warehouse Company continued its ongoing sustainability initiatives, which include native prairie and tree plantings, rain gardens and storm water retention ponds, as well as solar installations and LEED and Energy Star certifications. Its new 350,000 square foot Eagan, MN campus is the largest building in the Midwest with an LED lighting system of its kind, which includes LED fixtures outfitted with motion detectors.
Next Generation Logistics (www.nextgeneration.com)
Inverness, Illinois-based Next Generation Logistics' FreightMaster TMS offers sophisticated functionality to minimize a shipper's carbon footprint and leverage alternative modes of transportation, such as rail and intermodal. KPI's validate the transportation cost savings and deliver "green results."
Paragon Software Systems (www.paragonrouting.com)
Paragon's advanced routing and scheduling solutions are used by a wide range of food/bev companies, and its flexibility and scalability are two key selling points. Fleet operators can typically reduce the size of their truck fleet by 20 percent with Paragon's solutions, which benefits individual organizations and the environment as a whole. National foodservice distributor McLane Company uses six Paragon systems to plan delivery routes for its US-wide operations
Paylode (www.paylode.com)
MillerCoors saved $8 million by using Paylode's reusable cargo protection systems. Instead of using disposable corrugated dunnage to protect cans and bottles during transit it trucks and rail cars, the reusable and recyclable plastic-based systems from Paylode not only offered superior protection, but boosted sustainability at the same time.
Randall Manufacturing (www.randallmfg.com)
The GREEN InsulWall is the only flexible curtain wall made from recycled insulation. It provides food/bev facilities with a LEED contributing, energy-saving modular wall system that minimizes a company's environmental footprint by conserving energy and lowering operating costs. The insulated curtain wall also features an ASTM E84 Class A fire rating. US-wide operations.
Raymond Corporation (www.raymondcorp.com)
Raymond's Eco-Performance design philosophy is an indicator of how the company approaches the material handling needs of its customers, including those in the food/bev space. The idea is to move more product and pallets in a shorter time frame, using the least amount of energy as possible, made possible with Raymond's ACR System technology. One customer expects to get 20 percent more lifts per battery charge with Raymond's proprietary system.
Retail Handling Solutions (www.retailhandlingsolutions.com)
Retail Handling Solutions' ADS Box provides grocery retailers with a flexible and reusable solution for displaying and promoting palletized products. The four-sided customizable "billboard" wraps around and conceals the pallet while delivering products at a comfortable height to shoppers. The ADS Box helps reduce discarded display material and is built to last for years.
Retalix (www.retalix.com)
Retalix (now a division of NCR), is focused on automating processes and reducing paperwork. For example, its Power Delivery proof of delivery system increases successful deliveries while cutting down on manual processes and paper. Retalix offers its solutions via SaaS, making them more affordable and scalable.
ReTrans (www.re-trans.com)
Confectionary manufacturers are a strong customer base for Memphis, Tennessee-based ReTrans, and they've worked with one in particular to shift truckload reefer shipments to intermodal rail where possible, dramatically reducing greenhouse gas emissions and driving supply chain cost savings. Secondary benefits include reduced truck and dock congestion.
Retrotech, Inc. (www.retrotech.com)
Retrofitting and modernization an existing facility is a true expression of sustainability—waste is reduced, energy saved, and downtime minimized. Retrotech can seamlessly upgrade existing automated or manual material handling systems with best-in-class components and non-proprietary software to help a client's operations maintain a competitive edge. Earlier this year, Retrotech worked with a Cargill facility in Alberta, Canada to design and install an improved process.
Reverse Solutions (www.reversesolutions.com)
Reverse Solutions, and its division Reverse Recycling, provide waste and diversion management for large food DCs in the Northeast. It starts with analyzing current processes and implementing more sustainable solutions that keep food and packaging out of landfills. The company also provides services such as return management, asset recovery and liquidation.
RLS Logistics (www.rlslogistics.com)
As a follow-up to a solar project at RLS Logistics' headquarters in Newfield, NJ, the company embarked on an LED lighting retrofit project that will potentially save RLS Logistics 80-90 percent in lighting costs annually. The company's goal is to generate 50 percent of its total energy requirements. RLS Logistics specializes in temperature-controlled logistics services.
ROOFLIFTERS USA (www.rooflifters.com)
This company's approach is to think "above the box," and raise the existing roof of a building to increase clear height. The lessened impact on the environment is "fairly obvious," says the company, which has completed several projects for food distribution and manufacturing clients. A project for Fiera Foods in Toronto, Canada included raising the clear height from 12 feet to 21 feet and expanding the cubic feet of the facility from 504,000 to 882,000.
Ryder (www.ryder.com)
Ryder is on the front lines in the development of natural gas vehicle operations and maintenance with over 250 vehicles currently deployed in customer operations, including many in the food/bev space. The company's natural gas offerings started in Southern California in 2011 and have expanded to Arizona, Michigan, and Louisiana. When it comes to helping food/bev companies improve their sustainability, Ryder starts by assessing three key areas: transportation, facilities/buildings, and network design.
S4i Systems (www.s4isystems.com)
The grocery and foodservice sectors are notorious for tight operating margins, which make the migration from paper intensive work to electronic documents highly desirable. Increased sustainability, reporting, and tracking and tracing are add to the value proposition offered by San Clemente, California-based S4iSystems.
Saddle Creek Logistics Services (www.sclogistics.com)
Saddle Creek's CNG fleet has grown to over 100 trucks over the past year and has already surpassed 3 million miles, which in turn supports their customers' corporate sustainability initiatives. CNG trucks offer one of the cleanest burning alternatives to diesel trucks and boast near-zero emissions. They are also significantly quieter. In April, TalkingRain beverage company announced it had chosen Saddle Creek to handle its nationwide supply chain management.
Schneider National (www.schneider.com)
Given its rank as one of the nation's largest truckload carriers, Schneider National has a vested interest in aggressively pursuing a sustainable future and has been doing so for over 30 years. Efforts to improve fuel efficiency have resulted in best practices and applications that have raised the bar for the entire transportation industry. All three of Schneider's business sectors, including truckload, intermodal and logistics, are SmartWay Transport partners.
Supply Chain Optimizers (www.supplychainoptimizers.com)
Among its suite of services, Supply Chain Optimizers specializes in packaging optimization, reducing the use of board and cardboard material and creating more efficient pallet configurations for clients such as Nestle and Heinz.
Telogis (www.telogis.com)
The launch of cloud-based Telogis for Food & Beverage in April targets the specific needs of this sector and, specifically the transportation of time- and temperature-sensitive freight. Telogis helps customers monitor greenhouse gas output and make improvements in their operations, including emissions compliance, cutting idling by over 25 percent, and reducing out-of route miles by 30 percent.
The Kennedy Group (www.kennedygrp.com)
Even smart and simple to use labeling solutions play an important part in sustainability. The Kennedy Group's patented placard label holder is designed to work with sustainable packaging in the food industry, including pallets and containers. Because it adheres permanently to reusable packaging, other labels can be applied and removed as often as necessary.
United Natural Foods, Inc. (www.unfi.com)
UNFI has achieved sustainability success in many areas—LEED certified facilities, a partner in EPA's SmartWay, supporting the Organic Seed Alliance and similar organizations, and bringing Fair Trade to small banana growers in Ecuador and Peru. Currently, UNFI is installing solar electric systems on the rooftops of three of its warehouses. The company pledged in 2010 to reduce its carbon emissions by 5 percent from 2009 levels over five years.
US Perishables (www.usperishables.com)
Oakland, CA-based US Perishables uses its supply chain expertise to provide faster, more reliable deliveries that reduce waste and damage to perishable shipments, consequently reducing inventory levels and saving energy and resources. The company also has access to cold storage facilities in major hub cities throughout the continental U.S.
Veracity Logistics (www.veracitylogistics.com)
In addition to running clean, efficient operations that boost their customers' sustainability, Veracity Logistics has embraced a recycling program for plastic, paper and wood that captures up to 10 tons of shipping waste every month.
Werner Enterprises (www.werner.com)
Werner has earned a place among best-in-class green provider. Through its participation in the EPA's SmartWay, the company has earned a ShipperIndex Factor (SIF) of 1.25, the highest score possible. An SIF of 1.25 represents outstanding environmental performance and is an example of how committed Werner is to sustainability. As example, the company's beverage trailers are equipped with wide base tires and lightweight trailers can help transport more payload with less equipment, and is just one way Werner has managed to save 58 million gallons of fuel since 2007.
Westfalia Technologies (www.westfaliausa.com)
Westfalia's "Go Green With High Density AS/RS" Design lets food/bev clients store pallets or containers up to 12 deep, using 40 percent less space and allowing for a smaller building footprint. Energy costs, especially in cold storage environments, are positively impacted. Even facilities with ceilings as low as 20 feet can benefit from Westfalia's solutions.
Witte Bros. Exchange (www.wittebros.com)
Witte Bros. has deployed numerous sustainability initiatives throughout its operations, including the use of electric plug-ins for its reefer units to eliminate idling and emissions. On the road, the company uses APUs and Temp-A-Start units to reduce idling. Witte Bros. has been a strong supporter for the implementation of electrification (aka shore power) units throughout the nation's truck stops.
Yale Material Handling Corporation (www.yale.com)
Yale features innovative transmission designs that reduce tire and brake wear in the company's internal combustion (IC) trucks. The company's electric lift trucks are especially ideal for the food/bev industry and customers like McCain Foods. Yale's Veracitor product offers the best energy efficiency of any lift truck in its class in North America.
Companies in this article