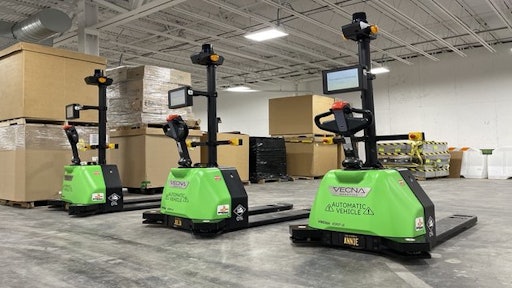 Vecna Robotics
Vecna Robotics partnered with Big Joe to develop the Vecna CPJ, a co-bot pallet jack designed to bring human-assisted robotics to warehouses and manufacturing facilities with labor-intensive workflows.
Internal simulations and field tests reveal up to 45% improvement in throughput vs. human work only.
"The last 18 months had driven huge demand for AMRs like autonomous forklifts, but current offerings are typically only accessible to very large facilities," says Craig Malloy, CEO at Vecna Robotics. "Our CPJ is a game-changer as it allows facilities of varied sizes to address their immediate labor shortages with intelligent material handling robots. The new solution works seamlessly alongside human workers and automates a broader range of payloads, workflows and environments that the market is not currently addressing."
"Bringing solutions to market that empower workers to better manage in-between material handling tasks is a core to who we are," says Bill Pedriana, CMO of Big Joe. "We are thrilled to be working with an industry leader like Vecna Robotics to bring our first robotics offering to the masses together. Their intelligent and easy to deploy system will help our joint customers make moving workloads far more efficient day one."
From PR Newswire:
Vecna CPJ will be available through a Robot-as-a-Service (RaaS) pricing model designed to support easy onboarding of robotics solutions.

Vecna Robotics

also collaborated with Quanergy Systems on the lidar technology used by the CPJ to enable mass-market adoption and democratize access to automation.
"The time to democratize automation in material handling is now. This technology has long been exclusive to early adopters or those in select industries with large budgets for innovation," says Enzo Signore, CMO at Quanergy. "In collaboration with Vecna Robotics, we have a unique opportunity to deliver a true co-bot solution to help companies overcome dire labor shortage issues with technology that can be immediately deployed, virtually out-of-the-box."