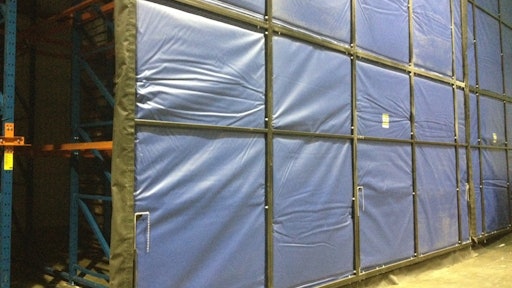 Zoneworks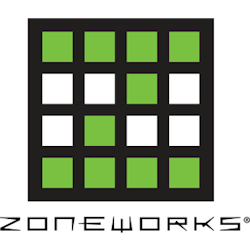 Zoneworks has introduced the sliding Blast Freezer Curtain Wall, a light, safe and affordable airflow and thermal barrier for blast freezer cells. The insulated Blast Freezer Curtain Wall eliminates the need for heavy and dangerous insulated panel doors used by food manufacturers and distributors to seal their blast freezers/chillers. The flexible sliding curtain wall provides a safer and simpler alternative for food processors to quickly bring seafood, meat and other foods to an optimal temperature to maintain their freshness, safety and integrity.
Engineered to be light and easy to use, Zoneworks Blast Freezer Curtain Wall can be operated by a single person. It is made of insulated, sliding panels nested in a tubular steel frame. Each panel is constructed of 18-ounce, industrial vinyl fabric surrounding a layer of anti-microbial polyester batting. The panels slide open and closed on a track-and-trolley system. Depending on a customer's application, the Blast Freezer Curtain Wall is available in three design options: between jambs, single slide, or bi-parting. This cost-effective design makes the Blast Freezer Curtain Wall an affordable solution, enables easier installation and allows for minimal long-term maintenance.
Insulated panel doors are commonly used to seal blast freezer openings that can be as large as 25' x 25'. At this size, these doors can become very heavy and hard to open. In fact, the heavy weight of these doors can cause people to use dangerous methods to open them such as using a forklift. BZH is specifically designed to be light so a single person can easily open and close it; eliminating the dangers insulated panel doors present. Zoneworks® Horizontal Sliding Blast Freezer Curtain Walls also form a tight and effective seal to minimize the build-up of ice on the floor at the base of the doors. This reduces an employee's chance of injury from slips and falls.
Zoneworks Blast Freezer Curtain Walls are custom-designed to match each customer's unique application and specifications. As such, Zoneworks' industry specialists are readily available to provide free on-site consultation and complete drawings, as well as turn-key project support and installation coordination.