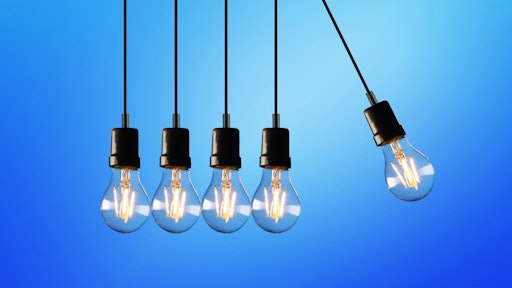 Pexels
A new report from Navigant Research examines the global market for industrial and high bay lighting, providing forecasts of shipments and revenue for lamps and luminaires through 2028.
Industrial and high bay lighting manufacturers continue to be challenged to create products that can illuminate large spaces from afar with low glare and low contrast that also meet today's strict safety and hazardous environment requirements. Recently, though, newer lighting technology options capable of minimizing energy use while enhancing lighting quality—such as LED products and connected lighting control systems—have emerged to provide stakeholders with more flexibility.
"The increase in revenue is small throughout the forecast period because the global building stock is not growing rapidly in these building types," says Krystal Maxwell, senior research analyst at Navigant Research. "Additionally, a stagnant building stock results in stagnant renovation rates."
While the industrial and high bay market was historically dominated by high intensity discharge (HID) lamps, fluorescent lamps, particularly high output T5 lamps, have become a major player in the high bay market due to their superior lumen maintenance and enhanced control options. Only in the past few years have technological and cost improvements allowed LED lighting to penetrate the market in significant quantities. LED retrofit lamps designed for direct replacement for HID and fluorescent lamps are also available. Though they are less efficient than new LED luminaire options, they are penetrating low and high bay applications.
The report, Market Data: Industrial and High Bay Lighting, analyzes the global market for industrial and high bay lighting. The report briefly covers the market issues, including key drivers and trends. The main focus of the report is the global market forecasts. The study provides forecasts for industrial and high bay lighting shipments and revenue for lamps and luminaires. These forecasts are segmented by building type and region from 2019 through 2028, as well as by controls within these applications.