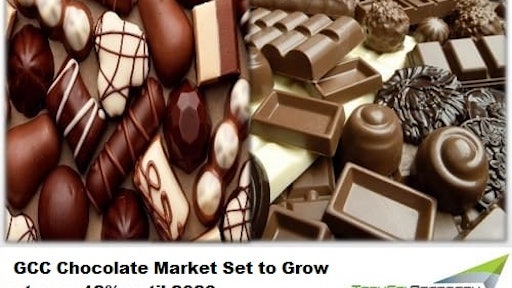 Growing demand for premium chocolate products, increasing consumption of chocolate confectionery among young population and expanded brand portfolios is expected to drive the chocolate market in the Gulf Cooperation Council (GCC), according to recent Voice of Customer survey published by TechSci Research. In fact, consumers in the age bracket of 5–24 years accounted for a revenue share of more than 73 percent in the overall chocolate market in the region in 2017.
According to TechSci Research report, "GCC Chocolate Market By Product Type, By Category, By Distribution Channel, By Country, Competition Forecast & Opportunities, 2013 – 2023," the chocolate market in the GCC—a political and economic alliance of six countries in the Arabian Peninsula, including Bahrain, Kuwait, Oman, Qatar, Saudi Arabia and the United Arab Emirates—is projected to register a CAGR of more than 12 percent during 2018 - 2023, on account of changing taste and preferences of young population coupled with growing inclination toward chocolates, especially premium category chocolates, as preferred gift items.
Moreover, manufacturers are increasingly focusing on processing heat and moisture resistant chocolates, which would help to increase the product shelf life in the extreme climactic conditions of the Middle East. Additionally, a considerable demand for chocolate gift boxes and premium dark chocolates has been witnessed in GCC region on various festive occasions, particularly in countries like Qatar and Bahrain, where expenditure on chocolates has also been observed to be comparatively high. Furthermore, growing presence of chocolates across online portals would aid the growth of GCC chocolate market in the coming years.
Among countries, Saudi Arabia dominated the market with a share of more than 45 percent in 2017. This country is expected to generate significant demand for chocolates and is anticipated to remain dominant in the region during forecast period as well owing to high tourist footfall and the high expat population in the country.
The GCC chocolate market can be broadly categorized into chocolate pouches and bags, boxed chocolates, countline, tablets and others. The countline segment accounts for the majority share in the market as these products are high in demand and are relatively less expensive than other categories and are more of an impulse purchase.
Mars GCC FZE, Mondelez Arabia for Trading LLC, Nestle Middle East FZE, Ferrero Trading Dubai, Chocoladefabriken Lindt & Sprüngli, Patchi SAL, and Al Nassma Chocolate LLC are some of the leading players operating n GCC chocolate market.