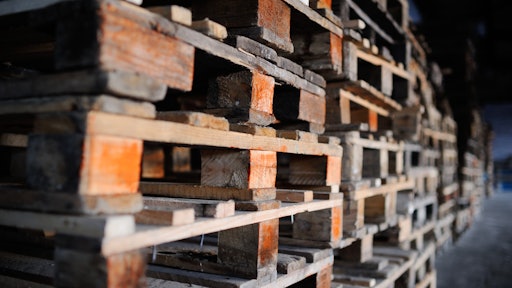 Evgeniy Kalinovskiy - stock.adobe.com
From enhancing visibility, building resiliency and mitigating risk to leveraging smart technologies and automated software, a digital supply chain means different things to different companies.
Yet, digitization itself presents the same benefits across the board in moving temperature-controlled foods in a safe and efficient manner.
Marina Mayer, Editor-in-Chief of Food Logistics and Supply & Demand Chain Executive, talks exclusively with John Vaccaro, president, Bettaway Supply Chain Services and founder, PalletTrader, who details why pallets are the most misunderstood and disrespected element of the supply chain.
CLICK HERE to read the article in full.
Food Logistics: What is a digital supply chain? What does it mean for you/the cold food chain?
John Vaccaro: The digital supply chain is a constantly evolving process of managing goods acquisition, positioning, storage, fulfillment and delivery which relies on several interrelated technologies and services. It provides the platform and tools that allow shippers to reduce and eliminate manual process steps, find and remove waste, improve visibility into inventory at rest and in motion, improve data accuracy and latency, and control the velocity by which goods move from plant or farm to warehouse to store shelf.
CLICK HERE to read the "Breaking Down the Digital Supply Chain" article in full.
Food Logistics: Describe some technologies and solutions defining the future of digital supply chains.
Vaccaro: Visibility technologies continue to improve and provide shippers and logistics operators with better data and close to real time information on flows among supply chain nodes and networks. Optimization technologies also are improving how transportation networks and assets are assigned, deployed, their space effectively utilized and the network operated in the least-cost manner to move goods.
One particular area that has seen significant benefit from the introduction of digital management platforms has been the sourcing, buying and selling of pallets, which has been until now a highly manual, inefficient process of phones, emails and faxes. Pallets are the wooden platforms upon which virtually all goods are stacked and secured to move in trucks and containers. Without pallets supply chains stop.
PalletTrader, launched last year, is a neutral, online platform, open to all, that digitizes the process of finding, sourcing, negotiating, buying, selling, settling and arranging transportation of pallets. The "white wood" pallet market in the U.S. has some 1 billion units. PalletTrader has reimagined with technology how pallets sales are transacted, bringing a common, e-commerce-like platform and process that is streamlining the process and delivering value to thousands of pallet buyers and sellers. It was a defining moment for the pallet market.
Food Logistics: Where to start? How do companies start the journey toward a more digital supply chain? Outline some good first steps.
Vaccaro: First, examine your current processes and identify areas and activities that are wasteful, ineffective, unnecessary and/or can be improved or streamlined. (Bad processes to which technology is applied become digitized bad processes).
Second, identify your data needs and where their sources are.
Third, develop a document which outlines your challenges, needs and desired outcomes from a technology transformation.
Fourth, provide the project document to at least two technology vendors for them to respond.
Fifth, secure demos of each vendor's solution with specific aspects that show how they would address the issues in your project document and achieve your goals.
Sixth, start small with an initial pilot to determine proof of concept.
Seventh, once proof of concept is complete, select and engage the vendor, and agree upon a timeline for implementation with clear "gates" and progress steps to completion.
Eighth, engage employees constantly in training in the new technology.
Ninth and last, review the solution once in operation, identify gaps or failures, and engage in a process of continuous improvement to close gaps, capture improvement opportunities, and ensure you achieve your goals and gain the value and capabilities expected.
Food Logistics: What sectors (i.e., agriculture, frozen foods, etc.) are more impacted/affected by digitalization than others and why?
Vaccaro: I believe virtually every industry can be impacted positively by digitization of supply chain operations because regardless of the industry, many supply chain processes and flows are so similar that a baseline solution that automates many supply chain tasks in one industry likely will be effective and applicable in another industry, with some tweaks.
Food Logistics: From food production to the retail and/or foodservice outlet, how does a digital supply chain transform the way food is moved from Point A to Point B? This could also entail fleet, warehousing etc.
Vaccaro: In my view, it supports three critical performance-based values: consistent supply chain velocity or speed to market; access to and constant updating of "clean" data and refined processes that enable agility and ability to respond quickly to prevent failures; and opportunity for continuous improvement (reduced product spoilage from supply chain failures, more accurate cost management, more accurate ordering and fulfillment, more efficient warehouse management.)
Food Logistics: Describe some other trends and challenges with regards to digital supply chains.
Vaccaro: Choosing what warrants the investment and connecting relevant systems, I find that integration or perception of same is different than reality. Recently I see more and more software that speaks to integration with certain other software. It will only work if it all connects and syncs, so do your homework and ask for references from those who have the same type integrations and have done them successfully. Ask how it connected, did you get what you imagined going into it.
Food Logistics: What are some things not addressed above that may be pertinent to our readers?
Vaccaro: Pallets are perhaps the most misunderstood and disrespected element of the supply chain. Any shipper or distributor who has had difficulty securing a sufficient supply of pallets to move their goods knows the immediate, detrimental impact this can have on supply chain velocity, logistics cost and overall customer satisfaction. Engaging in a modern, digitized, neutral platform like PalletTrader can help eliminate these costly failures and provide shipper with a convenient, fast, easy to use, e-commerce-like platform and common process to ensure they get quality pallets at a competitive price, and never are caught short of supply.
CLICK HERE to read the article in full.