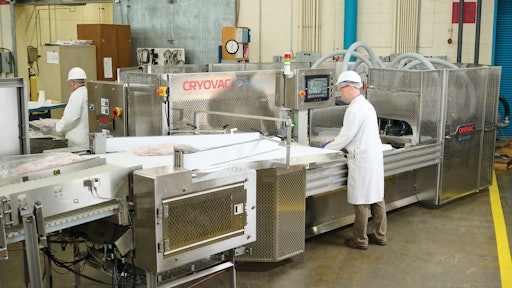 Sealed Air Corp.
The World Economic Forum reports that approximately 33% of all tasks are done today by machines. If you're like most packaging manufacturers, however, that number is higher than what occurs in operations.
For the last two decades, the typical driving forces behind automation projects have been the need for speed, improved throughput and reduced labor and associated costs. For most of the packaging industry, automation was seen as an operational enhancement, making it sometimes hard to prioritize such projects over other capital needs.
During the same time, however, as access to and financing for higher education became mainstream, the pool of applicants for blue collar jobs and tradespeople reached an all-time low.
Today's workforce has more mobility and more employment options than ever before — and that's leaving the return to full, consistent production uncertain. So, while the current demand for packaging is high, and that's good, it's never been harder to predict your throughput on any given day — and that's a problem.
What automation means for you
While automation may bring to mind thoughts of faster machines and fewer people on the line, it's about much, much more than that.
Automation is about a commitment to a successful future, one that promotes the optimization of your labor force, the power of connectivity and better insights, and the predictability that comes from a totally integrated solution.
Let's take a closer look into this system for predictability and success:
1. Labor optimization. Not labor reduction. Automation is about removing the uncertainty of day-to-day operations. It allows you to optimize the labor you have, while combatting labor turnover costs and minimizing disruption that can occur from daily unexpected labor shortages.
With an automated environment, new employees can be trained and become productive quicker, and existing employees will find more satisfaction in their jobs. From the plant manager to a production line worker, automation will make their jobs more rewarding, more efficient and safer.
A desirable environment also impacts labor retention - protective packaging is labor intensive, with workers having to exert considerable force throughout the day.
The management of day-to-day operations has become almost impossible to predict. This uncertainty means that on any given day, certain functions around your plant could be underperforming, or worse yet, left undone, and costing you more than just throughput.
And that's why today, automation is no longer about removing people or long-term costs from your operation… it's about removing uncertainty.
Automation allows operators to use the right resources in the right place, ultimately leading them to retain the skill sets that are needed to optimize operations.
Overall, with automation, a business can use their people to their greatest advantage and strengths and leave the mundane work to the robots for tasks such as bagging, finishing, labeling, and case packing.
2. The power of connectivity. Remote connectivity allows service technicians to leverage data to provide better insights and enable continuous improvement to line performance. This helps reduce downtime, allows you to quickly detect problems to prevent huge repairs later, extends equipment service life and reduces overtime costs.
Imagine a piece of equipment suddenly has a problem, and rather than spending a lot of time trying to diagnose the problem, and perhaps going through 20 or more fixes before you get at the root of the problem, you have all the data and expertise at your fingertips to fix the problem quickly and cost-effectively through remote connectivity.
These insights also help predict when things are going to fail, so problems can be solved before they happen. This type of predictive maintenance is yet another way to bring predictability back to business.
Connectivity and the insights it provides also helps to ensure the highest product integrity, delivering a consistent result, protecting your brand reputation and adding to customer satisfaction when they purchase your products.
Additionally, connecting to machines with advanced features is easier. They offer a simplified learning path, are more ergonomic, and ultimately safer for employees.
3. Speed consistency. Speed alone does not drive productivity. Consistency of throughput is more important than speed alone. And when packaging speed is consistent, you can better plan for and allocate your input as well as predict your output, even when resources vary from day to day.
Given today's challenges in simply keeping packaging operations functional, it's not that there's a need to go faster — it's that there's a need to be consistent at any speed. When you have the right amount of materials every time, you get consistent outputs, and ultimately a consistent, predictable expense for the plant manager.
Enhancements such as integrated machines across the packaging line allow for speed adjustments that can be synchronized. More intuitive interfaces and operator instruction in multiple languages, as well as training modules and manuals embedded into the equipment offer another way to make packaging lines function efficiently and predictably.
4. A right-sized logistics solution. In this era of heightened freight costs, an automated system will allow you to right size your packages. With costs determined by either dimensions or weight, even a single ounce can make all the difference.
Packaging machines enable you to right size at a moment's notice and provide solutions for businesses of all sizes, not just the large corporations. Additionally, with the help of digital diagnostics, plant managers can find solutions in real time, improving consistency and productivity.
5. A totally integrated solution. Automation is about more than what you need today. It's about finding the right-sized solution for today that can grow and adapt as your business needs change. It's about bringing together four critical elements – packaging equipment, packaging materials, automation, and digital diagnostics – that all work together day in and day out and can be maintained with minimal effort.
And it goes beyond the package. When you think about automation and the predictability that it brings, think about the entire production process… from the time the product arrives at the plant to the time it is put on the truck for delivery.
For example, automation goes both upstream and downstream of the packaging process. The integration of vision systems augmented with machine learning can help to identify, sort, and find visual defects on each product as it goes through the process. This type of product traceability system helps ensure the optimal performance of automation equipment throughout the process.
Packaging automation has become every bit as much about protecting production as it is enhancing it. It's about reducing risk and finding a way to ensure your operation runs regardless of who does or does not show up for work that day.
Automation is about bringing predictability back to your plant by creating an environment that's safe, flexible, and less dependent on restricted or uncertain resources. Ultimately, automation delivers consistent protection across the board along with the flexibility operations need.