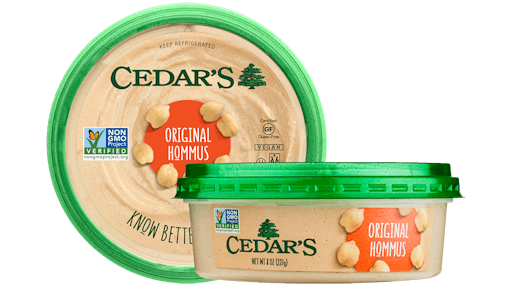 cedarsfoods.com
Cedar's Foods in nearing completion of its latest 125,000 square-foot state of the art facility that aims to better serve customers' demands for the world's finest Mediterranean foods. The company has reportedly invested $100 million in the new facility, which will double its total annual production output to 208 million pounds of hommus and Mediterranean foods, enabling it to supports its selection of Cedar's Foods signature products and bourgeoning private label, co-manufacturing business.
"Cedar's is dedicated to providing our customers with the highest quality, authentically crafted hommus and Mediterranean foods, using the best ingredients inspired from authentic recipes passed down by our founders," says Chris Gaudette, CFO of Cedar's Foods. "This investment represents our long-term commitment to expanding our brand and growing the category, while retaining our values as a local, family-owned company."
The new facility will open in August, creating an additional 125 jobs on top of the existing 750 employees who work across three facilities at the Ward Hill, Mass. campus. the center will feature a fully automated production process that utilizes Cedar's proprietary processing systems along with advanced robotic technology to perform many of the key functions. Cedar's has collaborated with local utility companies to optimize energy efficiencies and has installed LED lighting systems, high performance wall insulation, insulated and automatic doors, high performance HVAC systems, heat recover systems and Variable Frequency Drive precision electronic devices in motors throughout the building.
"We believe that this will be the most advanced hommus manufacturing facility ever built," says Nick Scangas, COO of Cedar's Foods."We have successfully adopted the latest technology which will control costs and increase efficiencies, all while maintaining our proven process of delivering products without the use of preservatives. This truly is a win-win-win for Cedar's, our consumers and the environment."