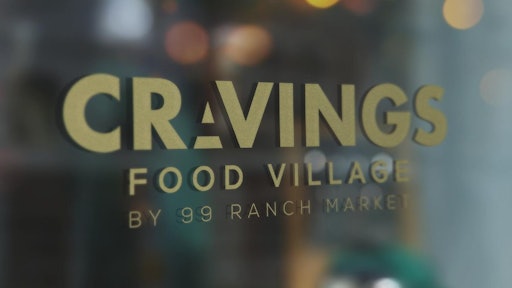 Asian supermarket chain, 99 Ranch Market, has launched a new format of stores that combines a warehouse-style grocery store with a multivendor dining hall.
The new stores called Cravings by 99 Ranch Market will serve a diverse assortment of local and global foods in individual and bulk sizes to both households and foodservice businesses, Supermarket News reports.
The larger store, standing at 56,000 square feet, will departments carrying broader sections of items and prepare fresh food daily. According to Supermarket News, the store will also carry Asian vegetables that shoppers can't typically find in traditional supermarkets, such as bok choy, yellow dragon fruits and bitter melon.
The dining hall will include nine vendors of Asian, Mexican, Southern California and American variety. The hall will also include dessert and snack vendors as well.
Supermarket News reports that the dining and social are is expected to seat 250 to 300 people, and is designed for customers to unwind, connect and enjoy the culinary experience. Cravings will also feature its own bar, Piju, in the dining location and will serve international flavors of beer and wine.
99 Ranch is planning to open more Cravings stores in the future. Currently, 99 Ranch has 51 stores in California, Washington, Nevada, Texas, Oregon, Maryland and New Jersey.