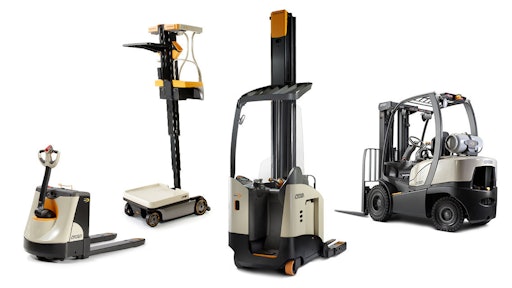 Crown Equipment Corporation, one of the world's largest material handling companies, is evolving its Canadian operations. Ryder Material Handling, part of Crown Lift Trucks, has opened a new facility in Brantford, Ontario.
The new sales and service facility is located at 21 Tallgrass Court in the city's Northwest Business Park and integrates existing operations from London, Kitchener and Hamilton into one central location. The new location will offer sales, rentals and service of the full line of Crown lift trucks, Crown Integrity Parts and other material handling services.
"Brantford is strategically located to accommodate our existing operations in southwestern Ontario as well as our future growth and is the perfect location for this facility," said Ron Greer, chief executive officer of Ryder Material Handling.
Brantford Mayor Chris Friel added, "We are very excited to welcome Ryder Material Handling to the City. Ryder's decision to locate in Brantford is a direct result of our community's key competitive advantages such as our strategic location, access to large urban markets and a progressive labor force. We look forward to a long and prosperous relationship with Ryder and wish them every success."
Ryder Material Handling provides material handling equipment sales, parts, service, maintenance and training to a diverse customer base representing numerous automotive, construction, food and beverage, logistics, manufacturing and retail applications, among others. The company's comprehensive offering is supported by an extensive group of mobile technicians who comprise one of the largest service fleets in Canada.
Crown's nationwide presence in Canada is also supported by authorized dealer relationships with Arpac Storage Systems, Industrial Truck Service, Prime Material Handling Equipment Ltd. and Toromont. Globally, Crown has more than 500 retail locations in more than 80 countries.
Companies in this article