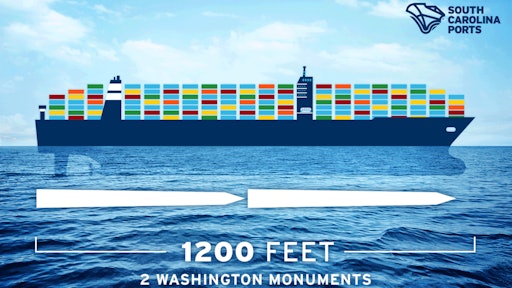 Following a much-heralded announcement last month by the Port of Virginia that it would be the first East Coast port to get a visit from the COSCO Development—the largest container ship to visit this side of the United States since the Panama Canal's expansion was completed in 2016—the South Carolina Ports Authority's (SCPA) public relations wheels started to spin.
The long-awaited inaugural visit in Norfolk on May 8 is seen as the dawn of the so-called big-ship era for East Coast ports, so the SCPA is putting its best foot forward.
In an announcement last week, it said it has secured "the desired position as last port of call" on the ship's voyage.
"It's ironic to say, but this is a case in which we've worked very hard to be last," says Jim Newsome, the maritime agency's president and CEO.
Want to track the ship's journey to Charleston? Visit www.scspa.com/big-ship-ready.
To view the full original article, please click here.