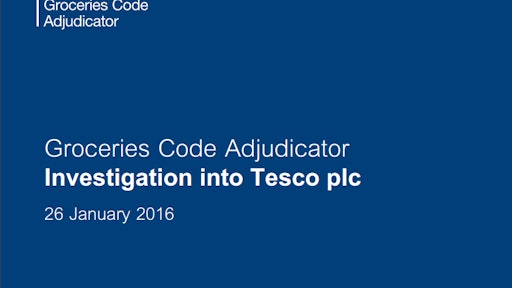 U.K. Groceries Code Adjudicator (GCA) Christine Tacon has ordered Tesco to make significant changes to the way it deals with payments to suppliers, following an investigation, according to talkingretail.com, a U.K. food industry news site.
The GCA said the investigation covering the period June 25, 2013 to Feb. 5 2015 found that the retailer "seriously breached a legally-binding Groceries Supply Code of Practice to protect groceries suppliers" and had "acted unreasonably when delaying payments to suppliers, often for lengthy periods of time".
Her five recommendations in the report include stopping Tesco from making unilateral deductions from money owed for goods supplied. Suppliers will be given 30 days to challenge any proposed deduction and if challenged Tesco will not be entitled to make the deduction. The GCA also insists that the company corrects pricing errors within seven days of notification by a supplier.
Tesco must also improve its invoices by providing more transparency and clarity for suppliers, the GCA said.
Tacon said: "The length of the delays, their widespread nature and the range of Tesco's unreasonable practices and behaviors towards suppliers concerned me. I was also troubled to see Tesco at times prioritizing its own finances over treating suppliers fairly.
"The sums were often significant and the length of time taken to repay them was too long.
"I am pleased that many suppliers have reported improvements in their relationship with Tesco to me since the period under investigation. Tesco has also kept me informed of changes it is making to deal with the issues."
To read more, click here.