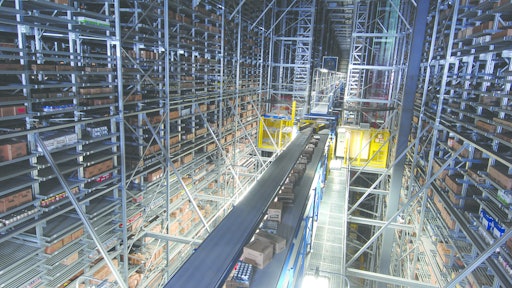 Warehouses are getting super-sized as growing consumer demand around the world pushes the limits of logistics capacity, according to The Wall Street Journal.
Industrial real estate analysts say that in recent years, an increasing number of massive distribution centers have popped up in response to growing e-commerce. As online sales become a larger portion of revenue for vendors, the companies require more manpower, machines and storage space to handle high volumes of smaller packages.
The distribution centers where manufacturers and retailers store, package and ship out products are increasing in size around the world. The biggest facilities have doubled in the last ten years to top 1 million square feet in the U.S. and have grown to similar sizes in Europe and China, according to new report published Tuesday by commercial real estate brokerage Colliers International Group Inc., which published a new report Tuesday.
The growing size of warehouses mirrors the trend toward bigger capacity across the logistics space. Shipping lines are introducing giant vessels that can carry thousands more containers than was possible even a few years ago. Ports are seeing record volumes and are expanding connections to rail lines handle it. U.S. trucking companies are lobbying Congress to allow trucks to pull longer trailers.
http://www.wsj.com/articles/room-to-grow-warehouses-super-size-to-meet-e-commerce-demand-1445331601?mod=djemlogistics
Editors Insight: This report on warehouse upsizing quantifies an interesting develpment in the logistics industry, especially as it relates to food and beverages. Warehouses are upsizing to accommodate growing global trade and a growing number SKUs. More food is being produced for a variety of reasons. Supermarkets – which remain the largest single retail outlet despite growing competition from other food channels – are not increasing in size but are actually decreasing.
Hence, supermarkets need to cycle food and beverage faster. This makes logistics more critical than ever to supermarkets. They are trying to sell more volume with less real estate. Logistics and the technology that improves them matter more than ever. 10-23-15 By Elliot Maras