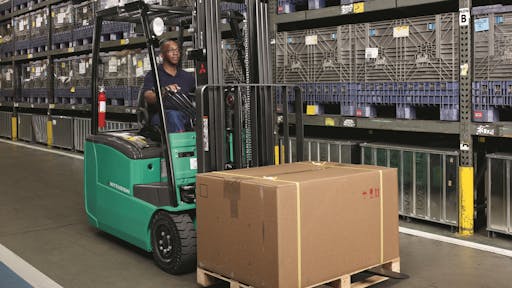 Houston: Mitsubishi Forklift Trucks announced the new FB16PNT-FB20PNT series of forklifts.
Featuring a compact design, these 3-wheel forklifts are equipped with wet disc brakes for improved performance in wet or corrosive environments, electric power steering that provides improved energy efficiencies, and an ergonomic operator compartment that helps the operator remain productive throughout the entire shift.
"We're excited to offer this new series of electric 3-wheel forklifts," said Chad Pauler, product line manager for Mitsubishi Forklift Trucks. "These compact forklifts are key products in the Mitsubishi Forklift Trucks lineup, providing our customers with a product that maximizes operator comfort and efficiency, and features a durable design that allows it to perform well even in harsh environments."
The FB16PNT–FB20PNT series is designed for powerful performance and productivity in crowded and condensed work areas. Capable of operating in a variety of applications, the new series features:
Powerful Performance: Heavy-duty Alternating Current (AC) drive and hydraulic motors, along with powerful Mitsubishi PM-1000 controllers, provide outstanding performance levels.
Durable Equipment: These forklifts come equipped with sealed motors for added protection from contaminants, such as dust and moisture, allowing the forklift to excel in both indoor and outdoor applications.
Smart Technology: As the forklift's steer angle increases, the Controlled Cornering Speed feature progressively reduces the speed of the forklift, providing additional control for both the operator and the load.
Enhanced Ergonomics: The ergonomic design of the operator compartment helps the operator be equally efficient throughout long shifts.
Flexible Options: There are a variety of options available to further enhance the productivity of these forklifts. Pneumatic tires and a full-suspension seat can be added to create a smooth ride on rough surfaces or uneven floors. Other options include the Cold Storage Modification for forklifts operating in refrigerator or freezer applications, and quad masts and side-shifters for increased productivity in dock-to-stock applications.
To learn more about the new FB16PNT-FB20PNT 3-wheel electric forklift trucks and the rest of the Mitsubishi forklift trucks product line, visit http://www.mcfa.com/mit.
Companies in this article