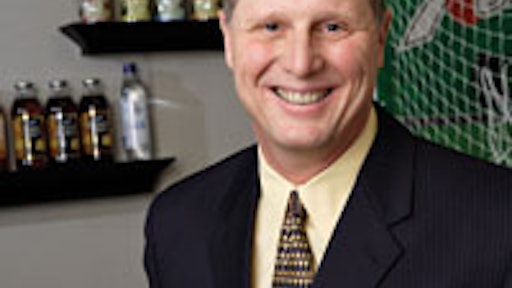 In the highly competitive beverage arena, Cadbury Schweppes is the world's third largest soft-drink maker. But when it comes to space management, this company, which counts Dr. Pepper, 7UP, A&W Root Beer, Sunkist, Hawaiian Punch, RC Cola and Snapple among its beverage brands, clearly outshines its competitors.
In recent years, Cadbury Schweppes has taken space management to a whole new level using planogramming and automation software tools. The effort has helped retailers significantly grow soft drink sales. No easy feat, considering that sales in the category have been flat.
Craig Hodnett, vice president of category management at Cadbury Schweppes Americas Beverage (CSAB), Plano, TX, credits much of the success with the company's ability to quickly generate accurate, store-specific planograms for its key retail customers. "Retailers are so busy today and they're swamped with information. Often they don't know the true value of an item," says Hodnett. "And consumers are confused at the shelf. They may be looking for energy drinks or isotonics, for example, and not know where to find them."
In addition, CSAB has automated much of the space management process, which has enabled the company to shorten the amount of time it takes to create planograms, as well as reduce the number of people needed to create in-store plans, despite growing demands for plans by retailers.
In fact, the company has narrowed down the process to two people-what once took four hours per planogram now takes about 15 minutes, allowing CSAB to reallocate employees to other strategic opportunities.
"Space management is a combination of art and science," says Hodnett, a 20-year company veteran. "My team works at the art while the software helps us with the science. Speed-to-insight is one of our core competencies. It's about understanding the consumer. In the old days, companies used to segment their business based on demographics and that's antiquated thinking."
Speed-to-shelf is a top priority for retailers as well. "We want to be the manufacturer of choice in whatever category we choose to participate in," says Hodnett. "That may sound easy, but when you're the third player in the category, this is a huge undertaking. It's all about speed-to-shelf. Whoever gets to the shelf fastest, wins."
And the efforts are paying off. CSAB says it has realized a 93.75 percent reduction in planogram processing time and an increase in productivity after utilizing the advanced capabilities of its tools.
Optimizing Space, Assortment
Like most manufacturers, CSAB is continually challenged by its retail customers to provide more impact on store shelves, so it was spending a great deal of time producing large amounts of planograms. In 2005, the company began to work with a top-five retailer and JDA Software Inc., Scottsdale, AZ, to optimize its space and assortment strategies by developing store-specific planograms. CSAB is using JDA's Space Planning by Intactix and Space Automation by Intactix.
"We worked with the retailer and JDA to develop methodology in both assortment and space management that is very different from what our competitors are doing," says Hodnett.
The company wanted to create, merchandise and validate 950 Carbonated Soft Drink (CSD) planograms for more than 1,400 stores in seven weeks. The space merchandising strategy incorporated a days-of-supply approach per SKU per store (vs. space-to-sales) which maximizes efficiencies, increases turns, decreases shelf inventory and reduces out-of-stocks.
JDA's Space Planning helps manufacturers and retailers place the right products in the right positions at the right time. It can analyze how much product can be sold, how many cases to keep in stock and how much space is needed to support sales requirements. The tool can also help determine target inventories for each product, as well as reduce inventories while keeping the right amount of product on hand.
"Space Planning is the core application," says Dan Desmarais, JDA's vice president of category management solutions. "There are three phases of space management. The first is the planogram, which basically shows the display. The second phase is when you add images to it, or make it three-dimensional. Manufacturers will use the 3-D model to present to retailers what they want to sell on an end cap, for example, and retailers will use it to communicate to the store what should actually be merchandised.
"The third phase, where CSAB is at, is when you add financials to a planogram and start to understand the days of supply and target inventory and balancing the space to make it the most efficient-efficient being defined by whatever you want," says Desmarais. "Do you want to maximize days of supply or are you maximizing profitability, or turns, or units? Those can be different measures and targets by sub-segments of product."
The JDA Space Automation is a scripting tool that enables users to automate day-to-day activities performed within Space Planning. It uses the same terminology as other space management applications, making scripting easy to learn and understand. It can combine repetitive tasks to eliminate error and ensure data consistency. The application allows users to perform large-scale batch processing and complete tasks while they're away from the computer.
The solution has helped manufacturers and retailers achieve demand-based precision merchandising, which maximizes category and overall profitability and sales per square foot.
In 2005, using Space Planning and Space Automation, CSAB was able to save 79 minutes per planogram over an 11-week period with a team of 10 personnel. In 2006, the company was able to reduce the time to 12 minutes per planogram over a seven week period with two people.
"With the automation of more tasks, we improved our process per planogram," says Hodnett. "This directly contributed to our increased efficiency, productivity and reduction in man hours."
Over a three year period, the retailer's total CSD dollar sales has grown 27 percent and baseline sales by 36 percent. For CSAB, CSD dollars sales growth was 66 percent and baselines sales growth was 75 percent.
"We squeezed out every bit of automation out of the project," Hodnett adds. "The entire category experienced double-digit growth, including Coke and Pepsi. The account was ecstatic to have that kind of productivity."
Taking It Up A Notch
A good category management manufacturer will sit down with the retailer and decide what the inventory model will be, says Desmarais.
"What are the rules and regulations? Is it different by distribution center, is it different by store? A lot of beverage producers are DSD (direct store delivery) and that makes their life a little bit easier. They can set the days of supply themselves," he says. "They really have to work with the retailers to come to an understanding as to what they're going to do."
CSAB was one of the first manufacturers to use automated planogramming, says Desmarais. "One of the biggest advantages of this product is it allows the retailers to change the planogram enough to create excitement in the category, yet not to confuse the consumers."
Recently, CSAB was contacted by one of its largest retail customers to conduct store-specific planograms for its Texas locations. The company and JDA put together templates capable of mass producing accurate, store-specific programs. Collaborating with JDA, the company learned to incorporate JDA's Intactix Knowledge Base and Space Automation in several phases of the process, allowing the tools to do the work.
Intactix Knowledge Base is an integrated data warehouse that can store merchandise data and manage key business objectives over time. "You can load a list of all of your stores, or load POS data from a retailer and get that information right into the planograms. The big advantage with this product is it creates one record of a product," says Desmarais.
"When you work in a flat file planogram world and you're saving files to network drives or laptops, you can have a different description in every one of those planograms. You can have different manufacturing segment and sub-segment data for every product," he says. "That means that when you put them together, you can't analyze them-you can't look at your share of shelf with one retailer vs. another. Once you put it into a single database, the data is consistent.
"This product gives you the ability to measure share of shelf changes over time, across different geographies. The central repository becomes critical for manufacturers that want to go the next step."
CSAB was able to deliver the plans in less than three months, much faster than its larger competitors. The customer asked if they could take on additional locations and eventually CSAB took over the whole country.
Eye On The Consumer
Hodnett believes that one of the biggest advantages that CSAB has over its rivals is a keen understanding of the consumer. The company has done extensive research and analysis on consumer purchasing behaviors in the beverage aisle.
"Category blurring makes it difficult for consumers to find the products they're looking for. Our research has found that consumers find the beverage aisle overwhelming," he says. "We also found that customers are looking for convenience."
CSAB has used this research to develop a virtual store, which it is testing in three supermarket chains. Every single SKU that is found in an actual store is in the virtual store, so retailers can experiment with the layout of products in the stores without having to change them. Consumers go through the virtual store using a joystick, and the software can determine what their buying preferences and habits are.
"Consumers will tell you one thing but do another," says Hodnett. "Virtual technology enables you to see what they actually do-and you don't have to have the expense to test that out."
The mistake retailers often make, Hodnett says, it to try to differentiate with lower pricing strategies alone. "They think they've got to be the low-price leader vs. being competitive while leveraging other consumer benefits in their stores," he says. "If you can make it easier for the customer to identify what's in the store, purchase it quickly and efficiently and then get out, that's a big value to the consumer. That's what our research tells us."
Hodnett reiterates that its all about speed to shelf. "Whoever gets to the shelf fastest, with their strategies, is the winner. We're always challenged with how we can do this faster and JDA really helped us get there.
"As we have proven, innovation isn't limited to the biggest players in the category," says Hodnett. "These tools are enabling us to out-think our competitors."